Work 18 by Vitra at the Orgatec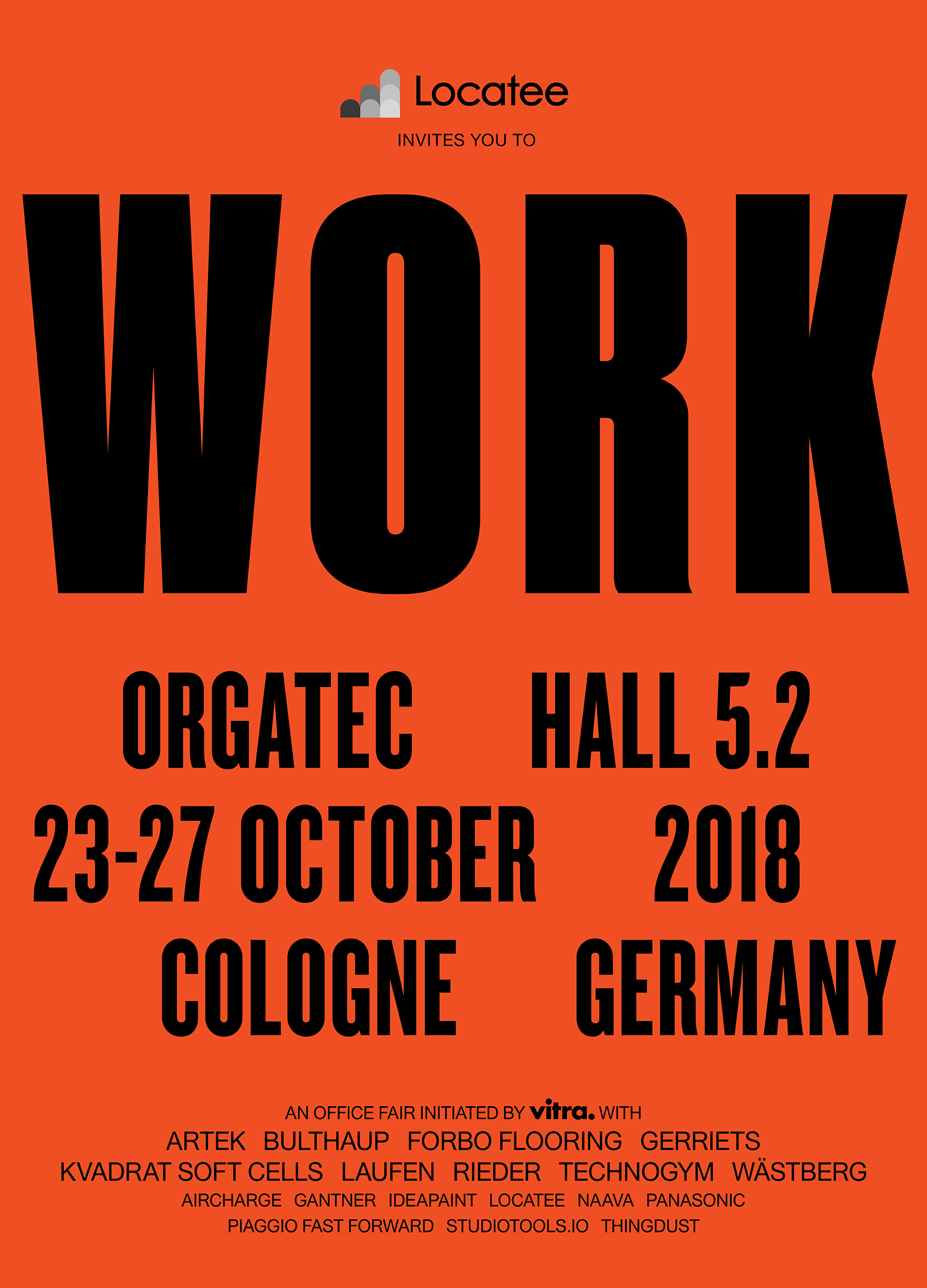 What to expect
Orgatec is a bi-yearly trade fair that sheds light on the interplay between working environments and work culture and showcases forward-thinking ideas for new workplace design. During 5 days, the event attracts over 50.000 industry decision makers and A&D visitors from 123 countries.
After its success in 2016, Vitra curates its own hall this year, again together with a group of likeminded partner companies. Besides new concepts and ideas, Vitra's main objective is to inspire and foster the dialogue with corporate real estate, corporate decision makers and the architectural community.
As part of Vitra's partner eco-system, we will be on site as well to demonstrate our solutions during 5 days. We show you how you can:
Identify potential – Understand how people behave across the entire real estate portfolio.
Realise potential – Change layouts and processes based on people's behavior.
Personalise potential – Let people interact with their work environment.
Event Details
Date: Tuesday, 23rd October until Saturday, 27th October 2018
Venue
Koelnmesse
Messeplatz 1
50679 Cologne
Germany
Opening hours
Tuesday to Friday from 9.00 am to 6.00 pm
Saturday from 9.00 am to 4.00 pm
Further information
Find out more about the event: work.vitra.com and vitra.com/orgatec
Where you can find us
Hall 5.2
Hallway A
Booth No. 021
We are looking forward to welcoming you at our booth and discuss how you can make the most of your office buildings and enhance your employees' work experience.
Contact us to order your free tickets, valid for all Orgatec halls including the Vitra hall 5.2
Smart Workspace Design Summit
What to expect
The Smart Workspace Design Summit is one of the greatest international knowledge hubs on workspace design, where experts from all sides of the spectrum meet. Meeting other professionals, sharing knowledge and learning from each other during the many interactive networking moments make this a valuable summit.
Don't miss our presentation on Thursday, 4th October 2018 at 3.00 pm
Find out why it is getting more and more important to create people-oriented office buildings.
Why do conventional office buildings neither serve people nor the organisation?
How can Big Data and AI address emerging challenges in modern office buildings?
What are the benefits for employees, CRE and other stakeholders?
Event Details
Date: Thursday, 4th October and Friday, 5th October 2018
Venue
Novotel Amsterdam City
Europaboulevard 10
1083 HH Amsterdam
The Netherlands
Opening hours
Thursday, 8.30 am – 6.00 pm
Friday, 8.30 am – 4.00 pm
Find out more about the event: https://fleming.events/smartworkspacedesign/
We are looking forward to welcoming you at our booth!