Making a case for change in the workplace can be a tricky process. In this episode, your host Sabine Ehm dives deep into conversation with Liz Burow about how to build a business case to lead office transformation.

Meet the guest
Liz Burow, former Director of Workplace Strategy at WeWork, specializes in building business cases for workplace transformation, conducting research, and facilitating processes on behalf of end users. She also tracks emerging trends to inform on new workplace products, not just designs.
With over 20 years of experience in architecture and design strategy, Liz has worked with fortune 100 companies as well as fast-growing startups, spanning tech, finance, media and creative sectors. She's 'done it all'. 
Liz focuses on the data, but doesn't use it as her only method for decision-making. Her secret superpower is that she is a visual thinker; "if you're thinking it, I'm likely drawing it". People always try to refine ideas through words, but she's an advocate for visual representations, with the belief that it's easier to come together on a drawing than language. 

Listen to the following few clips to get a sense of how Liz's approach creates a well-informed system of decision-making leading to success. 
"Corporate real estate is pretty risk-averse, and wants a lot of data to back up any decision. Which, I completely understand. I'm all about evidence and data to inform decision-making. But there is, I think, a thing that happens where everyone settles on the middle, and the safe idea, or the incremental change, not the revolutionary change." – Liz Burow
Making a decision for change in real estate can come at a high cost. This leads to corporate culture swaying towards making risk-averse decisions, backed by data. Taking a leap of faith towards a radical shift does not come naturally to the CRE community. 
"Yes, we have the data, but there's a little bit of hypothesis in something that we can't prove until we test it or we try it." 
The industry trend is to look at what others are doing, and decide whether or not to follow suit. Bringing external innovative ideas to the table is a great approach. Unfortunately, it's often met with watered-down responses or simply, 'no'. The challenge is to pay attention to in-house pain points, and trust your gut in decision-making. 
"You need to have data, but you need to be able to make sense of data as well, so it doesn't help to create a heap [of it], because actually nobody is going to read through it. You have to find the right points to build that business case. The data itself is not enough." – Sabine Ehm
At the end of the day, data is just that: data. Numbers and charts determining trends. But, what do these trends infer when brought together? Raw data requires interpretation to make sense of it. That's where bringing in a professional consultant can be hugely beneficial. In this clip, Sabine speaks to a previous conversation with Liz on this very topic. 
Liz follows with the idea of story telling. We need data, but we love narratives. Bringing the two together to form an informed hypothesis can push decision makers to be excited to test new things. And, sometimes, it takes just doing it. Once it's actually been done, then people can actually "see it and touch it and feel it". 
"I think a lot in terms of retail environments, you're trying to pull people in, you're trying to incentivize them to come in with the cool stuff you have. You're not making people shop there every day. So we have to think the same way in work place." – Liz Burow
The perception of the office has changed significantly, and companies need to focus on meeting the new needs of their employees. As we move back into the physical office space, ask yourself, what are the cool things we're offering that draws our workforce in? Are they utilizing all the spaces and equipment we've provided? What could be missing? 
Having this mindset, as opposed to the "you have to show up 5 days" whether you like it or not, can be the tipping point in creating a sustainable, positive work-culture. To find this data, Liz suggests using a myriad of tools, ranging from sensors and booking platforms to HR systems such as surveys and social capital networks. 
"It's really good to try to position the culture into a growth mindset before you even introduce a change. The ways I think about doing that are: change should not be a surprise to you, you should be a part of the change that's happening." – Liz Burow 
Liz emphasizes the importance of co-creation with end-users. Get them involved as much as possible, so they feel a part of the decision making and more importantly, the outcome. "When you're doing research, involve as many end-users as possible, communicate to them that they're influential on new ideas and practices and then circle back with them". 
Determining influencers in various departments can also be a great way to provide support to employees. Find champions amongst end-users that can funnel updates and resources to those curious and/or concerned. This can mitigate tension and allow for a dynamic culture. 
Conclusion
Change is good. Radical change is better. Liz is in favor of pushing the boundaries by using stories and creating a robust internal support system. Data is important, and an excellent tool for forming hypotheses. However, taking into account real, internal pain points, is just as important when determining movement. Yet, don't forget, nothing works better than actually testing it. By testing your hypothesis, people will be able to come to real, justified conclusions on the success of the changes implemented to the workplace.
Earlier this year, Locatee commissioned a study to get the perspective of 50 executives on the changing state of corporate real estate in the United States. Locatee's Thought Leadership and Research Manager, Sabine Ehm joined Industry Analyst, Dayann Charles, to take a deeper look at the results of the eye-opening study. Here are some of the webinar's highlights!
The changing role of the CRE manager


The role of CRE has become far more prominent over the last year. Companies scrambled to predict how the role of the office would change in the midst of COVID-19. Meanwhile, employees in CRE roles had a thorough understanding of office usage prior to the pandemic. With their broad overview of company assets, employee roles and space usage  within the office over time, corporate real estate managers have rightfully been included in the conversations surrounding the future of the office. 
Unfortunately, even with the current state of corporate real estate, CRE managers rarely have the final say on big decisions. More than a year after the shift to work from home began, they still have to jump through many hoops to make their visions a reality. Not only do they have to get budgetary sign-off from people above them, they are likely to be dealing with colleagues that don't have such a comprehensive picture on how the definition of "workplace" is evolving. 
Big goals, limited action
With a higher level of influence and new KPIs to focus on, you might expect huge changes in the workplace. Surprisingly, most CRE executives actually expect to see very little change in office set-ups over the coming years. 
Many respondents support an activity-based work environment. Generally, they don't find the standard fixed-desk model to be conducive to employee satisfaction and believe it's important to redesign their office portfolio. However, according to the responses, there will only be a 4% shift to a more flexible office environment. 
There's a big disconnect between CRE ambitions and the actual actions by managers. Moving forward, it will be critical to find ways to turn these dreams into realities.
Band-aids instead of long-term solutions
Sabine and Dayann agree that some actions that companies take are more of a band-aid than a solution. Some examples, like infrared cameras, are more clearly a short-term answer to the problem at hand. Once things go back to normal,  these won't be useful as they only serve the purpose of measuring temperatures. Additionally, they've already been subject to scrutiny due to privacy laws.  Other examples are less obvious. 
Desk booking is a common topic in the world of CRE these days. Sabine sees this as a tool that could actually worsen existing problems in the office. In many cases, requests for desk-booking are a result of inquiries from other departments that only have a surface-level understanding of the inner workings of office space utilization. 
If the goal is to ease employees back into the office and help them feel comfortable, companies may prefer to look at more straight-forward options like Space Booking. These work together with other tools to bring people back to work safely, while collecting the accurate information needed to make lasting changes.
Advocate for change
The results of the survey clearly show that more can be done by CRE managers to adapt their workplaces to the changes we're seeing. Of course, this is something that's easier said than done. 
As Sabine points out, the ultimate goal is to build a case that is convincing. 
The first step in making change happen is to have real evidence. By collecting data, you have indisputable facts as to why the changes you're advocating for should be made. Be sure to include secondary-benefits that the company could see as a result of the changes you want to implement. Financial savings, building consolidations, or more productive employees could all be factors that influence a company's decision. 
You may also find it useful to keep track of ongoing decisions. That way you have a guideline for which steps to take to instigate action.
Lastly, don't be scared to involve more people. Support from other departments not only makes your evidence more convincing, it adds pressure on those making the final decision.
Our mission at Locatee—enabling companies to create places where people love to work—led us to carefully rethink and redesign the look, feel, and functionality of Locatee's analytics solution. The new Workplace Operations plan has a singular focus: to empower corporate real estate and facilities managers to make better decisions about office spaces at an operational level. Workplace Operations data helps you:
Master your understanding of your buildings' utilization 

Prioritize and address space needs and employee requests

Contribute to your organization's corporate strategy and growth plans

Create more effective office spaces and attractive locations to work
Read on to discover all the ways our Workplace Operations update improves portfolio placemaking, or book a demo with a member of the Locateam today.
Granular workplace occupancy data grouped by
Floors
A major improvement in the new Workplace Operations update is the visualization of data by building floor. It's not only cleaner, but much more intuitive. To start analyzing workplace data by floor, simply select a building from the dropdown menu and click on Floors in the sidebar. You'll see a summary of your office utilization organized by floor level.

Similar to Locatee's portfolio-level dashboards, you can segment the data in this view using a variety of filters, allowing you to:
Understand office density levels by monitoring the

absolute peak

or

average peak

occupancy of any floor

Sort data by utilization metrics

for easy identification of optimization opportunities

Focus on the

usage of specific space types

with the

Space type

filter
Tip: For quick and easy stakeholder reporting and presentations, export data directly from the Floors view to Excel.
Detailed views provide a closer look at every floor in your building
Want to investigate utilization on one particular floor? Details will take you to that floor's dedicated view, which includes its own utilization summary, interactive heat map, and timeline.
On the top of every detailed floor view is the

Utilization overview

widget, where you'll see a summary of vital data points concerning the floor such as:


Average utilization

Peak utilization

number of free workspaces available during peak times (

Free at peak

)

comparison with average and peak utilizations of the previous period

A

Floor map

shows the frequently occupied and frequently neglected spaces on the floor, making it easier to pinpoint problem areas, whether it's overcrowding or underuse.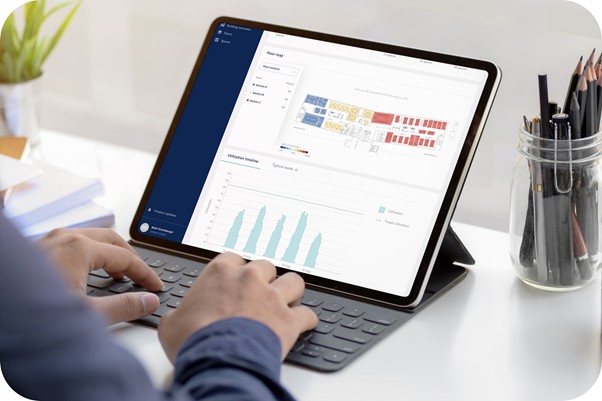 Also in the

Floor map

widget is a selector that enables you to zoom in on the utilization of a certain space type (such as desks) or a particular section of a floor (such as the west wing).

A

Timeline

is now available for every floor, facilitating the identification of usage patterns and trends on a floor-level basis.
Tip: The new Workplace Operations introduces the option to switch effortlessly between Average Peak and Absolute Peak calculations, making it easier to include or omit data outliers when analyzing office usage and performance.
Measure exactly what you need with
Spaces
In addition to the Floors view, we're introducing Spaces. The Spaces view provides a detailed look into a particular segment of your workforce or your physical office space. These segments can be:
Business units:

R&D, IT, marketing, procurement

Floor sections:

meeting areas, Section B, quiet zones, east wing

Workplace types:

desks, meeting rooms, phone booths, standing desks
Spaces give you the flexibility to filter and analyze data using your own custom segmentations, meaning you can measure exactly what you want to measure—nothing more, nothing less.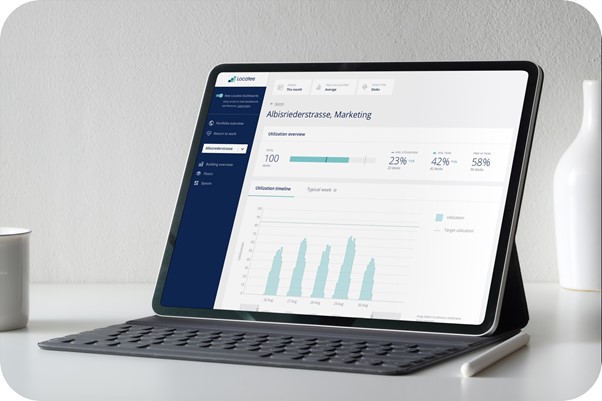 Dive into the Details for a deeper analysis
Just like Floors, each Space in your building comes with its own detailed view. Here you'll see a utilization summary, timeline, and floor map of that space.
Tip: You can use Spaces to facilitate workplace decisions such as determining where to place a new department or team. This video shows you how to do just that.
It's all about 3D: Data, Design, and Decisions
At Locatee, we're not just in the business of providing you with office occupancy data. We know that there is a lot of information out there already. Our aim is to help you harness all that information, so you can:
Measure what you really want

by creating custom segmentations

Arrive at

decisions with more confidence

using historical and live data

Set the correct expectations

and easily update key stakeholders with interactive data and exportable reports

Create better workplaces

for your workforce with the help of the most detailed and granular data
Want to learn more about how to use Locatee Workplace Operations to create better offices? Schedule a demo today!
In our webinar, The CRE Journey to the Digital Workplace Experience, Sabine Ehm is joined by industry experts Philip Ross, Simon Pascoe and Mark Needham, to discuss the future of the workplace. The panel explores how global businesses have addressed employees working remotely, and how performance measures will look post-pandemic. Tune in to find out how each panelist perceives recent movements, their future predictions and what they're doing to adapt their CRE strategy. 
Listen below for 3 thought-provoking clips from the webinar or watch the entire webinar:
"It's important to have more long-term measures in place … and not to expect answers straight away."
The workplace has changed considerably since the pandemic, and as Sabine Ehm, Thought-Leadership and Research Manager at Locatee, points out, we can expect a spike in employee attendance once it's safe to return to the office. Although, it is imperative for corporate real estate professionals to understand that this is not necessarily a long-term reality. In this clip, Sabine alludes to the importance of conducting long-term measurements such as space utilization and assignment, and to wait and see how it all pans out before abruptly changing the CRE strategy. 
People are now used to working from home and having flexibility. Once the excitement of being in-office subsides, some staff members may choose to continue working remotely. To help manage the sudden increase of people back on-premises, companies will want to look at tools like Space Booking. 
"It's invaluable when you're planning large real estate portfolios and trying to get a better return on your investment." 
Technology is evolving faster than we can keep track. There are always new ways for companies to problem-solve, but implementing different systems requires trust. In this clip, Mark Needham, Business Development Manager at Cisco, talks about artificial intelligence being used to measure office utilization and how employees are using allocated spaces. Other kinds of technology are also being used to gather data, such as various types of sensors. These devices can provide crucial information to CRE managers. However, many still do not fully trust them and are concerned about potential privacy implications. Mark suggests that initially "we will see a spread of maturity" in the perception of AI until it eventually becomes the norm. 
"You can tell from the gray hair, I've been around long enough to have been through a couple of cycles, and I never let a good crisis go unused."
Companies often overlook CRE strategy when quantifying success. When the pandemic hit, that changed, dramatically. With close collaboration between business leaders and real estate managers, companies quickly evolved to address the needs of employees. We've seen similar movements as a result of previous crises, such as the 2008 financial crash. In this clip, Simon Pascoe, EMEA Head of Real Estate at Novartis, speaks to how he takes advantage of this momentum to make lasting improvements. He points out how pivotal this particular shift has been; it has awakened the importance of real estate strategy and its potential for monetary returns. 
In crisis, we adapt, quickly. Since the start of the pandemic, companies have been rapidly changing the way they conduct business. Fortunately, the leaders at the top have recognized the significance of real estate planning. It will be important to continue this collaboration once employees return to the office. CRE managers will have to continue gathering reliable data to make favorable decisions in coming years. It will be tempting, but they should avoid making rushed decisions if they see spikes or drops in early attendance. 
Watch the full webinar to hear more insights from Sabine, Phillip, Simon, and Mark as they analyze the current CRE climate and how the future will look.
In March 2020, we published our initial blog post on how offices around the world were dealing with COVID-19.  At the time, we only had data for the first three months of 2020, and in hindsight, our prognosis—much like that of the rest of the world's—was optimistic.
One year later, we're taking a fresh look at office occupancy in workplaces around the world. We aggregated workplace data across 24 cities in 15 countries by calculating the average weekly peak utilization. Here's a look at office occupancy and utilization in the past year.
Weekly peak office utilization in Asia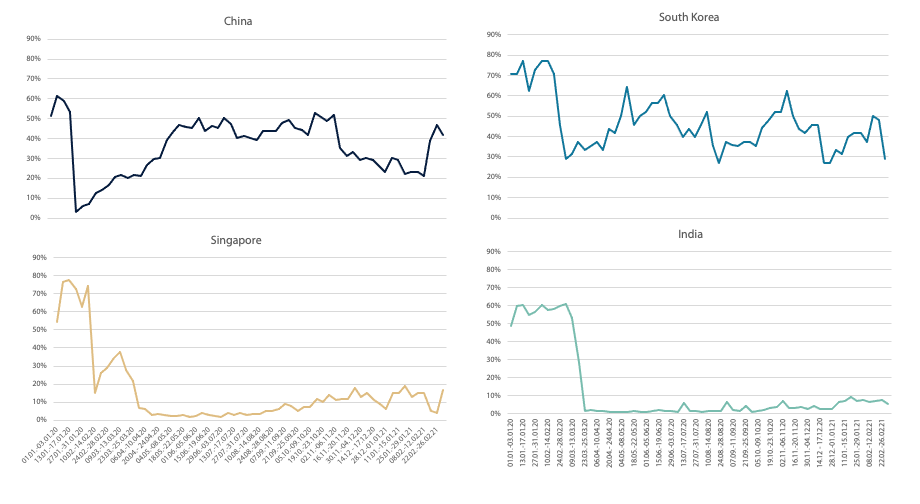 Of all the countries in Asia we've gathered data on, China bounced back the swiftest—into the office at least. Since seeing occupancy drop to nearly 0% in the last week of January 2020, the return to the office has been slow but steady. Already in June of last year, average office occupancy was already over 40%. Most recently, we've seen a drop in the number of people in the office, but this can also be partly attributed to the Lunar New Year period, where many employees return to their hometowns to spend the holiday season.
Both Singapore and South Korea have been commended early on for their handling of the pandemic, but the two countries have taken very different approaches. Singapore enacted a stringent set of "circuit breaker" measurements aimed at keeping its denizens home, while South Korea embraced extensive testing and avoided enacting nationwide lockdowns. The office occupancy data, as such, reflect the epidemic control programs of the two countries, with Singapore clearly demonstrating a slow and phased return to work and Seoul seeing volatile fluctuations in office occupancy across 2020. 
Although India has recently claimed that it might be the first major economy to successfully implement a herd immunity strategy, we're yet to see a significant rise in office occupancy. Since the government announced a complete lockdown in late-March of 2020, corporate offices have seen very little usage.
Weekly peak office utilization in Europe

As of March 2021, corporate offices across Europe remain low. In fact, if we had only been analyzing data from the past two weeks, it would probably have seemed that things had hardly changed. However, taking into account data from the entire span of the previous 12 months, we can see the efforts of CRE in trying to bring their workforce back into the office responsibly. 
In Germany and Switzerland, the effect of the second COVID-19 in autumn is clearly seen. The average office occupancy of both countries had crossed the halfway mark in the "return to normal" before the second wave and new strains of the virus forced both countries to take a step back again. Since then, utilization remains low, with employees mandated to work from home.
Italy and Spain show similar peak occupancy patterns. Lockdowns were imposed in both countries mid-March and restrictions were gradually lifted during summer, although dips in office occupancy are visible whenever a resurgence occurred, such as in October of 2020. 
The UK had the lowest average office occupancy in 2020 out of all countries in Europe. Following a stay-at-home order issued in March, office utilization has never peaked past 10%. New lockdown measures brought into effect in November, combined with the discovery of a new virus variant, has kept buildings with no indications of changing soon.
Weekly peak office utilization in Africa, Americas, and Australia

As for the rest of the world, offices remain for the most part empty, with Australia being the notable exception. Due to its geographical distance and isolation, Australia was able to effectively close its borders and carry out successful containment and quarantining measures. As a result, buildings in Australia are much busier compared to the rest of the world.
The American countries—US, Mexico, and Brazil—share an almost identical utilization pattern. Since March 2020, offices have more or less remained closed. Although more traditional sectors such as banking are calling for a return to the physical office, younger and more disruptive institutions have begun introducing permanent remote working setups for staff. It's safe to say that some companies will never see the same utilization peaks and patterns they were used to prior to the pandemic. 
The government of South Africa also announced a national lockdown at the end of March 2020, with a gradual and phased easing of restrictions beginning in May. Office occupancy during the pandemic peaked in the beginning of October, when restrictions were at their lowest. Since then, the country's second wave of infections has forced the country to tighten restrictions again, forcing staff out of the office once more.
So, what can we expect?
Whereas office occupancy data is used to extract insight from occupant behavior, in this case, we're taking a retrospective look at offices responding to an external force. So while the data probably won't be able to indicate exactly what's to come, it does illustrate the different strategies CRE has taken in an attempt to keep operations running as smoothly as possible.
With the constant uncertainty and need to adapt quick, companies will find tools like Space Booking helpful in managing the number of people coming into the office on a daily basis. In combination with utilization data, corporations will find it helpful to have both a way to assess occupancy overtime, while also having the means to manage the influx of employees when working from home is no longer required.
---
* Locatee gathered anonymized workplace occupancy data from a sampling of workplaces across 24 cities in 15 countries. The information and interpretations presented in this article should not be taken as definitive representations of workplace occupancy patterns for entire countries. 
For more on making day-to-day workplace decisions, check out The Workplace Leader podcast, available on your favorite podcast platform.
About the event
Gain insight into 2021 survey results on the evolving workspace and the role of CRE managers in the coming years!
Together with Verdantix, Locatee conducted interviews among 50 executives in real estate, workplace, and facilities management roles in the US.
Our Thought Leadership and Research Manager Sabine Ehm is joined by Dayann Charles, Industry Analyst at Verdantix to present the study findings.
Find out about:
evolution of the CRE manager's role in the US in the future
increased influence of CREMs in their budget responsibilities
business priorities today and in the coming years
investment plans in digital tools and data collection
Speakers
Sabine Ehm – Thought Leader, Locatee
Dayan Charles – Industry Analyst, Verdantix
When
Whenever works for you! Watch the replay of the webinar by registering below.
Registration
Prefer to read the complete survey results?
Download the PDF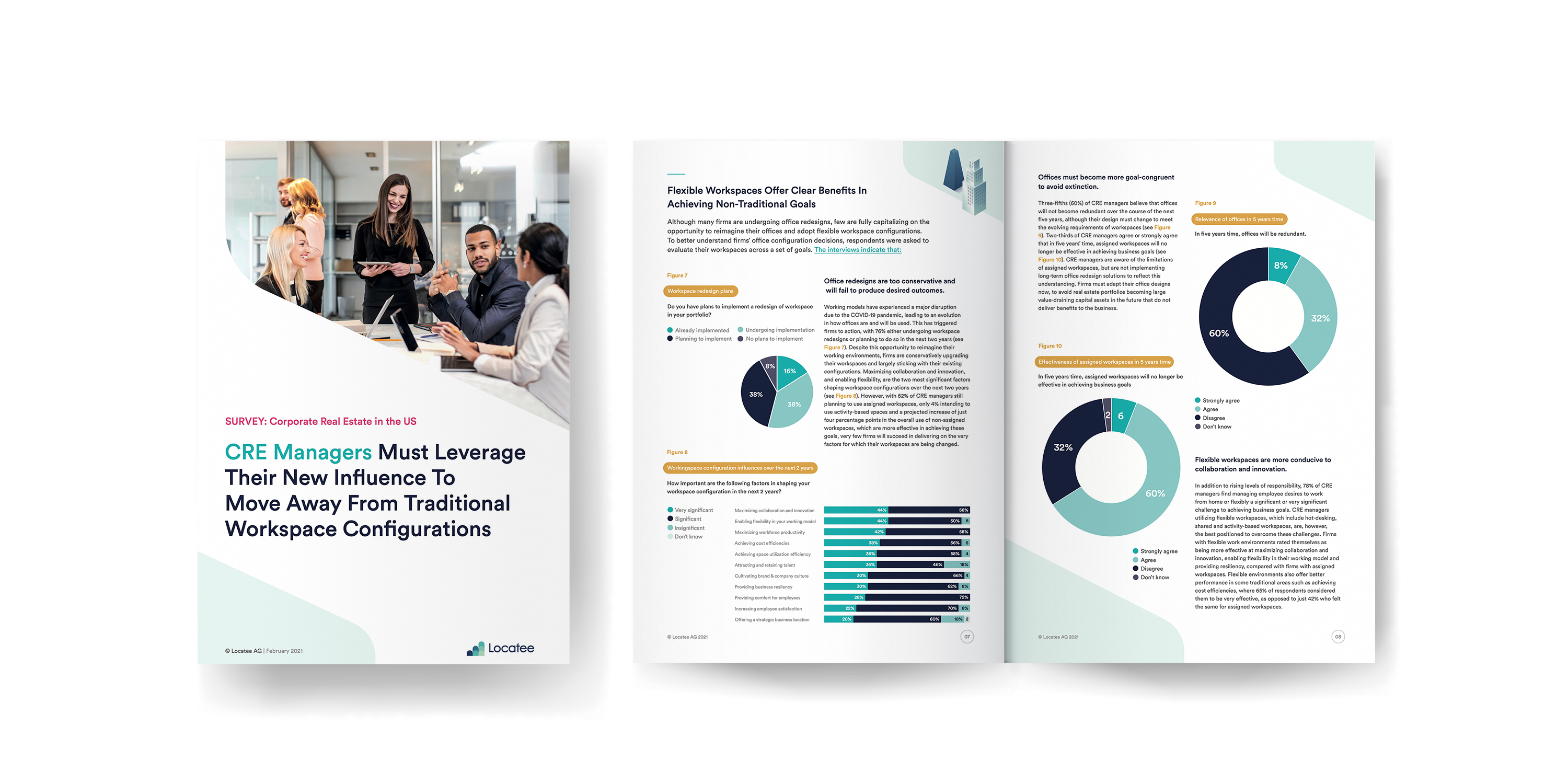 Introducing The Workplace Leader Podcast! Join your host, Sabine Ehm, as she takes you behind the scenes of corporate real estate, finding how industry experts are shaping the next generation workplace. 
Using investigations of business drivers, performance metrics, and workplace trends, Sabine and her guests will guide you through making the most important decisions in corporate real estate. 
Meet the host of The Workplace Leader podcast
Sabine Ehm is the Thought Leadership & Research Manager of Locatee, based in Zurich, Switzerland. With over 10 years of experience in corporate real estate, she is highly knowledgeable in portfolio management, leasing, dispositions, and operations. 
Throughout her career, Sabine has worked closely with multinational companies, responsible for both local and regional portfolios. As a former CREM, she pulls from her own experiences to give advice on achieving success in the industry. By providing insight into modern corporate workplace strategy development, Sabine and her invited guests, will give you the tools needed to be successful in the present-day workplace environment. 
This month on the podcast, Sabine interviews three esteemed guests, Liz Burow, Jon Sheh, and Peter Baumann. Each episode provides information and insight into creating sustainable, modern, and functional workplaces for the companies of today. 
Listen to the newest episodes of The Workplace Leader
Building a business case for change with Liz Burow
Liz Burow is a professional Workplace Design and Research Consultant. As the former Director of Workplace Strategy at WeWork, she knows exactly what it takes to create a successful workplace environment. Join Liz and Sabine as they discuss changing the narrative around workplace design, and how to create spaces that cater to the many facets of a business. 
Engineering inclusive workplace experience with Jon Sheh 
As Director of Workplace Strategy at Johnson & Johnson, Jon Sheh is highly knowledgeable in what creates a lucrative, modern workplace. During this episode, Jon and Sabine discuss how companies must adapt with the times. They'll also dive into creating new and flexible workplace strategies to better support their employees. 
Merging business, people and location strategy with Peter Baumann 
Peter Baumann is the Global Head of Real Estate & Facilities Project at SAP. Peter and Sabine are examining the shift of perception towards a more human-centered workplace. In addition, they'll teach you how to draw data to prove your findings.
Subscribe to The Workplace Leader Podcast
Listen to The Workplace Leader podcast now to learn invaluable information on corporate real estate management. Whether it's workplace transformation, designing for culture shifts, or catering to modern times, Sabine and her guests will give you the tools required to be a successful real estate manager, for small and large businesses.
About
Corporate Real Estate needs to develop new performance measures for office spaces. Looking only at density or cost per square meter is not enough to understand and determine today's workplace needs.
In this joint webinar together with Cognitive Corp. we dived deeper into the topic of the future workplace and discussed topics such as:
The workplace of tomorrow
Workplace Leaders roles and how to enable future workplaces
Success factors for Corporate Real Estate Managers
Tools workplace leaders should familiarize themselves with
The webinar took place on the 9. December 2020, 5.00-6.00pm (CET) during which we answered your questions online. Watch the recorded video below!
Speakers
Sabine Ehm – Thought Leader, Locatee
James Waddell – Executive Vice President, Cognitive Services
Desk booking has become a popular topic with companies realizing that flexible working and hybrid workplaces are here to stay. But is it just a buzzword? Or is this something businesses around the world should be adopting as we adjust to the new normal of the office environment? 
Whether you're looking for more information about desk booking or are considering implementing a desk-booking system in your office, we've compiled a list of important things for you to consider.
Find out more about Space Booking, the simplified, no-nonsense alternative to desk-booking, here:
What exactly is desk booking anyway?
The idea behind this premise is that employees are able to reserve their workspace ahead of time. This allows offices to keep their number of desks to a minimum and their rental costs low. During the pandemic, desk booking catered to a new need; companies wanted to comply with safety measures while ensuring the employees who came into the office felt confident that they would have a workspace to use.
You may have also come across the concept of hot desking, which also allows one desk to be used for multiple shifts throughout the day. Employee A could come in from 7am to 10am and attend a meeting outside the office during the afternoon. Afterwards, employee B could use the same desk from 4pm – 6pm.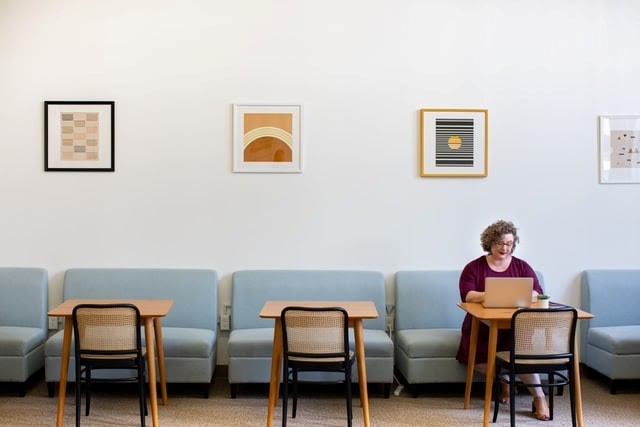 In theory, both hot desking and desk-booking concepts sound like appealing and efficient solutions. In practice, the idea is unlikely to work as seamlessly as one might initially think. 
These are some of the questions that you should ask when considering a desk-booking software:
Will desk booking exacerbate an already existing problem?
Think about the utilization of your organization's meeting rooms. Chances are they're bookable, right? However, are you aware of how many no-shows your meeting rooms see every day? Employees frequently book a room only to host the meeting in a café or to take clients out to a restaurant. In some cases, people reserve a room, but realize that no one is in the office. In the end, they conduct the meeting virtually. Bookings can even occur by accident without employees realizing that they have reserved a space.
This not only prevents other people from booking the room, but in the end, the space never actually gets used. If these problems already exist within your workplace, you can expect to see similar occurrences when a new tool is implemented, which could be a costly problem for the business.
Will your employees support the use of a desk-booking tool?
An important factor to successfully implementing new technology in the workplace is having the whole team on board with the process. This means that new systems should be straightforward and easy to add into existing routines. More importantly, they should also provide clear advantages for the users. If the employees don't feel that there is an existing problem or a true need for a desk-booking tool, forcing it upon them will only cause frustration. On top of that, it might even end up wasting the company's time.  A reservation tool could simply end up being more trouble than it's worth, if there is no buy-in from the entire team.
Do you believe that users will comply with your desk-booking rules?
With desk booking, a set of rules must be implemented so companies can keep the experience efficient and employees can better understand the systems in use. Unfortunately, people don't always follow the rules.
It's possible that employees might find loopholes in the system and try to use them to their advantage. Some staff may book desks for an entire week but only come into the office for 3 days; others may book a desk for 8 hours but only use it for 2. Both scenarios are examples of inefficient space usage. The bottom line is that implementing a desk-booking system may generate more work than value!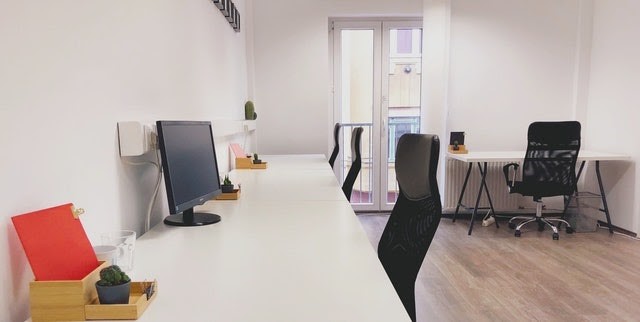 Are you trying to encourage collaboration and interdepartmental interaction?
A common reason for companies to provide a flexible desk system is to encourage more interaction between departments. The hope is that it can ultimately foster more innovation within the company. 
If this is a goal, then desk booking can be a slippery slope. In theory, the company can encourage people to move around regularly. Realistically, if employees are able to book far in advance, they may always try to take their preferred spot or book desks near the same people every time. The intended result of improved interaction may not happen at all, and by discouraging spontaneity, a reservation tool may make collaboration even more difficult to achieve. The bottom line here is: think about the ramifications of a desk-booking system on your company culture.
Are you considering desk booking as a short-term compliance solution during COVID-19?
Short term, particularly in the face of COVID-19, the option to reserve a spot can be helpful. It helps employees feel confident that there won't be too many people when they arrive the next day at work. It can also assist an office that is transitioning to a free-desk or flexible work policy. 
In both cases, employees may feel unsure about being able to find desks when they arrive at work. By utilizing a desk-booking tool during the transition, workers have the opportunity to get used to changing desks daily. This period also gives the company a chance to demonstrate that there will be enough workspaces provided to fulfill the office's needs.
Are you considering desk booking as a long-term solution to measure office occupancy?
If you're looking to accurately track space utilization, if you're a CREM wanting to bring data to the table so you can have eye-level conversations with management while removing emotion from big real estate decisions, or if you're trying to find a software that can help you manage the ever changing workplace: you may want to consider an option beyond a desk-booking tool. 
Desk-booking tools are not an accurate indicator of people actually in the office at a given moment. As you see now, the system can often be misused by employees. A company looking for straightforward numbers to make large decisions like office expansions, consolidations and renovations, will not be able to get them from a desk-booking system.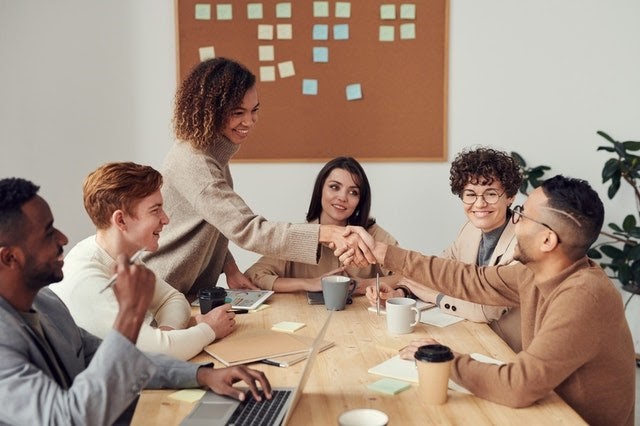 A desk-booking application could be the answer to your needs, but many companies might find more appropriate solutions to their problems using different technology.
Do you want to bridge the gap between a short-term and long-term solution?
Many want to bring employees back to work safely, while gaining a better understanding for the company's workspace needs. If you're looking for the best of both worlds, Space Booking is your answer. This solution removes the complexities of desk booking and provides a system that's easy to use and quick to implement.
Employees won't have to book individual desks, which can help avoid misuse and confusion. You'll be able to limit the amount of people coming into the office on a given day; you can rest assured that you're staying within COVID-19 guidelines. Meanwhile, your employees will have the freedom to choose their booking based on capacity. This will help them feel confident that they're coming into a safe environment.
When combined with Locatee's workplace analytics, you'll also give your team the power to choose a workspace that isn't busy by providing an overview of the entire building when they arrive. All while our technology collects accurate and real-time utilization data that you can use to make important decisions on space usage, optimization, consolidation and expansion.
In summary
A desk-booking application could be the answer to your needs, depending on what problem you're looking to tackle. In the short term, it can provide a sense of safety for employees and a level of reassurance for CREMs. However, desk-booking systems aren't good indicators of actual office utilization. In this case, companies may find a more appropriate solution by using a different technology. So the question is: what do you need a desk-booking tool for?
Those looking to keep employees safe in the short-term, but wanting to have accurate utilization data for the long-term will appreciate the no-nonsense approach of Space Booking. Discover the tool here!
This year has been one full of uncertainty. The challenges have not only spanned borders, but oceans. Regardless of your location, education, occupation or generation, we've faced 2020 together — physically apart, yet in some ways, more connected than ever before.
Locatee's mission has always been to help enable a place that people want to work. But we realized: what's an office where you love to work, if you aren't on a planet where you love to live?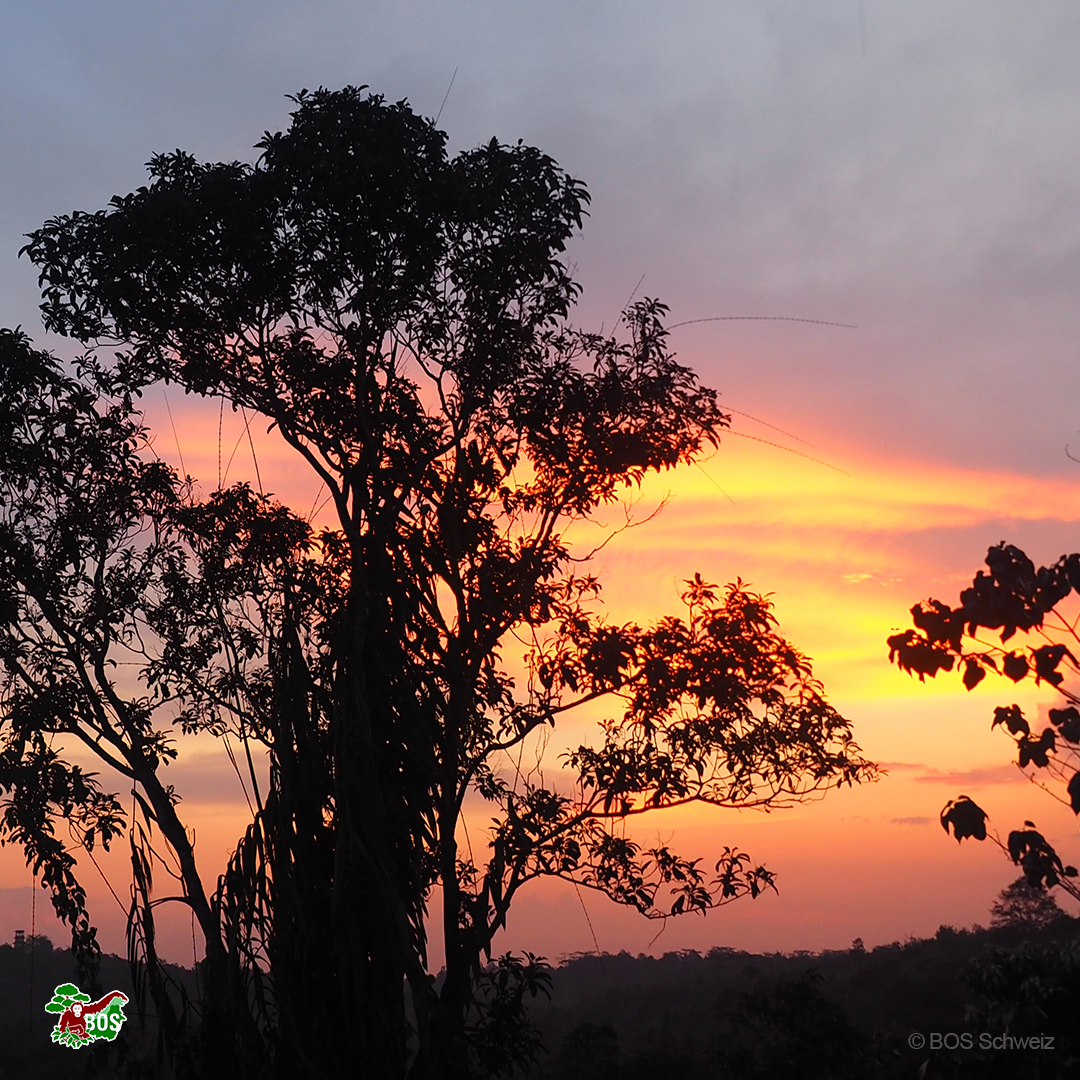 That is why this year's Christmas initiative looks a bit different than previous ones. Instead of a physical gift, we wanted to help lay the foundation of a better future for each and every one of us.
We will be planting 15 trees for each of the 60 countries where Locatee is currently analyzing space utilization in offices. This means that with the help of "One-tree-One-life", we're planting 900 trees to help combat deforestation, in turn helping the fight against climate change and protecting the endangered Bornean Orangutan.
Locatee is committed to enabling long-lasting change, so we're also ensuring that each tree has the proper care to thrive over the next 5 years.
Who is One-Tree-One-Life?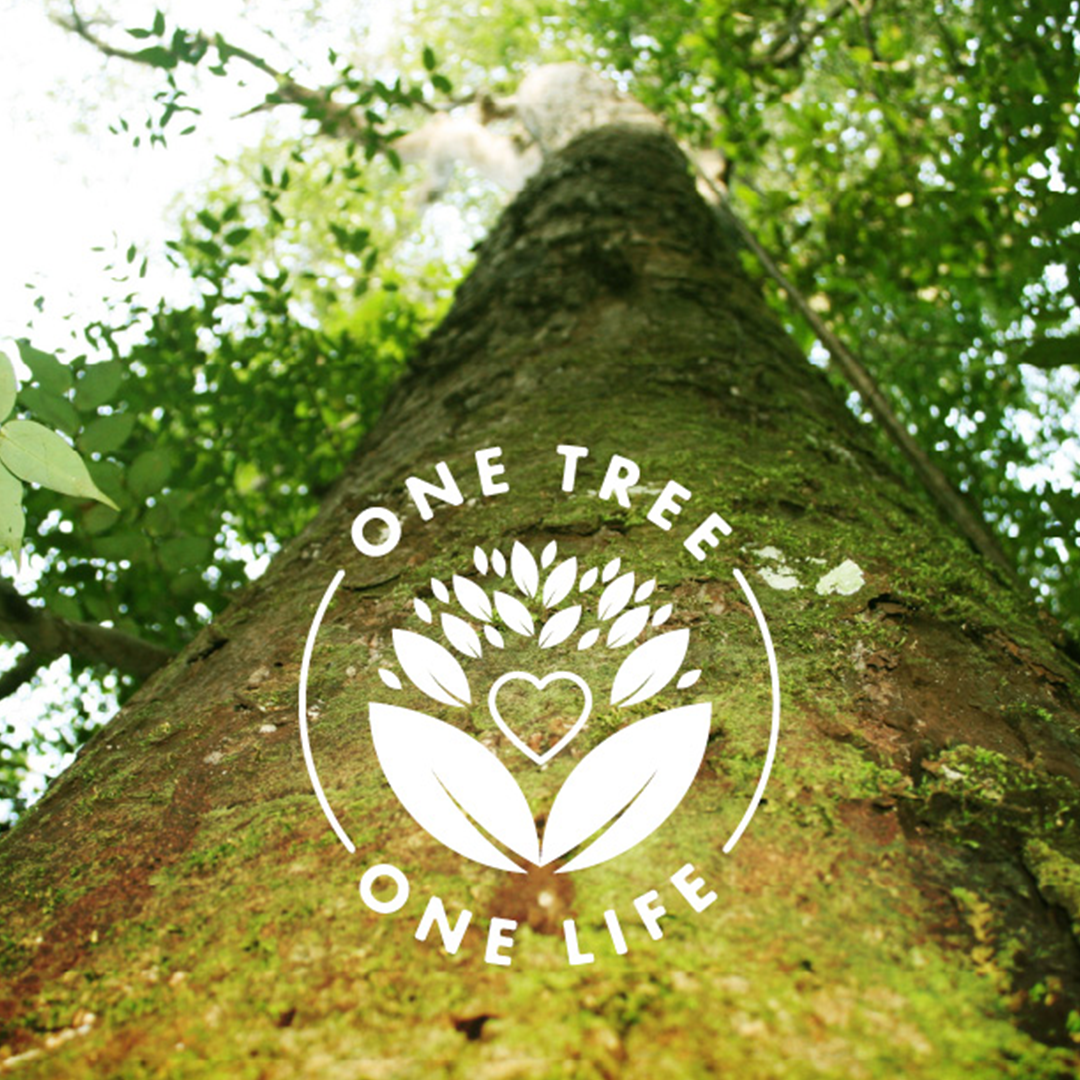 One-Tree-One-Life is a campaign by BOS Schweiz, which aims to reforest destroyed rainforests in Indonesia. This helps fight climate change and save the endangered Bornean Orangutan. BOS employs a holistic approach. They protect and rebuild rainforests, save and rehabilitate Orangutans, and work with local people who previously relied on the controversial palm oil industry.
Why did we choose One-Tree-One-Life and BOS Schweiz?
When choosing an organization to support on this project, it was critical for us that they were not only credible, but had a strategy in place that could help achieve long-lasting results and bring real change to our planet.
BOS applies a multi-pronged approach, to help solve the problem from different perspectives. Below you can see how they achieve their goal to help save the endangered primate by focusing on a variety of aspects.
Orangutan rescue
BOS is able to rescue sick and injured orangutans in multiple areas with their 2 rescue stations. They also support fire rescue efforts to save orangutans from man-made fires. Sadly, people create these to try to wipe out economically "worthless" land in exchange for more profitable crops.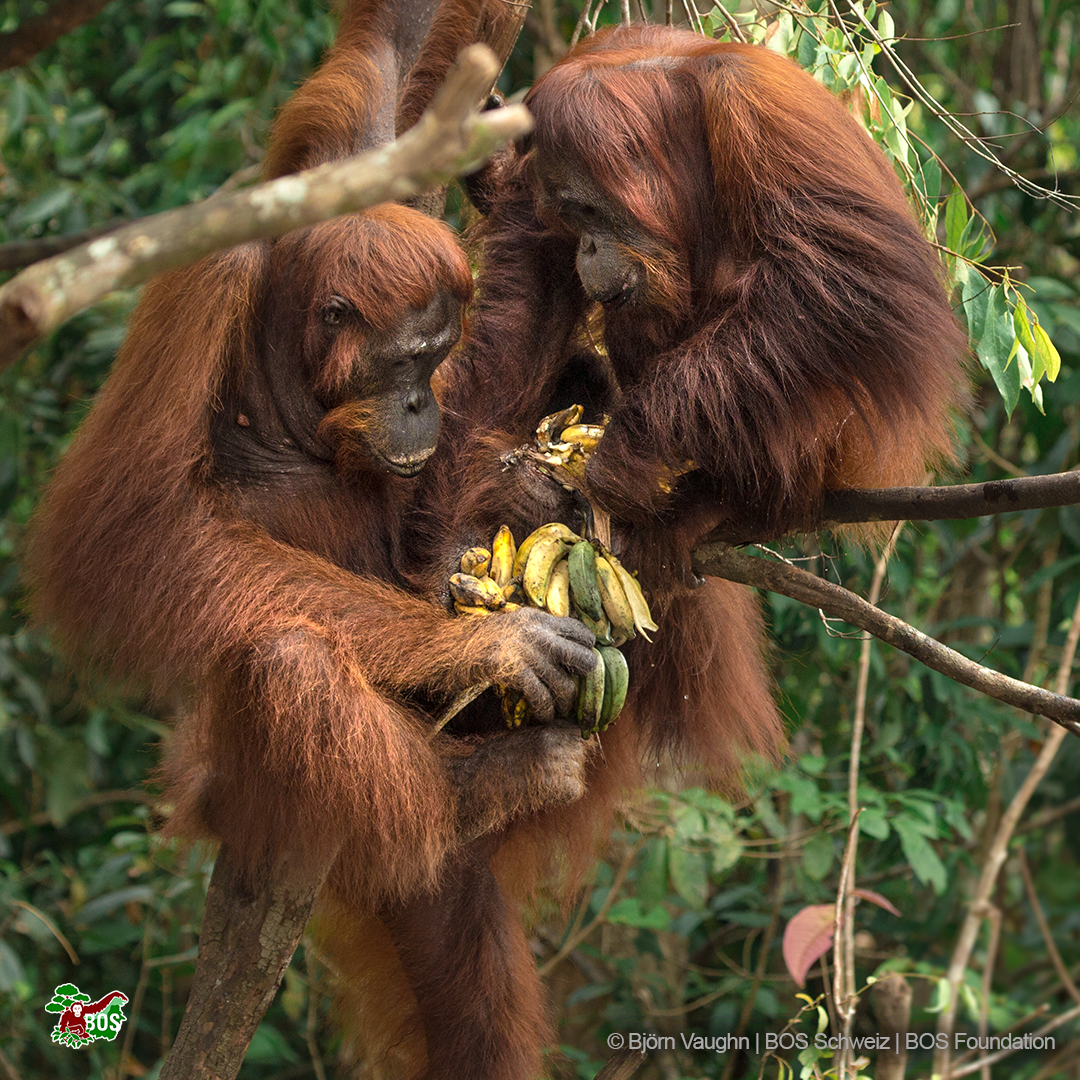 Rehabilitation of orangutans
Rescued orangutans are rehabilitated, and if needed, given medical care. They undergo up to 8 years of education in the BOS forest school. There they learn how to build sleeping nests, identify food, recognize dangers and more. At the BOS forest school they learn everything they need in order to get reintroduced to the wild.
Reintroduction of orangutans
BOS employs a 3 step reintroduction plan for orangutans. BOS introduces the orangutans to secluded river islands during the pre-release phase. Here, they develop their natural instincts like independently seeking food. BOS reintroduces them into the wild once they deem them ready. Post-release monitoring allows BOS to keep up with the rehabilitated orangutans. The team continues to make sure the primates are thriving and adapting well in the wild. If the patterns are abnormal, and the orangutans show signs of illness, they can be retrieved and brought back for further rehab.
Community development
The locals in these areas have previously relied on the palm industry. Therefore, BOS includes them in the whole process. They also give locals the support they need to refrain from re-damaging the rehabilitated forests, which orangutans depend on for habitat. They work with them to find alternative sources of income to protect the families and their economy. BOS does this by creating local jobs and incentives to earn a living beyond poaching and deforestation.
Reforestation
With the One-Tree-One-Life campaign, BOS Schweiz is also able to help fund and carry out reforestation of the Bornean rainforest. Currently, there are 460 680 Hectares of rainforest under the care of BOS.
With the multitude of efforts, One-Tree-One-Life and BOS Schweiz are not only helping rescue an endangered species, but are also helping the environment and creating a better world for us all to live in.
Read more about the campaign or donate to the organization at One-Tree-One-Life and BOS Schweiz.
Happy holidays and all the best in 2021!