Providing insights through smarter data
Locatee empowers you to make fact-based decisions
by transforming complex data into space utilisation insights.
HOW IT WORKS
Locatee surfaces the data you didn't know you had
Locatee's workplace analytics software leverages occupancy data from a variety of sources, processes them using unique patented technology, and visualises them all in one place. By placing intelligence right at your fingertips, Locatee empowers you to make the best decisions for your workplace.
Locatee gathers information on workspace utilisation using your company's existing LAN and Wi-Fi infrastructure
Data from other sources such as motion sensors and device inventory systems are also integrated whenever applicable
Information collected is securely transferred to Locatee's data centres for real-time processing
Locatee combines data gathered together with floorplans and unique location attributes to create powerful, interactive reports on your offices' occupancy and utilisation
All personal information is deleted after 24 hours and all remaining data is anonymised and encrypted at rest
Usage statistics for building sites, floors, meeting rooms, and workstations are visualised in an easy-to-use dashboard
Empty work zones are displayed at entry with Locatee's Smart Signage solution for tablets and screens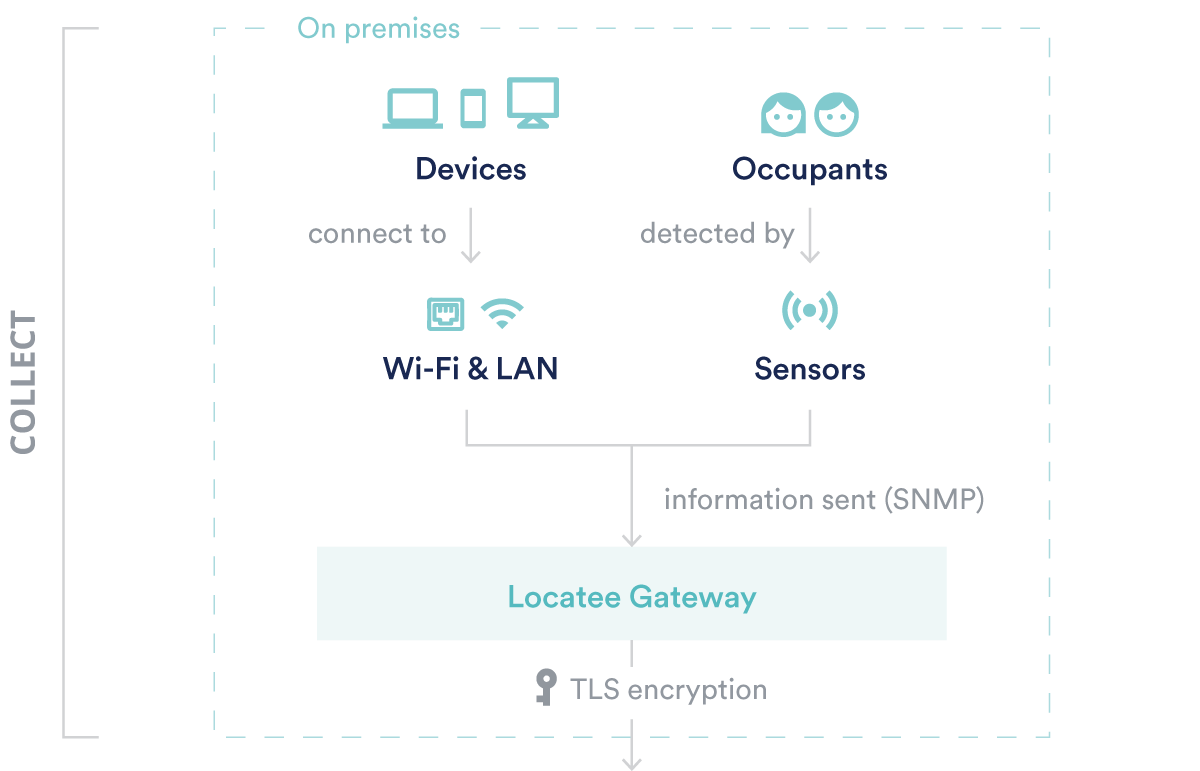 Available in cloud or on-premise
You choose what is best for your organisation.
Do you want to have the software solution installed and run on your premises?
Covering office utilisation data needs from beginning to end
Locatee's centralised and standardised platform architecture covers the entire spectrum of hosting, processing, and visualising office utilisation data.
Top-of-the-line security and technology
Powered by the best cloud technology on the market means that Locatee's software is robust and reliable, requires minimal maintenance effort, and is secured to international standards.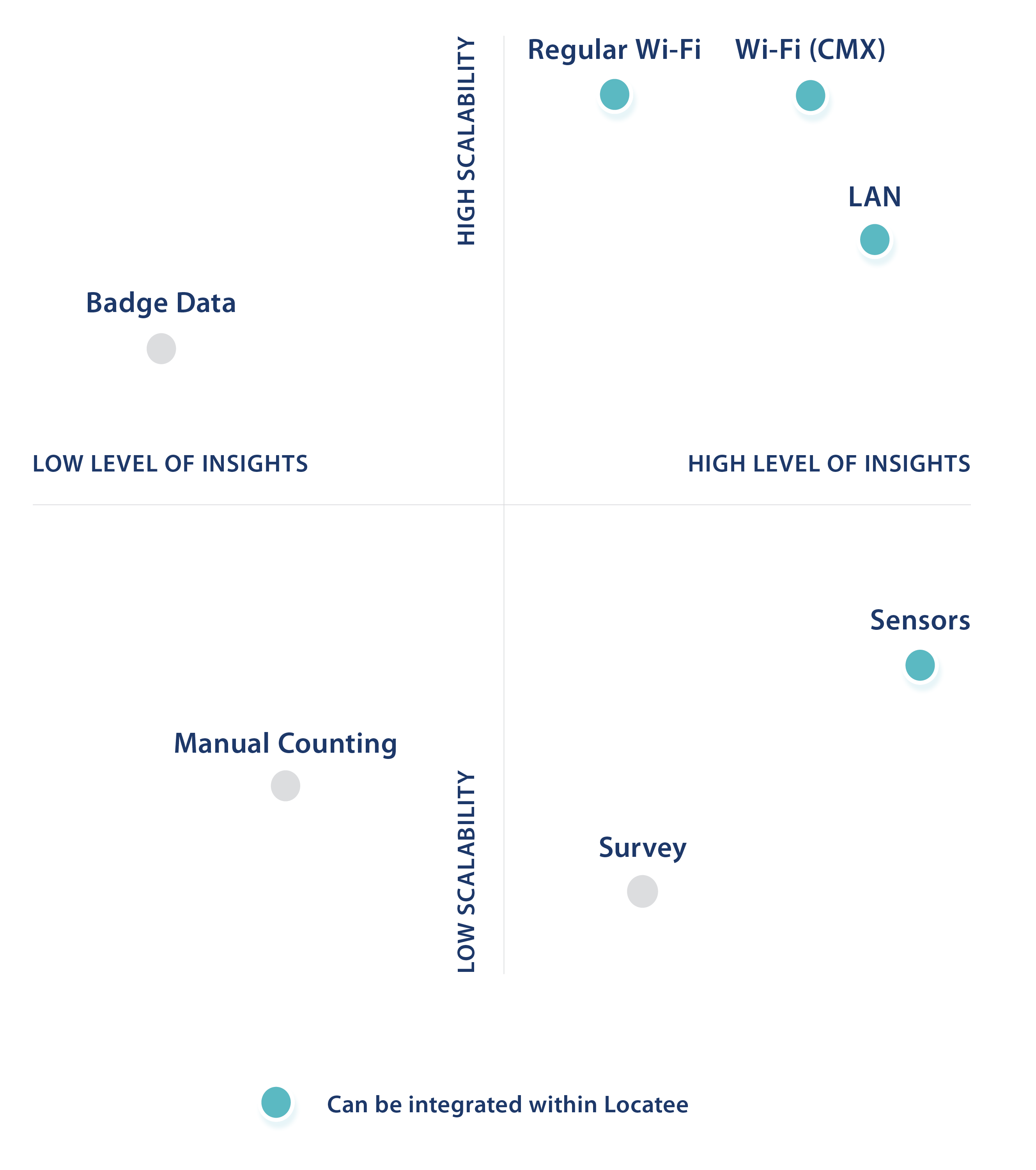 Flexible integration
of data sources
Locatee provides a multitude of data connectors which allow you to add various data sources.
Depending on your business needs and the existing IT infrastructure of your buildings, the most appropriate data sources will be used to generate the valuable insights you need to make your real estate decisions.
Technological advantages of Locatee
Highly scalable
and cost-efficient
Locatee's solution provides you with a complete overview of your entire real estate portfolio, no matter how large it is or how many locations it contains.
Leverages existing
IT infrastructure
Locatee primarily analyses data sources of your company's existing IT infrastructure. Depending on your specific business needs, additional data sources can be considered and implemented.
Almost no local
setup required
Because Locatee primarily uses existing data sources within your IT infrastructure, there is very little setup required on the company premises.
Your privacy is
safeguarded
Locatee takes stringent measures to comply with international data privacy policies, prevent behavioural surveillance, and provide maximum data protection.
Processes real-time
& aggregate data
Locatee's easy-to-use solution provides both interactive historical data as well as valuable real-time insight.
Future-proof,
robust analytics
With Locatee, it's easy to test hypotheses, simulate workspace scenarios, and adapt to your workforce's ever-changing needs.
Learn more about the Workplace Analytics software
Experience how it enables you to optimise your workspaces
and which use cases are covered.
Platform privacy and security
Your privacy and IT security is of utmost importance, and Locatee takes strong measures to comply with local and international privacy and IT security regulations. That's why our solution is trusted by some of the world's largest organisations.
All data is anonymised
No storage of personal data
Encryption used to secure data at rest
Role-based access control
"Understanding how an organization uses its workspace is fundamental to creating an effective and efficient working environment. Thanks to Locatee Analytics we were able to obtain granular insights into our space utilization and take workspace decisions with great confidence; simply based on our existing IT infrastructure!"

"For us, the main advantage is that we have a purely data-driven solution that does not require hardware investments of any kind. This was also the reason we chose Locatee."

"After Netcloud's successful implementation of the Cisco and Locatee solution as pilot programs in Munich and Bratislava, we were so pleased with the scalability and the overall success that a global rollout was the obvious way to go. Today we are optimising workspaces on 6 continents."

Ready to get started?
Get in touch.