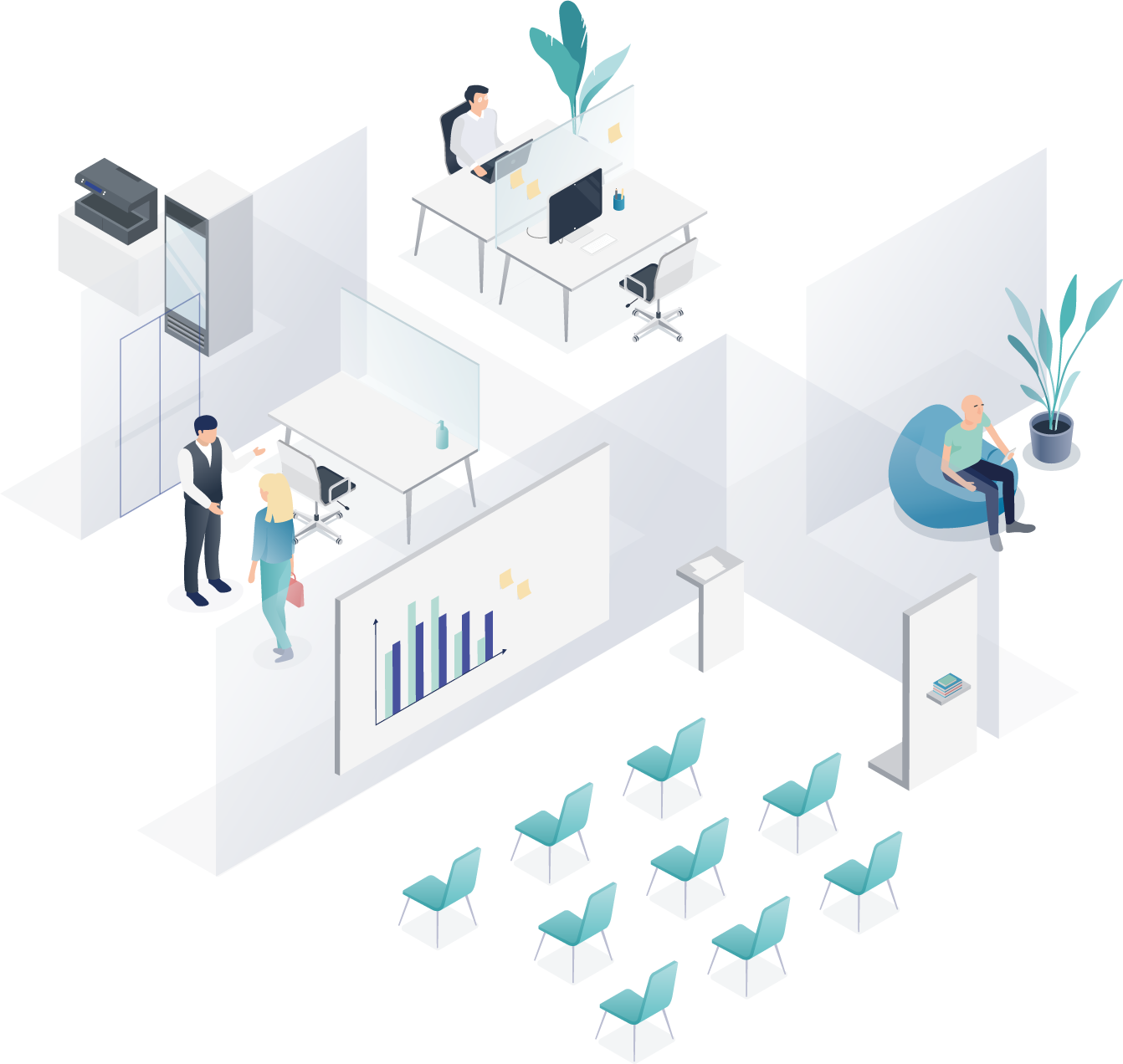 Individual Space Analysis
Get the most accurate and granular data to understand exactly how your meeting rooms and other sensor-enabled spaces are being used.
Take a closer look into the utilization of any meeting room or space equipped with occupancy or people-counting sensors
Individual space analysis lets you investigate whether your spaces are being used in the most efficient way possible. Know a meeting room's precise location, how often it is occupied, how often it is free, and when it is most frequently occupied. If people-counting sensors are used, Locatee also indicates how many people are present in meetings.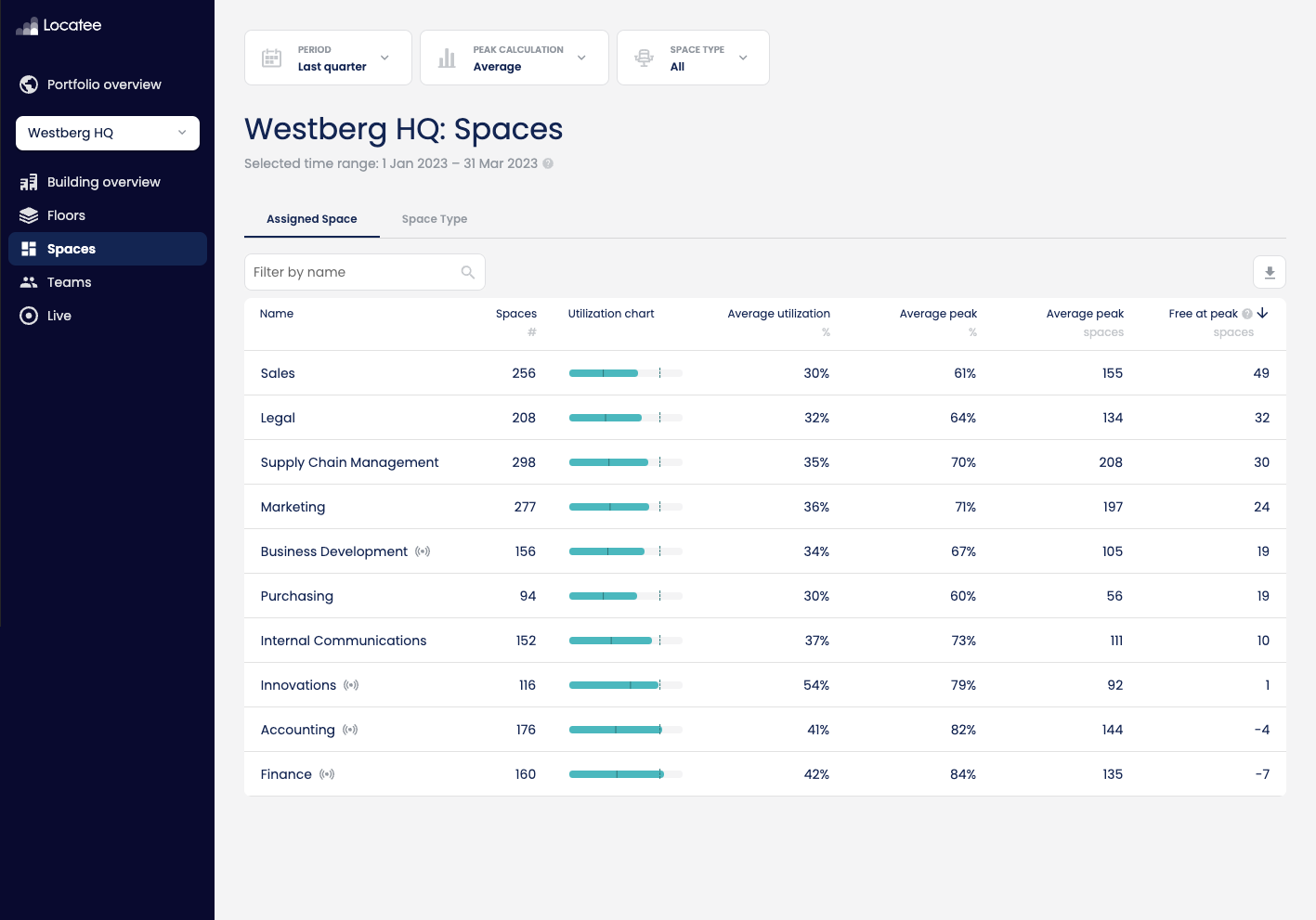 The right metrics to evaluate your individual spaces performance
Space Type Metrics
Utilization rates
Understand which space types are used most frequently
Live view
See space type utilization at a glance in real time
Utilization timeline
Check how certain space type usage change over time
Weekly patterns
View patterns of space type usage on specific days
Overall space type utilization view
Compare utilization of different space types
Individual Space View
Utilization overview
See overall utilization of specific spaces
Visitor analysis
Analyze the number of attendees per meeting in specific spaces
Utilization timeline
Check individual space usage change over time
What decisions can I make with individual space analysis?
Are there too few meeting spaces on a floor?
Which meeting rooms should be cleaned more frequently?
Which meeting room is best suited for repurposing?
How often is a meeting room unused?
How many people usually have a meeting in this space?
Is the meeting room being used as intended?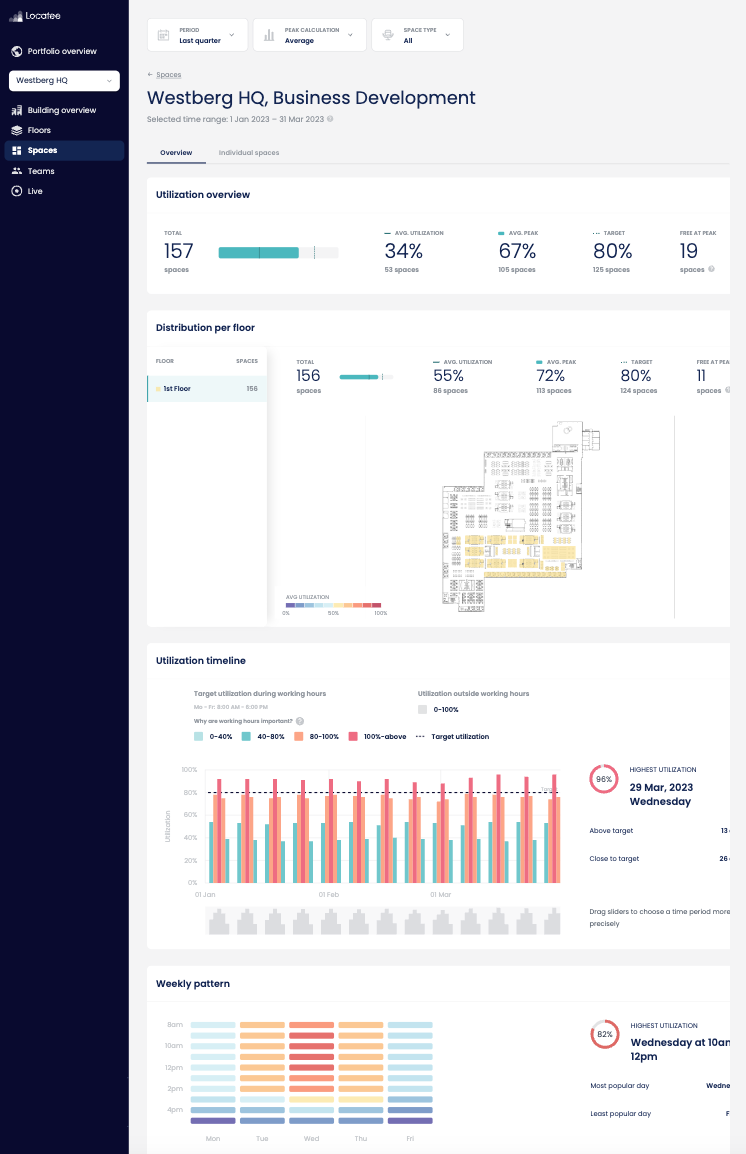 Individual Space Analysis, unlocked
Repurpose
Avoid over-purchasing of additional phone booths by better understanding how existing space can be repurposed (i.e. divide meeting rooms)
Improve
Analyze which specific desks are the least used with live-data for individual work spaces. Site managers can then devise initiatives to make them more popular.

Reconfigure
Understand if you have the 'right' meeting rooms. You may have disproportionate amounts of large meeting rooms, but actual usage patterns could indicate a need more small meeting rooms or collaboration zones.
Right-size
Right-size meeting rooms (with people counting sensors) with possible actions such as deploying phone booths when meeting rooms are often used by only 1-2 people.
How it works
Locatee's meeting room occupancy analytics is available as a Workplace Operations add-on and provides a closer look at individual, sensor-enabled spaces such as meeting rooms, phone booths, pods, and more.
Through either occupancy or people-counting sensors, you can find out exactly how often individual spaces are used, to what extent, and how they may be adapted to an increasingly hybrid work environment.
You might also be interested in:
Contact us to find out how Locatee can support your portfolio and cost optimization plans.