In recent years, workspace environments all over the world have changed drastically. Companies have adapted their buildings to create workspace experiences that communicate and reinforce the company's value proposition while also accommodating to the changing needs of employees and encouraging more human interaction. Consequently, technologies have been integrated into buildings progressively, turning them into smart office buildings. This ultimately not only creates a workspace where employees are able to work productively, but also where they want to work. In order to continuously optimise the workspace environment and being able to act proactively, it is important to track any changes. This is where workspace utilisation measurements come into place. In this article we talk about 5 measurement methods of workspace utilisation.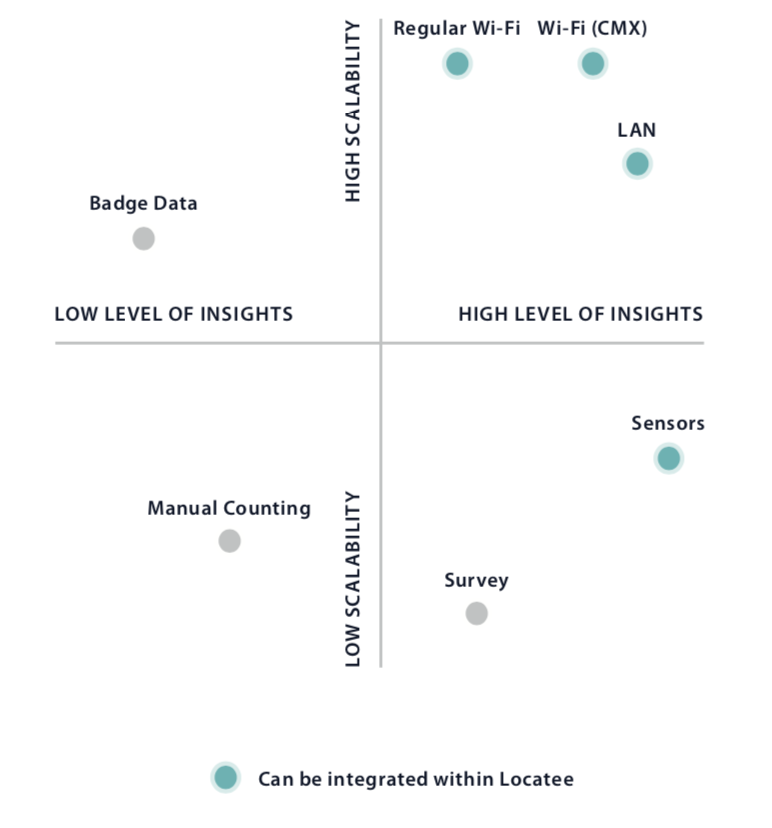 5 ways to optimise the workspace
What technologies are currently on the market to create the ideal workspace? The following five methods are frequently used to turn office buildings into smart buildings:
Manual Occupancy Counting
Small companies often make use of manual counts and workspace surveys. With an increasingly mobile workforce, the lack of continuous data comes with many disadvantages. As well as being costly because of labour-intensity, it is highly complex when being rolled out on a large scale. However, small companies may meet their needs with this method.
Access Badge Analysis
Some organisations use their already implemented access badge or turnstile system as a reference to how many employees are present in the building. The significant limitations of such data lie in disregarding visitors entering the building or people entering at the same time, as well as failing to collect data on movements inside, and on exiting the building. Furthermore, non-standardised data formats may limit the analysis of the collected data. This method does not allow for in-depth analysis.
Sensors
Sensors are mounted on various locations in the building and can measure features such as noise levels, temperature, air quality and the presence of employees. Although the sensors overcome some of the deficiencies of other methods, the deployment and maintenance of the sensors can be cost-intensive and demanding, affecting its scalability. Furthermore, sensors can fail to provide insights into workspace utilisation for shared offices at organisational units.
IT-Login Analysis
IT-Logins entail various inefficiencies since there is a trend leaning towards 'bring-your-own-device', which the IT-Login does not recognise. Furthermore, because logins vary in different buildings and locations, the method is not scalable.
Software solutions
Software analytics solutions evaluate and analyse data sources in real time by leveraging existing IT infrastructures (Wi-Fi and/or LAN). It provides you with detailed information on the utilisation of buildings without having to implement additional costly and high-maintenance hardware. However, because software analytics rely on the density of Wi-Fi access-points and the LAN infrastructure, the space utilisation might not be highly granular at desk level. Yet, software solutions have the big advantage of being highly scalable across a global portfolio while also being future-proof and offering the possibility of providing regular updates. With the help of the analysis, corporate real estate and facility managers can make objective, data-based decisions and maintain consistent success monitoring across their global portfolio of office buildings.
What Locatee offers
Locatee Analytics is a big data analytics platform enabling smart and occupant-oriented office buildings. Due to Locatee Analytics being a software, it can be adjusted to specific needs and use cases of customers. From right sizing office spaces, operational and strategical facilities management to finding colleagues, Locatee Analytics acts as a valuable tool. In order to guarantee accuracy, a thorough network assessment is provided prior to a rollout. All in all, Locatee Analytics provides scalable, granular and continuous insights at an affordable cost, turning office buildings into smart office buildings.
Find more insightful reads on our Locatee Blog