The world—or universe—of work as we know it has been turned on its head in just a matter of weeks, and the ramifications of COVID-19 have rippled across every aspect of our professional and personal lives. With governments hunkering down and enforcing stringent guidelines and curfews to protect its citizens and residents, there is also much which has been done by businesses when it comes to the safety and wellbeing of employees.
>> Bring your workforce back into the office safely with Locatee <<
Responsibility does not end as communities come together to "flatten the curve". There is no doubt that as the period of self-isolation ends and workers return to the workplace, society will enter a new normalcy. Along with it comes lessons and experiences which will not soon be forgotten.
Planning how to best manage office utilisation in a way that members of your organisation stay healthy can be a challenging task, but having the right information and data on how your offices are being used is a great first step in making better judgements when it comes to workspace planning for a post-pandemic world of work.
Locatee's 3 tips on post-pandemic office utilisation
Whether or not you are using Locatee within your organisation, the tips below aim to provide you with an idea of the measures and metrics that will help you manage a successful, safe, and low-risk return to the office.
1. Prioritise your cleaning schedules 

Keeping a close eye on hygiene and the frequency that your workplaces are cleaned should be the top priority on every single facility/real estate manager's list as employees return to the office. You may find that your buildings' cleaning schedules are in urgent need of reevaluation. The following questions should provide a starting point for your reassessment:

How often are your floors partially cleaned? Thoroughly cleaned? 

Do you need to adjust the frequency of partial or thorough cleaning?

Where are the areas of your buildings requiring more attention? (

Bathrooms? Kitchenettes? Lounges? Meeting rooms? Others?)

When and where are the office utilisation peaks? 

Which areas will most likely run out of soap/sanitizing towels/disinfectant the quickest?

Are there enough supplies to accommodate an increase in cleaning frequency?
How Locatee can help: In Locatee Analytics, there are many indicators that help you identify areas of your building to clean or sanitise more often. One such example is the Heat Map view, which surfaces information on how often each workstation is used within a given timespan. We recommend tackling the areas of your offices that have been used most frequently (in red) first.

The colors on the Heat Map indicate how often each workstation was used in a given period. Areas with higher utilisation are denoted in red, indicating that they may need attention first.
2. Keep an eye on office occupancy
During the global state of emergency, companies and service providers around the world have been asked to reduce the cap on physical occupancy and only permit a limited number of people into buildings, cafeterias, and other spaces at a time. While these restrictions will be gradually lifted as we ease back into working inside office buildings, keeping an eye on space occupancy during the transition back to the office remains imperative for creating a safe and healthy workplace.
If your organisation currently does not use any sensors or solutions (badge or otherwise) to measure workplace occupancy, consider investing in a manual counting or ticketing system with either personnel or reusable tokens to track how many people enter and exit a space. If you have sensors or badge systems installed, it becomes much easier to monitor foot traffic.
How Locatee can help: If you have Locatee deployed in your buildings, you can monitor your real estate portfolio in real-time, even remotely. Locatee's Live View shows the current utilisation of a building, including options to drill down to a specific floor or even department.

A color-coded map displays the current occupancy of an office floor.
3. Reevaluate desk allocations
Personal space and social distancing are critical factors to consider when returning to a common workspace, and the idea of assigning a workstation or desk to as many employees as possible will no doubt undergo a phase of reevaluation.
Many corporate real estate managers have relied on sharing ratios in efforts to optimise space and consolidate. However, upon reentering the physical workplace, real estate and facilities managers need to think twice about how many employees can share a desk.
In light of these new situations, look to current sharing ratios when planning for a return to work. Some questions to ask during this phase are:
Is there a need to reexamine the current desk-to-employee ratio?

Where are the workstations with the highest and lowest density?

Is it possible to reallocate employees at workstations with a high ratio (where the difference between numbers are large) to workstations with a low ratio?

If lowering the desk-to-employee ratio is not possible, can the problem be solved by introducing office shifts or "tag-teaming"?
Many organisations have introduced "tag-teaming" practices, where departments and teams rotate coming in and working out of the office. If you're not easily able to adjust your desk-sharing ratio to accommodate your entire workforce in a safe and low-risk way, you may explore introducing "office days" per department.
How Locatee can help: We originally designed the Simulate Reassignment feature in Locatee to help you find out how many workplaces can be reassigned without risking a space shortage. However, you can also use this feature to find out how many workplaces to add to a department or work zone in order to bring down peak utilisation.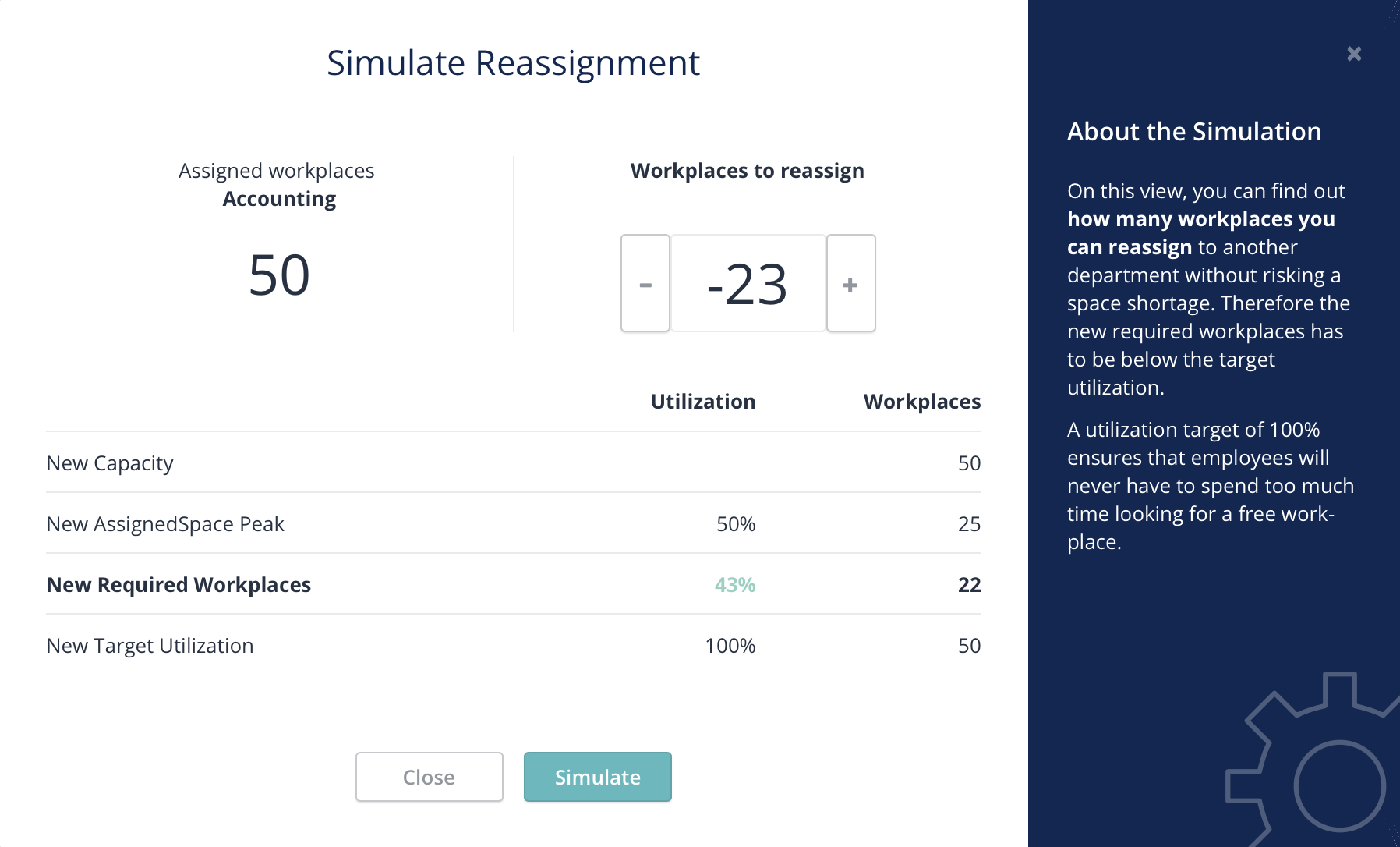 In the example above, in order to lower Peak Utilisation by 50%, 23 workstations need to be added to the Accounting department.
Corporate real estate and facilities management may not be the first things to come to mind during the times of a pandemic. But as we begin to shift from mandated working-from-home policies and emerge out of the global crisis together, the physical office space will take on a more important role than ever before.

To learn more about how Locatee's workplace analytics can help you better monitor and assess your organisation's real estate portfolio and workplace occupancy, see our free product overview or get in touch with us.