The evolution of hybrid workplaces has been slow, but a long time coming! Many believe that it was the pandemic that triggered the need for hybrid work. But the truth is that the shift had already begun long before we ever heard the words "Covid-19" and "stay at home order". In fact, data shows that many offices didn't even have 80% occupancy pre-pandemic. Companies like Paylocity already had strategies for hybrid work in place for years, and others, like GitLab, we're even fully remote!
What 2020 did do is put the transition from the office to remote work on a fast track; it forced nearly every company to adapt to a virtual workplace practically overnight. For many, this began as a struggle. Over the last two years, numerous organizations grew to appreciate it, as it's proven to have its own benefits. Other companies stayed firm in their plans to return to the office as soon as possible, but threats of the great resignation and employee pushback have forced some of them to reconsider their stance.

After just about two years of balancing the need to work from home and the desire to head back to the office, one thing is clear; the majority of companies will need to think about their strategies for hybrid work to prepare for the coming years.
Our strategic partner, CoreNet Global spoke with experts in the world of work to understand this ongoing shift. Their research examined how companies can develop strategies for remote and hybrid work models. We're going over some key themes to consider as we begin to see more people head back to the workplace.
Space management should not be based on headcount
Traditional offices consisted mostly of individual desks, each one belonging to an employee. This meant your CRE portfolio size was closely tied to the amount of workers at the company. As businesses hone in their strategies for hybrid work, this setup will be a thing of the past. 
There are a handful of reasons to step away from the 'headcount = desk count' mindset. For one, this is an inefficient way to manage office space. As mentioned, even prior to Covid, many offices operated at less than 80% utilization. Meaning that 20% of the space was excessive, or in other words, doing little more than eating up budget.

It also implies that every time the company grows, it has to put in new desks. It can even mean expanding their real estate to fit the number of employees. But realistically, there may not be a need to make drastic changes if employees don't utilize the office anyway.
Thirdly, when companies have desks for each employee, they rarely think about on other types of spaces. Yes, everyone has a seat for themselves. But the setup neglects the need for areas to collaborate, do deep work, and meet with colleagues. 
According to Wendy J. Heller, of the Real Estate & Location Strategy at Deloitte Consulting LLP, "if an organization plans for occupancy demand… then they can truly start to plan for their reality." As people return to work, companies should begin by looking at which data is available to them to understand how many people are really using the office. This includes badge, sensor, and occupancy data.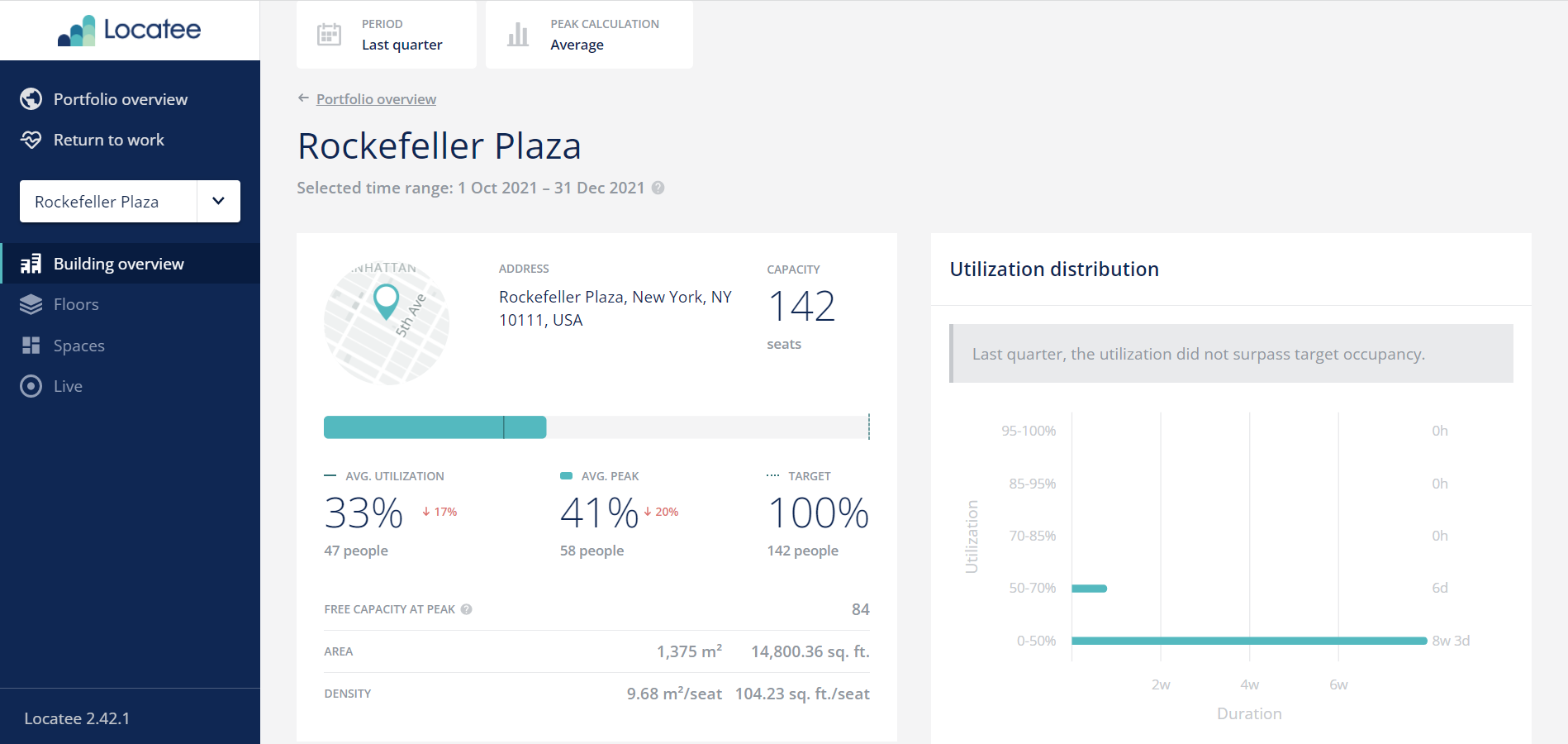 Looking at average utilization and peak utilization on a tool like Locatee, businesses can identify opportunities to optimize their real estate. The information can also guide important decisions on workplace design that serves the needs of employees better.
Hybrid workplaces by design
Creating a flexible work environment is not as simple as letting employees work from home once or twice a week. Companies dedicated to developing their strategies for hybrid work need to make deliberate changes within the office, too.
This means that the right technology has to be provided. As Hannah Hackathorn, North America Regional Principal of Design at Unispace puts it, "you need to make sure that technology is incorporated into the overall space design and is not an add-on. For it to be a successful model, it needs to be baked in." Modern companies need to incorporate the necessary tools to allow for seamless transitions between the business-office and the home-office. For example, devices to facilitate conference calls will remove the barrier between colleagues working from different locations. 
Beyond tools within the office design, firms should look at computer applications.  These make it easy for employees to work together no matter where they are. Communication tools, such as Slack, and a project planning software like Basecamp are critical to keep teams in sync.
If your company is providing new tools, it will also be crucial to provide training. The organization's have the responsibility to enable staff to use the technology optimally. This will be in addition to making sure that people throughout the company are using one tool and that standards are clear.
Roberta Sydney is a board member at Locatee and former founder and CEO of Sydney Associates Incorporated. She explains that "what is happening now is that good companies are figuring out what tools they will use, setting standards for how they're going to use them, and then also discussing how to incorporate these tools into their culture."
Remote workers are equal to in-office employees
One of the biggest challenges in running a hybrid office can be treating all employees as equals, regardless of location. In a major transition, it's easy to get caught up in more traditional ways of thinking. Some leaders and employees may misinterpret remote work as unengaged work. In fact, the exact opposite appears to be true. 
Studies found that employees working from home were actually more productive in the time they worked, and spent less time being unproductive. Nonetheless, if there is no alignment on the ideas around 'hybrid work' it could easily create a divide between those that choose to spend most of their work time in the office, and those opting to work remotely.

"If a company's aspiration is to develop a long-term, flexible hybrid model," says Wendy J. Heller, "then they will be more engaged in helping to support remote working whether that is taking place at home or on the road." This means that beyond providing the right tools to optimize communication and interaction, strategies for hybrid work will require clear standards on how they are to be used. 
This could mean outlining which programs to use for which types of communication. It could also entail creating guidelines for appropriate response times. By incorporating these ideals into the company culture, teams are more likely to adapt well to the new work model. They will feel supported by their colleagues regardless of where they decide they work. 
This is critical, as acceptance allows people to pick where to work based on their needs and preferences, instead of where they feel they should work to satisfy the expectations of co-workers and managers. Thus, people will lean towards the setup that allows them to be most productive and creative!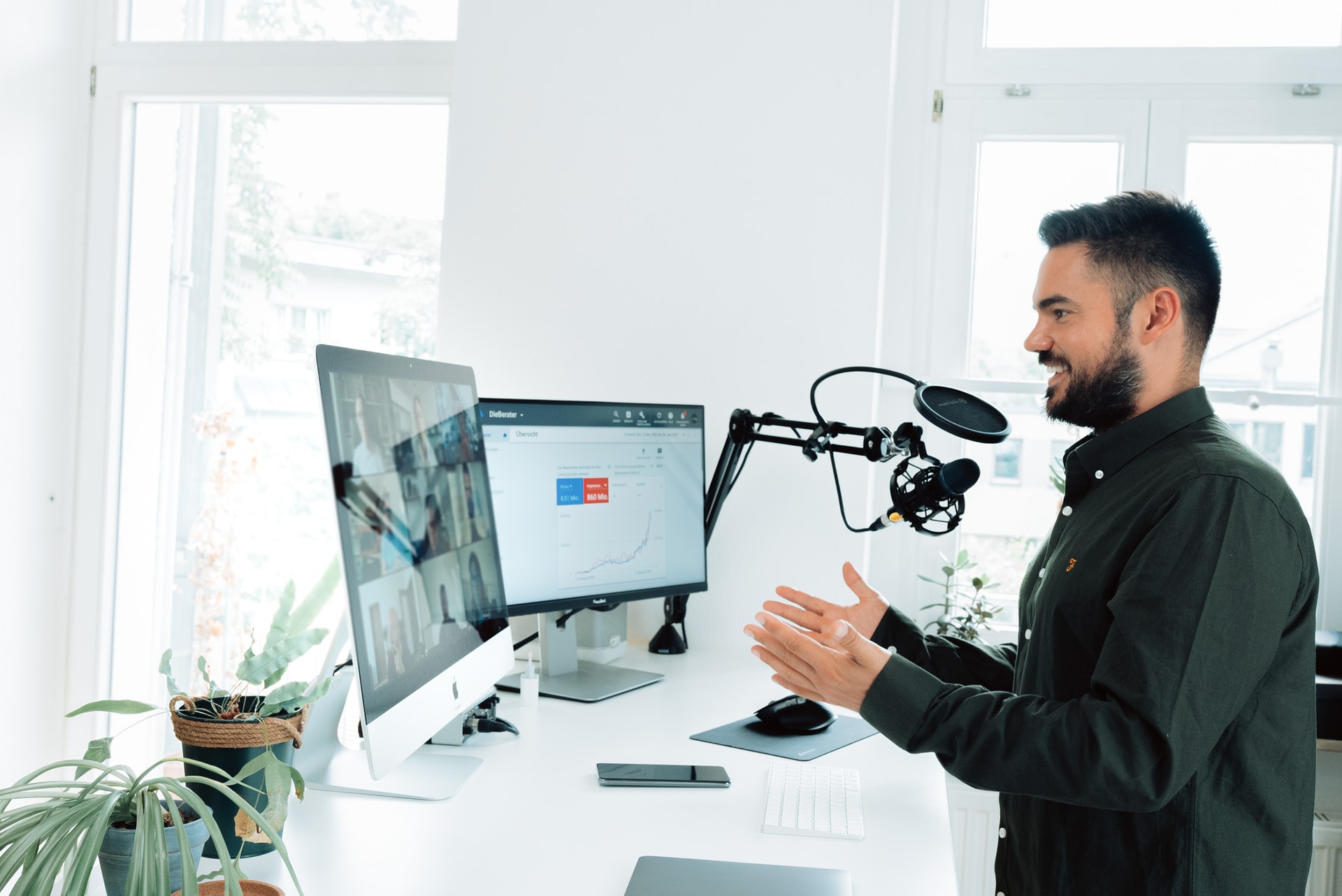 Conclusion
2022 has brought a new level of hope and certainty about the return to normalcy. But even as we see parts of life going back to how they were pre-pandemic, certain things are here to stay. 
There will inevitably be some companies that decide to push everyone back to the office. Regardless, it seems that many organizations will be building on the foundations that were laid over the past two years. Supporting hybrid work will not only give them an edge in retaining employees, but also in recruiting new ones.
The new normal will look different for everyone. Whether you have a full return to the office or take a hybrid approach, we should remember that basing our portfolio on headcount is inefficient. Companies should deliberately incorporate strategies for hybrid work into the workplace and culture to optimize for the new way of working. Workplace experience must be determined by understanding new workplace analytics. This will ensure that decisions surrounding the capacity and quality of the office are based on demand. 
For success in a flexible model, a big priority will be equalizing the experience in and out of the office. By using these ideas to guide decisions, companies will set themselves up for success in the new world of work!
Read the full report by CoreNet Global: