In response to the permanent shift to hybrid work, workplace leaders need to make decisions such as whether to increase office footprint with collaboration space or decrease the portfolio as more employees will be working from home. "In some cases customers don't know if they need twice as much space or half as much space," said Tom Stanford from Nuvolo on CoreNet Global's "What's Next"1. There's also massive uncertainty around what office amenities will attract and retain employees. Locatee's Team Analytics workplace data offers insights into how companies should craft their hybrid workplace strategy.
What is Team Analytics?
Team analytics is data on how teams work. A big part of this is where teams work also known as team mobility.  Find out not only where your teams work, but for how long they work in those spaces, who they collaborate with most/least, whether in-office, assigned team spaces are used to capacity, etc. Studying team analytics helps see the prominent work styles and preferences of employees which can be used to create the ideal workplace experience for your worker personas.
How Does Team Analytics Inform Workplace Strategy?
With the lingering pandemic still causing health concerns and the permanency of hybrid and remote work in play, workplace managers are uncertain about how much space they need. The most powerful benefit to using team analytics workplace data to develop your hybrid workplace strategy is that you're gaining critical information on the dynamic changes in how your office space is used. As a result, you can better project future needs and have concrete data on work style preferences.
Team analytics provides answers to the following questions:
To what extent have employees come back to the office? On which days of the week and which hours is the office in highest demand? Is there a difference in office usage by employee grade? Compare the office utilization of executives to mid-level managers, contributors, administrative support, etc. 

How much seating do you really need now that hybrid work policies are in effect? Is everyone using the office to collaborate and leaving individual workstations underutilized as future-of-work predictions suggest? 

What are the utilization trends and tendencies around specific team-assigned neighborhoods? Does Finance use the assigned Finance space? What other business units occupy the Innovation team neighborhood?
Team Analytics Provides Data for All Members of the New Workplace Team 
Traditionally, HR, Corporate Real Estate (CRE), and IT made decisions about the workplace in silos. These separate departments are now compelled to routinely work together and Facilities Management (FM) is at the forefront of implementation forming a new workplace team. Team analytics data helps each member of this new team to better collaborate.
Insights drawn help:
HR shape clear workplace policies.

By reviewing team mobility data such as which teams or employee grades tend to work in the office and which tend to work remote, HR can craft policies that are already in line with employee work personas and therefore more readily embraced.
IT to administer/ support different work modes.

IT can look at the same information provided to HR and determine where inefficiencies lie and where to provide enhanced support for greater productivity. For some hybrid workers, the struggle is going from the conference room to the desk, to the home office. All while having the tools and files required to be productive. Also, with security and privacy being a critical issue, IT can see where to focus their efforts. 
CRE with space planning and layout changes.

Is there an opportunity to adjust desk-sharing ratios and increase or decrease space based on user demand? Which space types do we need more or less of? Prepare for lease events and back recommendations, approvals, or denials with utilization data and input from the entire workplace planning team.
FMs with operations, IAQ & energy efficiency.

 Facilities management can better meet objectives such as improving indoor air quality (IAQ) while decreasing the amount of energy wasted with knowledge of actual space utilization. HVAC systems can be turned off and windows opened during times when rooms are consistently not utilized. They can also prioritize tasks and projects for areas with higher utilization as more urgent. 
Accounting with billing across service lines for space usage.

While not a member of the new workplace planning team, accounting can be better served with team analytics data provided by workplace managers. Thanks to improvements in technology, actual usage can be tracked better than ever. Making chargebacks and space cost allocations more efficient and precise.
Explore Locatee's New Team Analytics Feature 
Team Analytics is one of the newest features launched on the Locatee workplace analytics platform. 
Our customers assess the utilization patterns of their departments/ business units as well as office space types at a floor-, building-, campus-, and portfolio-level to support workplace optimization.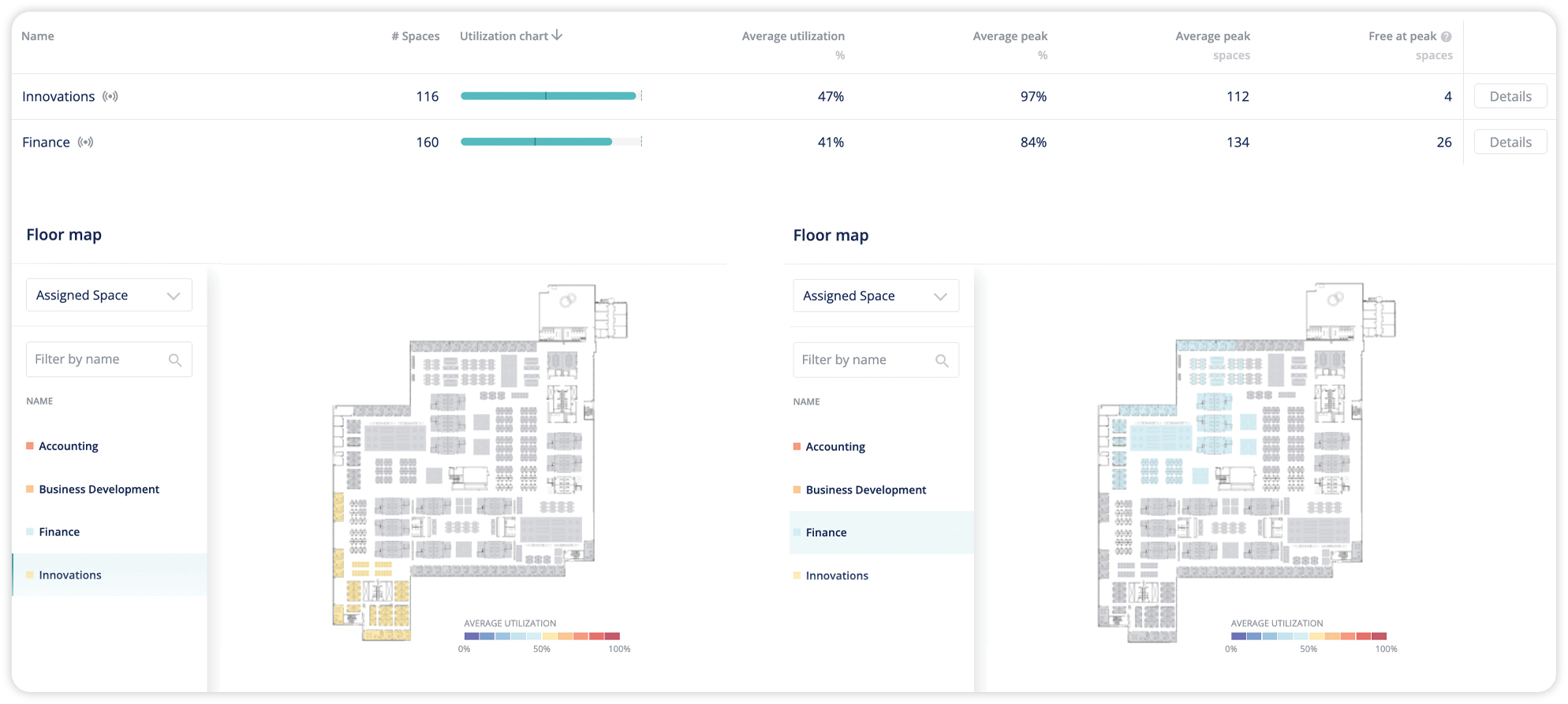 Our tool is particularly useful for crafting hybrid workplace strategies. We aggregate your dynamic workplace data accurately and anonymously into our user-friendly displays. For more information check out our fact sheet.
Read the Locatee Team Analytics Fact Sheet
If you prefer to have one of our knowledgeable Locateers answer your pressing workplace questions, request a demo now.
Did you find this informative? You might also be interested in our Definitive Guide to Workplace Analytics.
Citations
1CoreNet Global's "What's Next" podcast, Bob Mostachetti and Tom Stanford from Nuvolo, [March 22, 2022]