Companies are grappling with some big questions around space planning as they bring people back to the workplace. How much space will they need, how should they set up their buildings, and where will offices need to be located? The answers to those questions remain elusive. 
Organizations recognize that it will take time to understand how workplace behavior and employee expectations have changed. Therefore, it will also take time to understand how the physical space needs to adapt accordingly. The uncertain path ahead has created a huge appetite for data & analytics to better understand new workplace dynamics and support decision-making.
CoreNet Global shared the perspectives of leading organizations in a recent report. Their research shows how companies are preparing to return to work and what the implications are for their space planning. This blog covers key findings to remember as we head into a new and, once again, unpredictable year.
Physical area will play a smaller role in space planning
Those keeping an eye on the development of the return to work won't be surprised to read that the need for office real estate will decline. Many people have been working from home for two years. Companies have adopted more hybrid work models. On top of that, businesses are increasingly prioritizing employee needs. The norms of work are changing, and they are taking the oversized, underutilized office with them!
According to the January 2021 Fortune/Deloitte CEO Survey, three-quarters of respondents expect they will need less office space as compared to before the pandemic, with an average reduction of 26 percent. 
This change was already in motion long before today, but progress was slow for many organizations. The pandemic has further intensified the focus on creating an agile portfolio. So, companies are now looking at space that can be easily shed or added, densified or relocated. 
As the entire world adapts to this new working landscape, businesses have the perfect chance to try new ideas. They are acknowledging that they already had one hand on the lever for change—why not grab it with both hands and accelerate by embracing a more flexible work style and testing the required footprint?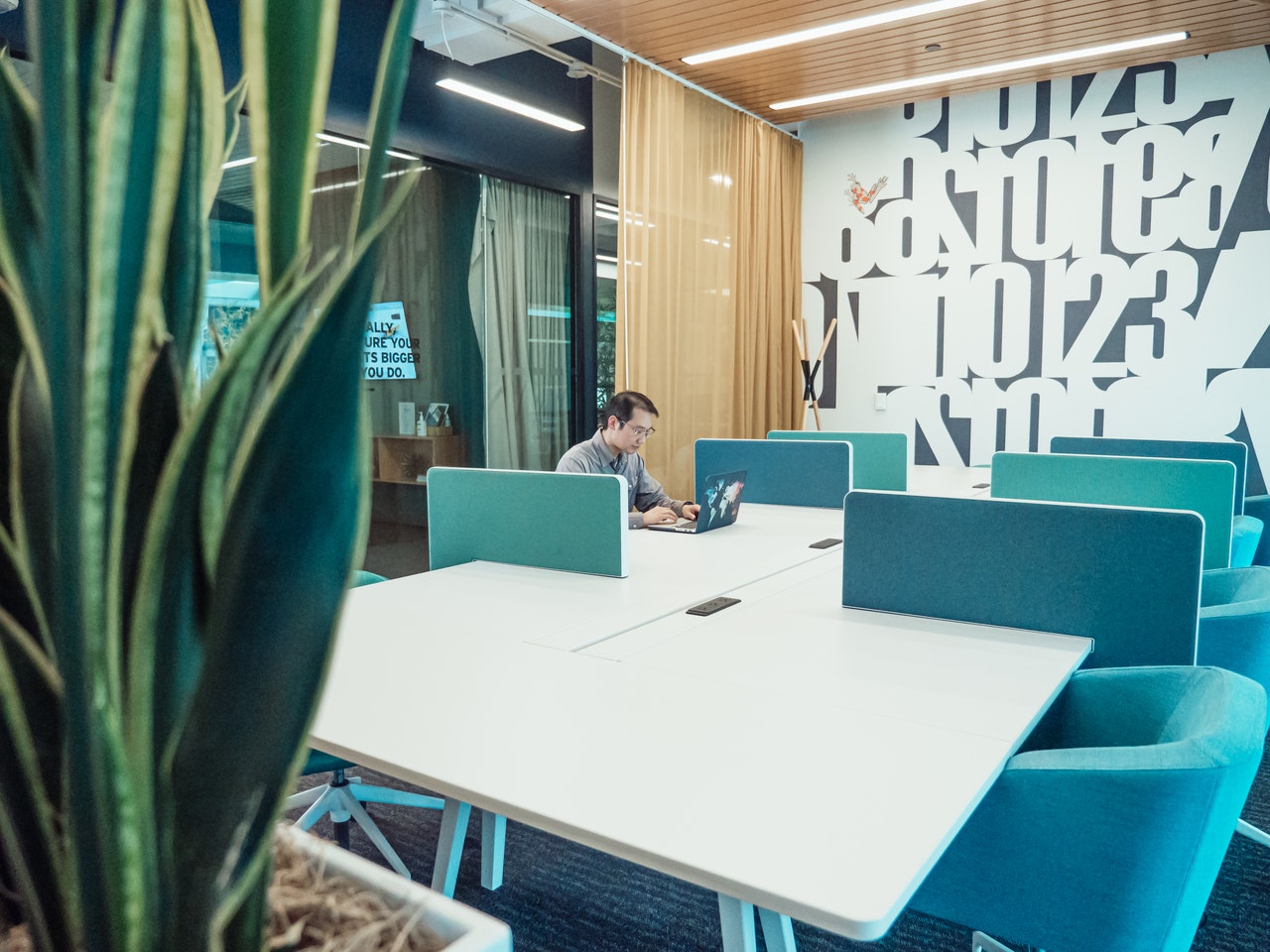 Employees are the impetus of change in the workplace
In the coming years, worker needs will be intertwined with the adjustments happening in offices around the world.
Most organizations have already planned the initial return to the office. Now they can widen the focus to look at mid- and long-term implications. To prepare for change, they will first need to better understand the new ways of working. In the end, this will help them see how new behaviors impact space planning.
Companies may want to reduce footprints and cut costs. "However, they are being very conscious to wait and see how things pan out. People need to get accustomed to the new situation and organizations need to learn about their new workplace behavior in order to make solid decisions," says Sabine Ehm, Locatee's Thought Leadership and Research Manager.
After so much time away from the office, companies have to reengage staff and re-spark workplace culture. Only then can they begin to understand how new working models impact the real estate footprint. "This involves leadership deciding the role that their office plays as it relates to the organization's purpose, what is the workplace philosophy, and what do they want people to be doing in the office?" says Roy Abernathy, executive VP, Global Workplace Strategy & Human Experience at Newmark.
Most aspects of people's lives were impacted by the pandemic in some way. Because of this, our 2019 definition of 'Workplace' is unlikely to help us predict how the future of work will look. That's why many companies are starting fresh to collect data about when people are turning up at the office. What groups are returning to the office? How many days of the week? Which days, and for how long? What are the peak periods? 
This new information on the employee experience will help reconstruct the way we work. In turn, this will help bring us further down the path to optimized workplaces.
Data will pave the road to our new normal
Whether the ultimate goal is to reduce real estate and save money, or to improve the employee experience, data will be a non-negotiable factor in decision-making and space planning in the coming years.
"Organizations are trying to drill down on metrics to understand utilization, engagement and interaction," says Sabine Ehm. In other words, businesses are gathering data to determine: How much of the workforce is coming back to the office? What days of the week are those people coming back? What is the new design density of the space? 
Real estate and office space are big investments, and companies depend on a strong and satisfied workforce to be successful. Simon Pole, global director of design at Unispace, explains that many organizations "are looking for more data and science than ever to help support and guide that decision-making, because there is a lot at stake." 
It can be hard to find the best ways to go about starting to collect data if your organization hasn't already jumped on the opportunity. Susan Wasmund, senior managing director, Advisory & Transaction Services | Occupancy Management at CBRE often recommends a hybrid solution. In this approach, a company collects the macro-utilization data across an entire portfolio, and then prioritizes a portion of the portfolio to also collect micro-utilization data. Companies should focus those micro efforts on where they actually add value. For example, where leases may be expiring, or for a specific market where they may want to consolidate facilities. 
Conclusion
As many companies have already laid out initial back-to-work plans, 2022 will be the year to reimagine, reconfigure, and reinvigorate the workplace. 
Cost and space reduction will play a big role as companies continue to experiment with hybrid and remote work models. Nonetheless, employee needs will take first priority and dictate many changes that will occur to an organization's real estate. Regardless of where a company is starting, data will be the key to understanding what adjustments really need to occur in the workplace.
Read the complete report by CoreNet Global here:
COVID-19 Drives Evolution in Space Utilization and Portfolio Planning