In the time that has elapsed since our analysis on corporate real estate responses around the world, COVID-19 infection rates have impacted countries with different levels of severity and resulted in quite a diverse range of coordinated responses around the globe, from China's strict lockdown and travel bans to Sweden's controversial laissez-faire approach.
Looking through the lens of corporate real estate, the global response is much more aligned. Office occupancy and utilisation have dived head first in every single country with no signs of a rebound to pre-coronavirus levels in sight. This has been compounded by the rising trend of permanent remote-working setups being introduced by companies large and small.
Using year-to-date office occupancy data, we calculated the average weekly peak utilisation to better understand the current state of corporate offices around the world and the direction they might be headed in the near future.
>> Bring your workforce back into the office safely with Locatee <<
Weekly peak office utilisation in Asia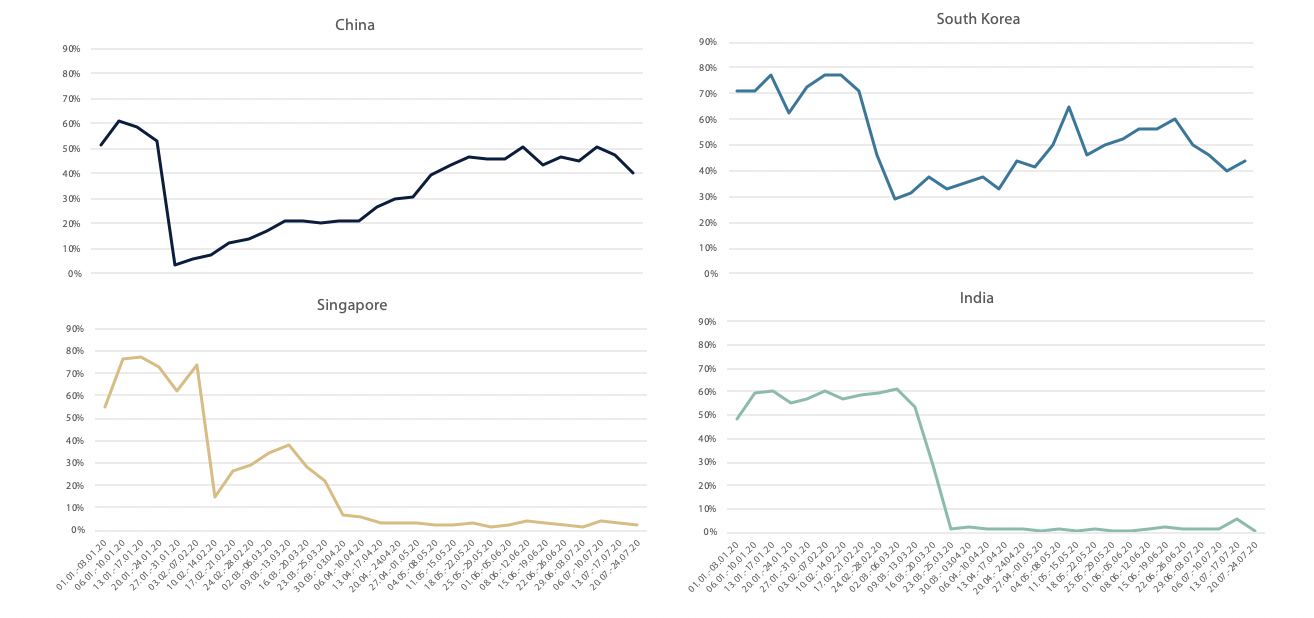 China and Singapore were the first countries to react to the developments of the novel coronavirus back in January and early February. While we can see that since locking down, office utilisation in Chinese cities has been slowly but steadily increasing over the course of the previous months, utilisation has remained conservative in Singapore. Offices in the city-state seemed to be on the path to a slow return until the week of March 13th, when the Ministry of Health advised employers to allow employees to telecommute, stagger their work hours, and commute at off-peak hours. On April 3rd, Prime Minister Lee Hsien Loong introduced a much stricter set of measures to curtail the rise of COVID-19 infections in Singapore as well as the risk of asymptomatic spread, effectively closing all non-essential workplaces until June. However, even after the end of the "circuit breaker" period, office occupancy remains stagnant at well below 10% peak capacity. 
South Korea, which has been lauded in its handling of the outbreaks without resorting to drastic lockdown or quarantining measures, appears to be leading the return-to-work movement along with China. As active cases have remained low in the country since June, weekly peak office occupancy has surpassed 50% or half capacity.
As India has the world's third highest number of infections, office occupancy has remained low. Following the government-mandated nationwide lockdown on March 25th, corporate offices have remained mostly empty.
Weekly peak office utilisation in Europe

In Europe, where the data points all reflect a precipitous drop at around the same time, there seems to be a strong inverse correlation between the severity of the spread and weekly peak office utilisation. Italy and the UK were the first countries in Europe to respond, and were also among the countries most hard-hit by the pandemic. As a result, office occupancy has remained low. As the UK currently has the world's second-highest death rate per capita of major countries, knowledge workers in large UK cities such as London are not expecting a return to the office anytime soon. 
Countries like Spain and France that also undertook drastic lockdown measures are continuing to operate cautiously. Both countries are beginning to lift their states of emergency albeit in different ways. As a result, we're starting to see the beginnings of a very slow return to the office space.
Out of the countries whose data we gathered, Germany and Switzerland are the countries who are leading the return to work in Europe, with weekly peak office utilisation almost reaching 40% before the beginning of the summer holiday season.
Weekly peak office utilisation in Africa, Americas, and Australia

When looking at data from other parts of the world, we can clearly see that corporate offices in the Americas, namely the US, Brazil, and Mexico, are very much still in deep the trough of the pandemic. As some of the largest countries both land-wise and population-wise, it's difficult to predict when employees will start to make their way into the office again as there are no indications of a change in occupancy patterns thus far.
In Australia, we've seen a swift resurgence in office occupancy in the beginning of June, when the country reported the lowest number of new cases since February, with no new cases in Sydney and Melbourne, Australia's largest cities.
In general, as more and more companies such as Coca Cola, Google, and Twitter offer extended or even permanent home office and remote work options to their workforce, we may never see a full return to the peak office utilisation rates of pre-corona times: the new normal of work is one that will force companies large and small to pay closer attention to their real estate portfolio in an effort to understand their workforce's new working habits.
---
* Locatee gathered anonymised workplace occupancy data from a sampling of workplaces across 24 cities in 15 countries. Thus, the information and interpretations presented in this article should not be taken as definitive representations of workplace occupancy patterns for entire countries. 
For more information about Locatee's workplace analytics solution, download the Locatee Product Overview.