Zurich, Switzerland and New York, USA, 23 July 2021 – Locatee, the leading workplace analytics solution, is pleased to announce the recent addition of Roberta Sydney to its advisory board. In the context of a rapidly evolving proptech market for corporate real estate (CRE), it is crucial for Locatee as an industry leader and shaper to foster in-depth industry know-how and experience with long-term vision, bravery and innovative spirit. Such criteria led Locatee to select and nominate Roberta Sydney to its advisory board. 
Roberta's career and life experience made her the ideal fit to join Locatee – a tech startup contributing to transforming the CRE environment. As an entrepreneur, Roberta founded and grew her own real estate business, developing and managing up to nine million square feet of property. As a senior executive and board member, Roberta has helped numerous companies achieve significant growth, including large, traditional organizations, emerging companies and venture capital-backed startups, and in 2020 she was given the distinction of "Director to Watch" by Private Company Director. This background gives her a unique perspective on the CRE industry and its current transformation.
"My path in the industry has led me to believe that our true responsibility as leaders lies in improving the built environment", said Roberta Sydney. "In terms of optimizing the footprint of the building, and in terms of enabling a better environment for the people who ultimately use it. Even before Covid, our challenge was and remains to create a place that is engaging to those who come to the office, that enables them to be at their best, and also that fosters fairness and well-being". 
While her responsibilities during her career have spanned across the globe, Roberta is a through-and-through expert of the US commercial and corporate real estate market, thus aligning with Locatee's expansion in North America, along with its drive for diversity. "We are ecstatic to welcome Roberta's skills, profile and perspective to our team", said Thomas Kessler, CEO and co-founder of Locatee. "The unique scope of her experience, her drive to excel with her skills, vision and thought leadership, are precisely what we envisioned for our advisory board". Locatee is striving to strengthen the diversity of skills, backgrounds and profiles in its team and initiatives, taking yet another leading position in a slowly evolving industry.
Locatee is the leading workplace analytics solution that transforms complex data into space utilization insight. Developed with a deep understanding of the corporate real estate challenges facing the modern world of work, Locatee empowers workplace leaders to make decisions about their business buildings with confidence.
Zurich, 27 May 2021 – Locatee, the leading workplace analytics solution, is pleased to announce the recent addition of Christian Kuehni to its advisory board. The corporate real estate industry is undergoing significant changes due to digitalization and a maturing, transformational solutions market, reaching an inflection point. Locatee wants to strengthen and extend its top market position by bringing in some of the most experienced and forward-thinking leaders in the industry.
Christian has been a leading figure in the global corporate real estate industry for decades. He brings invaluable experience and industry knowledge to support Locatee's growth targets and strategic positioning. His depth of understanding of real estate in large multinational corporations, as well as his extensive network within the international CRE industry, will help fortify Locatee's position as a leading solution provider for CRE executives.
Throughout what has been an incredibly successful career, Christian has held senior management positions in property and non-property companies with real estate portfolios covering up to 220 countries and territories. In addition to managing large institutional commercial real estate portfolios, he has been Global Head of Corporate Real Estate for Deutsche Post DHL Group, UniCredit Group, Aventis (today Sanofi), Hoechst, and responsible in ABB for real estate development & promotion. He now joins Locatee in an advisory role, to help redefine the future of workplaces. 
"I am very impressed with Locatee's solution, vision, strategy, capabilities, and successes so far," Christian stated, "The importance of having meaningful, real-time, and consumption-ready data in today's CRE industry is core business-critical, especially with the acceleration towards the much more complex hybrid workplaces. As an experienced corporate real estate industry leader, I see that we are reaching a pivotal moment of significant change. It is exciting for me to contribute to this transformation and to be a part of Locatee" 
He joins Locatee's advisory board, which has been created to empower the company's leadership team at strategic and operating levels, and to strengthen the company's knowledge and expertise in corporate real estate as it ramps up its initiatives as a thought leader in the industry. "We are delighted to welcome someone of Christian's caliber to our team", said Thomas Kessler, CEO, and co-founder of Locatee. "We will benefit not only from the breadth of his knowledge but also from his willingness to explore visionary avenues for the future of CRE". 
Locatee is the leading workplace analytics solution that transforms complex data into space utilization insight. Developed with a deep understanding of the corporate real estate challenges facing the modern world of work, Locatee empowers workplace leaders to make decisions about their business buildings with confidence. 
Locatee's workspace analytics platform used by the likes of Deloitte, SwissRe, and other Global1000 companies in more than 60 countries. 
Launch of New York office will drive further support for US-based corporations as they shift to post-pandemic office working
New York, 25 February 2021:  Locatee – the Swiss-based workspace occupancy and analytics provider – today announces it has further expanded into the US, with a view to becoming the global leader in the workplace analytics market. Locatee's New York-based team now provides support to US corporations wanting to effectively navigate post-pandemic office working, and reduce unnecessary real estate costs. 
Locatee's unique workspace analytics solution – which leverages the existing wired and wireless networks in place – enables businesses to make data-driven decisions about their corporate real estate. By tracking occupancy and utilization rates of office spaces, Locatee customers can confidently establish exactly how effectively office space is being used. This enables corporations to upscale or downscale as needed, and optimize the office to ensure a better quality of office life for workers.
Locatee – which counts Deloitte, SwissRe, and other Global1000 companies including leading U.S. businesses as customers – has enjoyed strong growth across Europe since its founding, and tripled its revenue in 2020. With the corporate office landscape set to change significantly post-pandemic, US corporations must act now to ensure they are identifying and meeting the future needs of their office-based workforce.
Thomas Kessler, CEO and co-founder at Locatee comments: "The corporate office space in the US will be very different to the one we knew pre-pandemic. Corporations need to make decisive, data-led decisions about optimizing office space, ensuring it exceeds the needs of workers, whilst also being cost-efficient. We know that large corporations often struggle to identify exactly how their corporate real estate portfolio is utilized, and this leads to enormous cost inefficiencies in terms of wasted space. We're here to help corporations effectively manage their real estate portfolios, and feel confident in providing productive, high-quality office spaces which are a pleasure to work in." 
Philipp Stauffer, Co-Founder & Managing Director at FYRFLY added: "Locatee's fantastic growth over the past few years is testament to the value they provide their customers. I am excited to see them bringing their platform technology and their insight and expertise to the US market. As we look to adapt the way we work in the post-Covid recovery, it's crucial that organizations have the data and insight they need to make intelligent decisions about their workplace and real estate portfolio. Locatee provides that key, and we're tremendously excited about their prospects." 
About Locatee
Locatee is the leading workplace analytics solution that transforms complex data into space utilization insight. Developed with a deep understanding of the corporate real estate challenges facing the modern world of work, Locatee empowers workplace leaders to make decisions about their business buildings with confidence. 
Locatee recently released research into the US CRE market which can be found here: https://crem.locatee.com/survey-cre-in-the-us 
These times, keeping an eye on office occupancy and utilisation has reached a new stratosphere of significance. Managing workplace occupancy is now a business-critical need.
Locatee understands the unprecedented challenges facing executive leadership, real estate managers, and facilities teams, which is why we've made our Portfolio Insights features available as a standalone pack.
Get all the information about the Portfolio Insights starter pack.
Customer Exchange
Even before the official opening took place, our Customer Success Manager Sabine Ehm and Partner Channel Manager Nadine Haak organised a customer exchange. More than 20 partners and customers from the DACH region visited us to see our show room and talked to each other. Thanks to informative presentations also from customer side and the following exchange, the attendees including Locatee could highly benefit from the event.

Office 2.0 Opening
Shortly after, our Workspace Experience Manager Mariel Chirino organised the official opening of the second part of the Locatee office, where we enjoyed an apéritif together. But the highlight was an original Super Nintendo including Mario Cart, which attracted a lot of attention!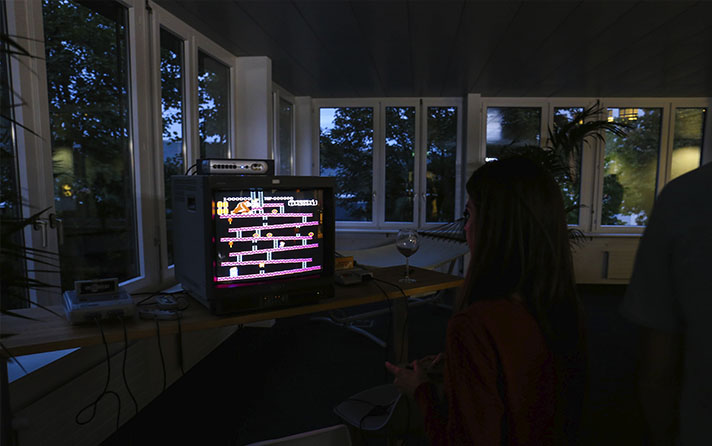 This article has been translated to English. The original article in German can be found here.
---
The Post Immobilien Management Services AG (Post Real Estate) is a subsidiary of Swiss Post and one of the largest real estate companies in Switzerland. It manages around 2.300 properties – including all properties owned by Swiss Post, but also third-party customers. In the DOMBLICK interview, Valerie Riedo, Head of Innovation, reveals how the "yellow giant" positions itself on the topics of innovation and digital building.
Ms. Riedo, after six months in the new role of Head of Innovation at Post Real Estate: How are you driving forward the digital transformation and which innovation projects are being implemented?
The digital transformation in facility management lags behind the worldwide, rapid digital development. For example, while FinTech has been established in the financial industry for quite a while, PropTech is still in its infancy. The potential in digital real estate (DRE), is high. Post Real Estate has been building a culture of innovation for the past two years and consciously investing time and resources in the DRE.
As part of our innovation process, various new digital products and services are being developed and tested. The focus is on customer needs. We constantly check whether the developed solution can really solve the existing problem. For example, we are currently piloting an idea that was introduced directly by service technicians as part of an ideas competition. Actually, the app works like a GPS: it simplifies navigation in the building to find technical equipment easier and faster.
We are also proud that with Service on Demand and IntelliClean , we have developed two solutions that have already reached market maturity. These inspire customers and are currently scaled up externally on the market.
What is behind these two solutions?
With Service on Demand, we have developed the solution for demand-oriented facility management, which is now in use by various customers and has proven itself. Just press a button and the facility management is there. Regular inspections of filled crockery counters and empty file containers, intact coffee machines or functioning printers are a thing of the past. The facility management only moves out when it is called by the customer.
Internally, we were able to realize time savings of 20 percent while increasing customer satisfaction. We are constantly developing the product, whereby we are currently testing the demand report via voice (Alexa) or QR codes. With a voice input more or more individual information can be given and Alexa provides the building users even help for self-help and assigns the house service only when there is no other way.
With IntelliClean, cleaning is done on a data-only basis, and only where work has actually been done during the day. Based on different evaluations such as occupancy and weather data, there are no fixed tour plans. Instead, a dynamic route planning is created. And what's especially pleasing is that IntelliClean is currently nominating Post ImmoClean for the CMS PURUS Innovation Award 2019, which will be awarded in Berlin at the end of September.
One could say: "Data is the new gold". Ms. Riedo, which projects and practical examples are there besides Service on Demand and IntelliClean?
Right. At the center of digitization is the Digital Building. This includes all building data that is generated, updated and managed during the planning, construction and operation of a building. Building data, for example, is data from management systems such as SAP or ERP, from the CAFM, Computer Aided Facility Management system, building management systems or sensors. The focus is on the learning analytics platform, which uses all available data, ensures optimized and automated processes and enables the development of new services. For example, we have developed a predictive maintenance solution for our photovoltaic systems on certain properties. Instead of periodic cleanings, the optimum cleaning time is determined based on the current energy data of the systems and weather data, whereby the cleaning cycles can be reduced.
The building utilization data, which we have been cooperating with for some time now together with the start-up Locatee, are also of central importance to us for the 30 largest office premises. Employees immediately see on the display which zones are free or occupied (see Case Study Post). The workspace actually needed can be steadily optimized with an increase in part-time work and home office. For the staff restaurant, we have developed a model that enriches the historical and current occupancy data with weather data and creates a forecast for occupancy during lunch time. This allows employees to choose the most optimal time for lunch. If nice weather is forecasted the next day, more people will be eating outside, and so there will be fewer staff in the staff restaurant. This forecast data can also be used to determine the number of meals in the restaurant, further reducing food waste.
Are the new ideas and technologies also applied when it comes to project developments or new buildings?
It is a goal of Post Real Estate to play a pioneering role in investment properties and future construction projects in the field of PropTech and Digital Building. As an example: Two major project developments by Post Real Estate are Bern Weyermannshaus and Basel Nauentor. In order to be able to show the different stages of construction to the different stakeholders not only on the basis of a plaster model or 2D plans on site, we also created a 3D model using augmented reality (AR). In the process, the area will be accessible via the Microsoft Hololens, so smart glasses, presented from different perspectives and to functionalities, such as the sun or the bus stops, complemented. As an extension is now the simulation of flow of people in development. This allows the optimal positioning and design of the retail space to be defined.
Over the next 15 years, Swiss Post will invest around 1.8 billion francs in 50 yield building projects. At the same time, we are investing in real estate innovation, connecting the physical and the digital world, and hopefully setting new standards with our digital real estate products and system solutions.
Thank you, Mrs Riedo, for the very interesting conversation and the insights into the company.
From: Mathias Rinka, «Domblick»
Read the original article (in German)
Are you curious about how Swiss Post cut real estate costs, reduced food waste and increased employee efficiency? We show you how they managed it.
Register now for our webinar. It takes place on the following dates:
Tuesday, 15th January 2019, 11.00 am – 11.45 am (CET)
Thursday, 17th January 2019, 11.00 am – 11.45 am (CET)
After registering for the webinar we will provide you with the respective links and login information.
Did you miss the webinar? Don't worry. Simply download the case study below and we will contact you to discuss the case study and your individual optimisation potential with you.
Team
3: Our team tripled in size and celebrated its 3rd anniversary this past year! We send out a warm welcome to all who have joined us and we are excited for every new addition in the year to come. Read more about Locatee's journey here.
75046 km: Some of our team members had the chance to take a 'Work Wherever You Want Week' this year. All of them together have travelled 75046 km to reach their dream destinations. Have a closer look at the experiences of Flurin in New York, Benedikt in Tokyo and Alex in Berlin.
2: We thoroughly enjoyed our 2 team building events this year. The winter event was packed with fun activities in the snow. Read more about it here. Our summer event took place in Berne where we even had a try at the traditional Swiss sport 'Hornussen'.
Product
67 on 6: Our product has been rolled out in 67 cities on 6 continents.
7: We are continuously dedicated to improving our solution and making it better for our customers. This is why we have released 7 updates adding a variety of new features. Read about our updates here.
33: Striving for top-quality and exceptional product development entails the need to generate a myriad of new ideas. In order to do so we've held 33 brainstorming sessions, allowing our creativity to be set free.
Sales
72432 km:This year, our sales team travelled 72432 km in order to spread the word about Locatee and the use cases it covers to optimise your smart buildings.
11: Orgatec in Cologne, WORK 2.0 in London, and the Smart Workspace Design Summit in Amsterdam are only a selection of events we've attended this year. At a total of 11 events we could be seen giving out Toblerones to new potential customers, existing partners and all other great and interesting people. Read about WORK here or subscribe to our newsletter here in order to never again miss an event.
241'060: Our team has sent out 241'060 emails to spread the word about Locatee and explain in how many ways our solution may be beneficial to your company.
Marketing
52%: This year, we increased our number of followers on Linkedin by 52%. We are happy to update even more people on our events, products and company news. Follow us on LinkedIn and keep up to date with our newest posts.
30: Generating interesting content for our followers has become an integral part of our daily business. To deliver you further detail on our company and on the industry's developments, we have spent a lot of time researching and writing 30 blog posts. Read all of them here.
9: Generating a newsletter is a great opportunity to inform all interested parties about our events, product updates, and company news. We have sent out 9 newsletter editions and more will follow! To never miss any company updates again, subscribe to our newsletter here.
We wish you all a Merry Christmas and a Happy New Year. We'd like to thank YOU, because we could not have achieved all of these goals without our clients' and partners' help and we are hoping to reach even more milestones in the future!
See you next year!
As an innovative pioneer, Swiss Post relies on the latest technology to improve its employees' work experience. Providing a modern work environment is one of the central measures. Since early 2016, Swiss Post therefore uses Locatee's big data platform. After having successfully implemented and used Locatee Analytics for space optimisation during the last 2.5 years, it was time for the next step: The rollout of Locatee's smartphone application.
This new tool helps the employees to easily search for and find colleagues and free desks. Like this, employees no longer waste time with looking for peers and the preferred workspaces. The app not only helps to increase efficiency, it also helps to improve the overall work experience as it provides the appropriate information and zoning plans to find their way around the building easily.
The app relies on data from Locatee Analytics which has so far been used to measure space utilisation in Swiss Post's office buildings. Despite its accuracy, Locatee ensures data protection for the app users. The employees have the choice to opt-in if they want to be found, respectively opt-out if they do not want to be found by their colleagues. However, even when opted-in, individual data is only used for the live view and is not stored for historical analysis (read more about privacy).
"The app is the next step for an optimal usage of the building utilisation data, gathered with Locatee Analytics and enables improved collaboration among users."
– Carine Bommeli, Innovation and Projects, Post Real Estate
To ensure a smooth launch, Swiss Post has implemented several internal communication measures: Besides distributing information flyers, conducting a raffle and dispatching newsletters, a guide is used to describe how the app can be downloaded from Swiss Post's own app store. Following the successful rollout, the expansion to other office buildings is being examined now.
Get in touch if you would like to get more information about Locatee Analytics and the advantages for your employees.