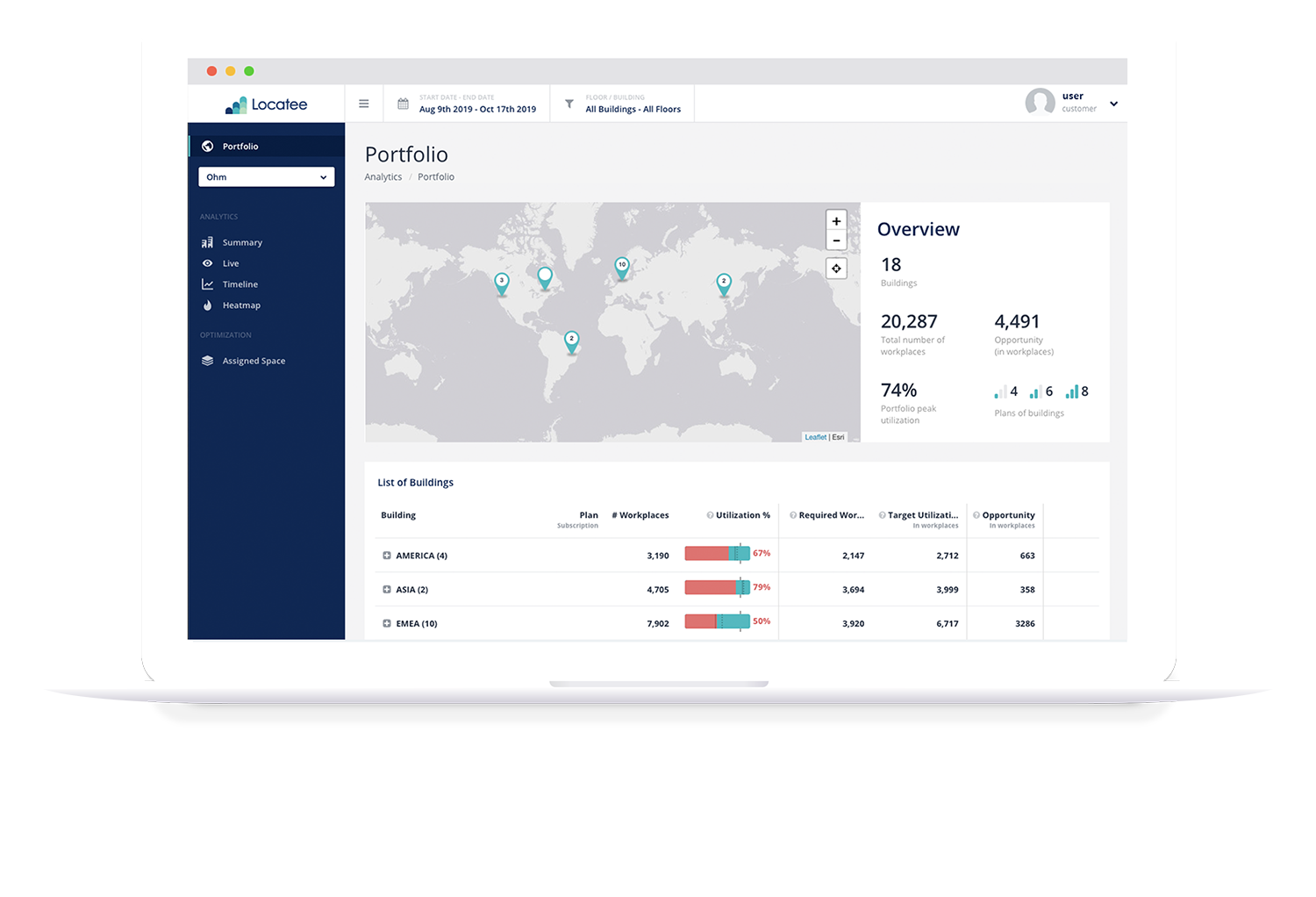 Portfolio Insights Starter Pack
A solution that helps you keep track of office utilisation across every building in your corporate real estate portfolio.
What's inside:
Learn about the immediate, near- and long-term benefits of Portfolio Insights to tackle the unique challenges of COVID-19
See how Portfolio Insights can help you think global when it comes to compliance and act local when it comes to strategy
Access to exclusive features and more when you sign up for Locatee's Portfolio Insights Starter Pack before May 31st, 2020
In light of the extraordinary situation brought on by COVID-19, keeping an eye on office occupancy and utilisation has reached a new stratosphere of significance. Whereas leaders and managers previously looked to workplace utilisation data to measure efficiency and identify optimisation opportunities, the focus of 2020 has all but shifted to creating a safe, healthy, and low-risk environment. Managing workplace occupancy is now a business-critical need.
Locatee understands the unprecedented challenges facing executive leadership, real estate managers, and facilities teams, which is why we've made our Portfolio Insights features available as a standalone pack.
When you sign up for Locatee's Portfolio Insights Starter Pack before May 31st, 2020:
–   Installation and hosting fees completely waived (normally priced at CHF 20,000)
–   Pay for 6 months of measurement data, and Locatee will match an additional 6 months
–   View workplace utilisation timelines across all measured sites (not included standard Portfolio Insights package)
Learn more about the limited-time Portfolio Insights Starter Pack and download the fact sheet or contact us.