About
It's time to start listening to employees and building a workplace based on succinct and holistic success metrics.  Watch our webinar, No Guts, No Glory, to find out how you can embrace new ways of thinking to revive workplace performance in a hybrid era.
Based on a study done by CoreNet Global on behalf of Locatee, this webinar equips industry professionals with actionable advice to help them understand and master a new workplace world.
You'll learn:
– What the evolution toward CRE will look like
– The top 3 important decisions for CRE right now
– How your portfolio structure is keeping you from reaping the benefits of hybrid work
– Why CRE & Finance's strong partnership could be a threat to workplace performance
– How to bridge the gaps to agility regardless of what workplace strategy you employ
Watch the replay:
Speakers
Sabine Ehm – Thought Leadership and Research Manager, Locatee
Raphaël Morgulis – Analyst Relations Manager, Locatee
No time to watch?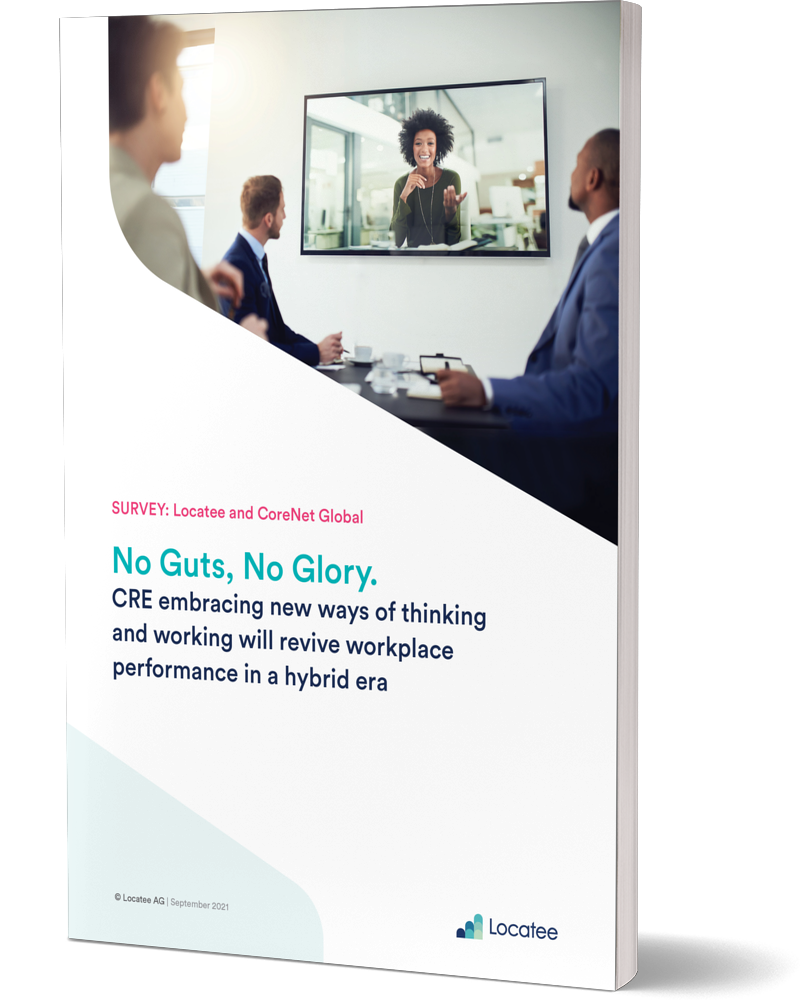 On June 7th, 2021 we attended the panel discussion "A blueprint for the future office" as part of Financial Time's Future of Work: The Workplace series.
Sabine Ehm, Locatee's Thought Leadership and Research Manager participated in a panel with Tim Yendell, BP's Vice President of Workplace Transformation, Chris Kane, author of 'Where's My Office?", Janet Pogue McLaurin, Gensler, and Isabel Berwick, Financial Times, to discuss what the blueprint for the future office is.
About FT Live
FT Live is the global conferences and events division of the Financial Times Group. Their mission is to bring global executive audiences the latest in knowledge and opinion, and connect them to one another.
Video
Watch the full panel discussion here:
About
This webinar is based on our 2021 CRE in Europe study.
50  European executives in real estate, workplace, and facilities management roles are sharing their insights into the evolving workspace and changing role of CRE managers.
Respondents spanned five industry sectors in four different regions and worked for firms with typically more than 10,000 employees globally.
Find out:
– how European firms are reaping the benefits of non-assigned workspaces compared to the US
– why CRE managers should invest in data to match their new workspace initiatives
– what is needed for a successful implementation of a new workspace initiative
– where CRE managers must refocus their efforts around a new office vision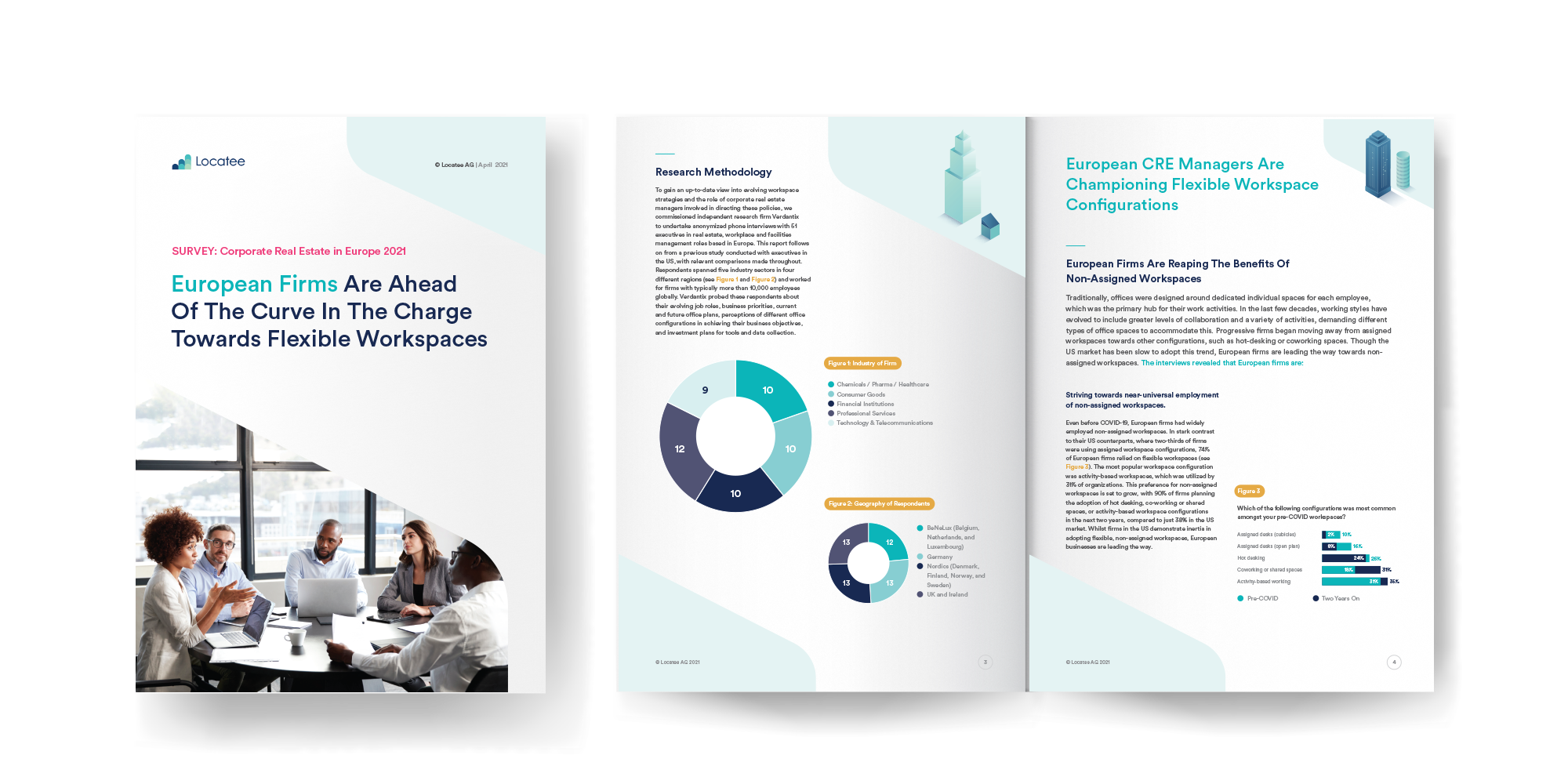 Corporate Real Estate in Europe study (PDF)
About
Together with Verdantix, Locatee conducted interviews among 50 executives in real estate, workplace, and facilities management roles in the US. Our Thought Leadership and Research Manager Sabine Ehm was joined by Dayann Charles, Industry Analyst at Verdantix to present the study findings.
Watch the webinar and find out about:
– evolution of the CRE manager's role in the US in the future
– increased influence of CREMs and their budget responsibilities
– business priorities today and in the coming years
– investment plans in digital tools and data collection
Watch now


About the event
Between March 15-19-2021, CoreNet Global hosted its first annual Global Corporate Real Estate Week. The week is designed to commemorate, educate, inform, and connect the world to all that the CRE profession does to advance the economy – and the people, places, and spaces where work gets done.
About CoreNet Global
CoreNet Global is a non-profit association, headquartered in Atlanta, Georgia (US), representing more than 11,000 executives in 50 countries with strategic responsibility for the real estate assets of large corporations. The organization's mission is to advance the practice of corporate real estate through professional development opportunities, publications, research, conferences, designations, and networking in 46 local chapters and networking groups globally.
Locatee's attendance
Our Thought Leadership & Research Manager Sabine Ehm held a presentation on "How to Develop a CRE Growth Mindset".
Presentation: Developing a CRE Growth Mindset
Speaker: Sabine Ehm
Slide topics:
– Current CRE Performance Measures
– The CRE Hierarchy of Needs
– Future of Hybrid Work
– Office Occupancy around the Globe in 2020
– The quantified workspace
Interested in the US study from the presentation?
Download it here!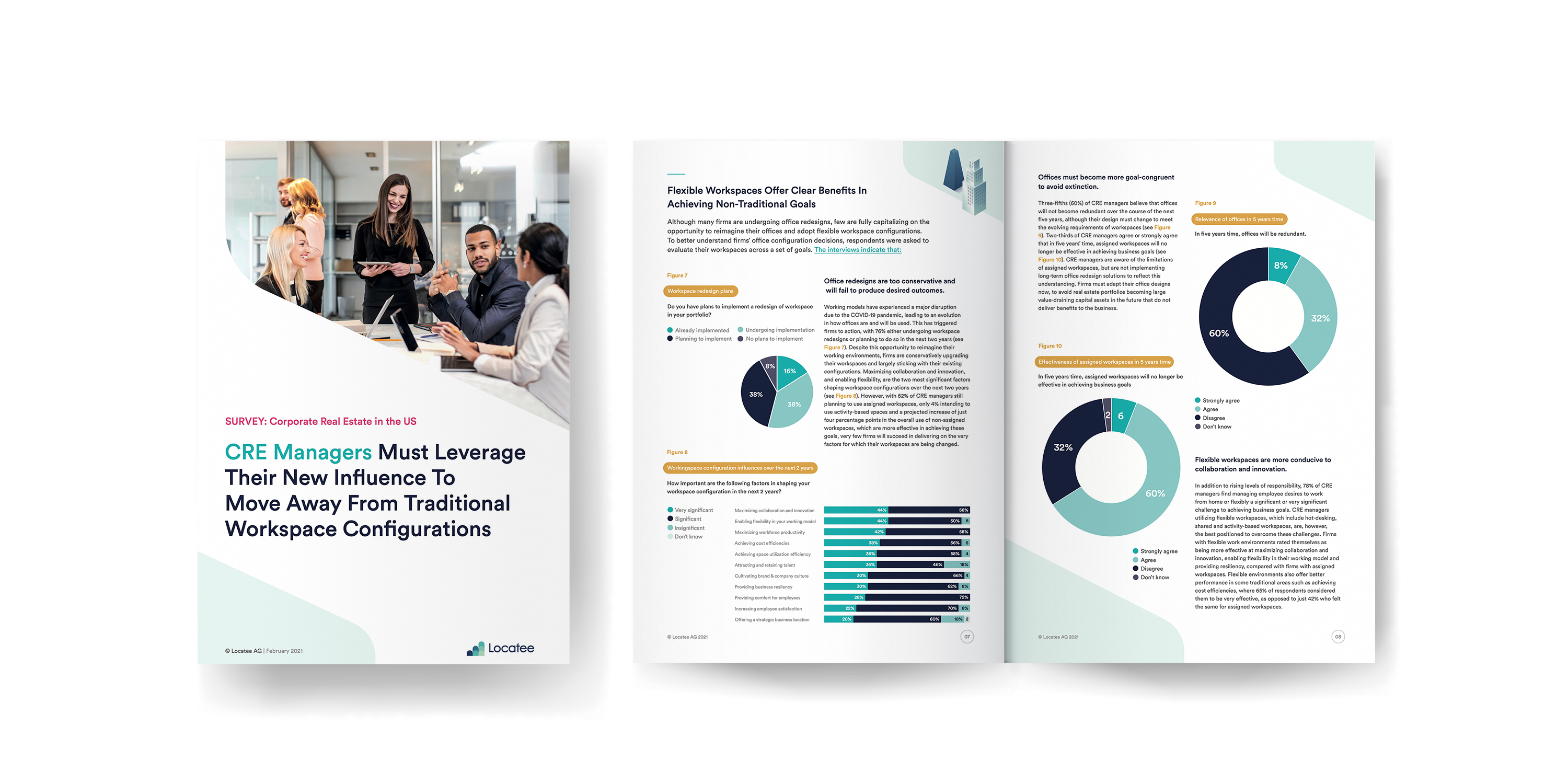 Are US Corporate Real Estate Managers living up to their ambitions?
Download our study and find out!