In this half of the two-part series, we've chosen our favorite magical discussions on: 
Achieving equity and diversity in the workplace 

And winning the battle of recruitment and retention of talent
Workplace leaders share magical wishes to shape the future of work and…
Achieve equity and diversity across the workplace experience 
A number of podcast guests wanted to magically ease the challenges that come with transitioning to the future of work.  Their desire was to improve the employee experience no matter where employees happen to be working.  Global Head of Real Estate & Facilities Projects at SAP, Peter Baumann (Episode 3), wished he could magically take away his colleagues' fears and desires to remain within their comfort zones.  So that there would be one less challenge when embracing the new normal workplace. 
Former Design Strategy Director for Latin America at Gensler, Jose Luis Sanchez-Concha Ibarra (Episode 10), and Rob Blair, Senior Workplace Manager EMEA at Sprinklr (Episode 14) were both concerned about creating an equitable employee experience.  As the future of work is increasingly about diversifying the workplace experience.  Jose, wanted to explore how to optimize hybrid meetings for both the in-office worker and the remote worker.  Rob wished for the Sprinklr employees to have a shared experience.  "How do we level the playing field for everyone to have this kind of inclusive experience? Where they are in the world?  Everyone's workplace is going to be different.  That's how we see the future of work.  How do we keep them connected to the company culture despite being so geographically dispersed?  And how do we make that a seamless and frictionless experience?"  
"When it comes the moment when you'll have half of the team in the room and the other half sitting in different parts of the city.  I wonder how technology is going to help us to solve that.  [I wonder i]f we need to change the design, the shape, the furniture of the meeting rooms to make it more immersive in terms of both virtual and physical.  Hybrid meetings.  I think this is one of the greatest challenges for the future."  

–Jose Luis Sanchez-Concha Ibarra former Design Strategy Director for Latin America at Gensler, Episode 10
Innovation Manager at Vodafone, Marta Lima (Episode 13), struggled to choose just one magical wish, but in line with Jose, Marta's top wish was to bridge the gap between employees.  Those working in-office and those working remotely.  For her, this meant how do you bring the benefits of working remotely to the in-office experience and vice versa?  
"…remotely you have more diversity, you can tap into a bigger talent pool, but you're missing out on all the social serendipity and organic encounters.  Same flexibility [of remote work] with all the benefits of meeting your colleagues in the office." 

–Marta Lima, Innovation Manager at Vodafone, Episode 13
Another way of embracing the increasingly hybrid work landscape is to shift your mindset about what's most important to achieve company goals.  Nicola Millard, Principal Innovation Partner at BT (Episode 19) shared that her future of work, magical wish was to "focus on the work rather than the place or the time.  We need to focus in on good work as well."  Our time spent in lockdown has proven that the home office comes with its unique set of challenges, and so perhaps everyone would not choose to work from home everyday.  But we also know that good work can still be accomplished even when you're not in the office and face-to-face with colleagues.  
Workplace leaders share magical wishes to offer CRE solutions to…
Win the battle of recruitment and retention of talent
Our guests dove deep into the root causes of declining employee performance by addressing emerging concerns made high priority by the pandemic.  Employee health, safety, wellness and satisfaction have become the keys to the recruitment and retention of employees fighting back against company mandates to return to the office and business as usual.  The dis-ease with regard to health and safety are apparent, but beyond that many employees have experienced the benefits of working from home for a year and a half and to part with these advantages threatens to cause a serious decline in employee wellness and productivity.  Employees are fighting for the flexibility to work both in the office and from home when it suits them and workplace leaders are having to develop strategies that respond to these demands.
Liz Burow had the magical wish of quantifying the workplace (Part 1) so that workplace leaders could "focus on the greater good of all employees and not on one group's or one leader's specific need or demand simply because they have seniority or tenure.  The latter drags innovation down."  And in the same vein of how the employee experience impacts performance metrics, Global Diversity & Inclusion Lead at Danone, Putri Realita, (Episode 20) wished for a magical solution to removing bias from people's mindsets & how to measure behavioural change.
Brittney Van Matre, former Director of Workplace Strategy and Operations at Nike (Episode 21) wanted to magically remove the stigma around employee mental health and for diversity to truly be embraced.  Additionally, Brittney had the overarching desire that the corporate workplace becomes a place of positive personal change for each individual. 
"I want people to come to work fully as themselves and be totally celebrated in that.  Whether that's like things they want to do, projects they want to work on, a person that they wanna be.  Like if you're a transgender and you wanna show up as a male one day and a female the next day–f****g awesome!  You know, just stuff like that.  Also your race.  What you got going on at home.  I want all this to be cool, you know.  And the workplace right now–it's not cool.  I want the corporate world to stand up for something new.  And really be the face of change across the planet.  That it's not just a place that you work, but a place that you become a better person.  It already is a place of personal change, but oftentimes in a negative way."

–Brittney Van Matre, former Director of Workplace Strategy and Operations at Nike (Episode 21)
Turning to recruitment, Head of Real Estate EMEA at Philips, Roel Stroeken (Episode 5), wanted a crystal ball to show him where future talent pools would be located as an insight for adjusting footprint strategy.  Roel believes Philips is already quite good at this, but feels being able to anticipate geographical shifts ten years into the future would really be an asset for every large company operating globally.  Especially for companies like his transitioning away from blue-collar, manufacturing people to workers skilled in health care solutions software.
This brings our review of Season 1's magical wishes to an end.  Join us for more engaging and insightful conversations about the workplace, corporate real estate, and facilities management on
The Workplace Leader podcast
and our
blog
.  Being a leader in workplace analytics we enjoy connecting with professionals in the industry and leading the conversation on finding solutions that create workplaces people need, use, and love.
A winning workplace strategy is built on solid data to handle the major decisions of today's workplace

Major decisions for today's workplace leaders & their corresponding data sources

Top scorers in the 'Workplace Insights' assessment have the data readiness to develop winning workplace strategies    

Take the Workplace Insights assessment and find out today how to level up your workplace strategy

!
A winning workplace strategy is built on solid data to handle the major decisions of today's workplace
Today's workplace leaders are being faced with unprecedented decision-making.  Global events have normalized uncertainty for the past 18 months.  Companies that intend to survive will embrace agility.  
Are you deciding how to return-to-office (RTO)?  Or planning for the future of work?  How do you know which steps to take and if you're moving in the right direction?  The answer is data.  But not just any data.  What's greatly needed now more than ever is clear, insightful, and actionable data.  Plus an experienced team skilled in pulling insights from this data to make critical decisions about the workplace.  Read on for examples of today's major workplace concerns and the data sources that provide clarity and confidence around those decisions.
Major decisions for today's workplace leaders & their corresponding data sources 
Strategic Space Planning & Virus Prevention Strategies

.

1

 

 Office Space Usage, Personnel Density & Navigation data assists workplace leaders with planning how to bring employees back to the office when the time is right.  Thus, health, workplace safety, and, where necessary, health privacy can be ensured.  Additionally, employee wellbeing is promoted.
Space Optimization & Lease Events

. Employee Satisfaction combined with Office Space Usage, Occupancy, and Team/Workplace Mobility data offers insight for office space redesign projects.  And whether to take advantage of lease events to adjust the real estate portfolio.
Global Workplace Analytics, "The Leading Authority on the Future of Work" predicts increasing productivity per workspace will be more important than cutting real estate costs per worker.2
Additionally, employees skilled in data analysis can generate insights to illuminate whether space is being used efficiently.  This, in terms of both quantity and quality.  
Attracting & Retaining Talent.

  The same data used for strategic space planning and virus prevention coupled with space optimization and human resources data will be the key to crafting winning employee experiences.  The result is higher levels of employee wellbeing, satisfaction and productivity.   
"

A recent PwC survey found 65% of all US employees are looking for a new job, and 88% of executives said they are seeing higher turnover than normal."

3

 

With the data sources just listed, companies can improve or resolve current employee complaints about health & safety, privacy, flexibility and autonomy.
The questions that an organization with the right data sources can answer are limitless.  Having high data readiness is key.
Top scorers in the 'Workplace Insights' assessment have the data readiness to develop winning workplace strategies
What does it mean to have a high data readiness?
There is a lack of accurate data streamlined for clarity.  This is a barrier to winning workplace strategies.  And this is critical when planning for the future of work and RTO.  However, some companies will manage to capture more insightful, actionable data than others.  Forrester Consulting** calls them High Workplace Data Readiness firms in a study commissioned by Locatee.
At 23% of firms surveyed, high workplace data readiness firms achieve high Workplace Insights scores across the 3 Pillars of Workplace Data Readiness–technology, people/data & knowledge/skills.  
For more info about how top Workplace Insights scorers effectively track workplace data, capture actionable insights, and make transformational change to their workplaces click here to read the report.  
Interestingly, many Workplace Insights top scorers are failing to collect three critical types of data.  Take our assessment linked here to find out which three.
Nevertheless, a firm that scores high in workplace data readiness:
Effectively

collects, manages and

tracks

different types of data.  E.g. E

mployee satisfaction, sustainability tracking, office space usage, employee density, team mobility and occupancy of each floor, conference room and desk

.
Tracks this data using

advanced, integrated workplace data management tools

.  E.g. A single dashboard that combines data from various sources.  Data sources such as maintenance, finance, building, and real estate management systems.
Has

knowledgeable employees

that know how to use this data to

generate actionable insights

.
Possesses

stakeholder buy-in/unified leadership

, clear ROIs and ample funding. 
Has trained staff & thriving internal processes needed for identifying areas to

improve internally or leveraging partners

.
Is concerned most with the scalability and implementation of their solutions, but has

surpass

ed the

questions of where to begin

.
How are companies with high Workplace Insights scores benefitting from high data readiness?
Workplace professionals spend exorbitant amounts of time, expense, and effort gathering data.  Many times, companies collect and manage data inefficiently.  Leading to data with questionable accuracy at best.  When challenges across the 3 Pillars of data readiness are addressed this improves workplace insights captured.  In turn, workplace leaders know how to best optimize their space.  
One example of this is solving the challenge of siloed data.  Sabine Ehm, Thought Leadership & Research Manager at Locatee articulated the point in a podcast discussion with Mikkel Lyngbo Nielson, Vice President, Chief Real Estate & Head of Group Real Estate at Ericsson.  They were discussing how CRE, HR and IT are collaborating at Ericsson.  Consequently, the collaboration has produced shared data and common KPIs.  Additionally, the end-user experience has improved.
"[T]he big advantage…of coming out of the silos of data and intertwining the available data sources…you have is that you can truly…find the sweet spot of…[space efficiency & end-user experience]."

4

–Sabine Ehm, Thought Leadership & Research Manager, Locatee
The research backs this.  According to Forrester, firms high in workplace data readiness were roughly twice as likely to report significant employee and business benefits than low workplace data readiness firms.
The more organizations trust their data collection and assessment processes, the more confidence organizations have to invest in workspace optimization.  The result is greater ability to respond to workplace challenges today and in the future.
Examples of this can be seen in the Forrester study.  One, over two-thirds of respondents found that capturing insights lead to either "Significant" or "Transformational Benefits" for several, key workplace capabilities. 
Two, the figure below shows a clear connection between workplace data readiness and transformative workspace benefits seen.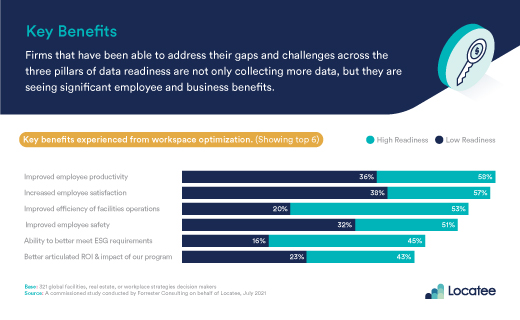 Consistently, companies with low data readiness reported "Slight" or "No benefit".  This equates to a low value for effort result for companies that have not addressed their 3 Pillar issues.   
Take the Workplace Insights assessment and find out today how to level up your workplace strategy!
Assess your company's workplace data readiness now and take your data-driven decision making to the next level.  First, find out your Workplace Insights Score and benchmark your business against 321 survey respondents.  Then, receive helpful recommendations on how to strengthen your 3 Pillars of Workplace Data Readiness.  Meaning your technology, people/data, and knowledge/skills.  Finally, create a winning workplace strategy and position your workplace for transformational benefits both today and beyond.
"In order for people to solve problems, you need to really understand your existing systems.  Because, it's difficult to move into a phase of change if you don't have a good understanding of [your] current state."

5

–Patrenia Werts Onuoha, former Real Estate Strategy and Portfolio Manager for Shell Nigeria
Click Here to Take the Workplace Insights Assessment
*Locatee commissioned Forrester Consulting to produce The Locatee Workplace Insights assessment.
**Forrester Consulting study commissioned by Locatee.  Titled "Ready or Not, It's Time to Track, Manage and Integrate Workplace Data" (September 2021)
1Appa.org | Six Ways Facilities Managers Provide Leadership During Covid-19
2Global Workplace Analytics, "The Leading Authority on the Future of Work", White Paper | The Business Case for Remote Work
3CNN Business | A 'Big Four' Firm is Allowing 40,000 Employees to Work From Home
4The Workplace Leader Podcast | Episode 23: "Mikkel Lyngbo Nielson on the Approach to Personalized User Experience"
5The Workplace Leader Podcast | Episode 7: "Patrenia Werts Onuoha on Crisis Management and Scenario Planning"
After wrapping up Season 1 of The Workplace Leader podcast, we decided to take a look back and review the best takeaways.  One question Sabine asked every guest was:
"If you could magically solve any real estate problem, what would it be?" 
From the responses, we selected our favorite moments that highlight the largest problems facing workplace leaders in corporate real estate (CRE) & facilities management (FM).  We had so many insightful moments that a two-part blog series was born.  Read on to find out how our podcast guests would:
Solve inefficiencies of the job function itself

Forecast the future of corporate real estate

Improve agility in available CRE space

Solve functional obsolescence and promote sustainability
Workplace leaders want to magically solve inefficiencies of the job function with… 
Increased prioritization in the corporate agenda, faster iteration
& 
visionary planning
When asked about his magical wish, Steven Bell, former Head of Real Estate at the Wella Company (Episode 22) said, although it's not the core business, he wished real estate could be "a hell of a lot higher on the priority list for the CFO."  With real estate being one of the top two expenses for most businesses, Steven felt its prioritization should be in line with its cost.  He added that "having a team, having a dedicated team, having dedicated attention" to real estate would allow the value of corporate real estate to be fully realized from a strategic perspective.
Workplace Consultant at Colliers and an anthropologist by education, Agne Zemaite (Episode 16) wished she could magically bring some speed to workplace projects.  "[T]o help improve.  Not on quarterly or half a year iteration, but quicker.  To measure the impact of some new features instantly."
Melanie Mack, Head of CRE Technology EMEA & Digital Solutions at JLL (Episode 12) would prefer to use her wish to ask for three more wishes.  But since this was not allowed 😉 she settled for one wish.  Her top desire was to magically solve her clients' preoccupation with short-term concerns.  "So we're trying to solve the very current and immediate need.  Getting back into the office.  But what comes after that?  I think that identifying additional pain points outside of just this very singular problem statement…really allows you to…investigate the type of solution that you're investing in.  To make sure that it is going to be a longer-term investment."
Workplace leaders want to magically know the Future of Corporate Real Estate with… 
Data & completely quantified workplaces
How corporate real estate decisions would be made in the future was a repetitive ask from our guests:  
"For most of us, [Corporate] Real Estate is a business within a business.  They see it as an expense.  So you've always got a stronger burden of proof.  Can you imagine if you could take the energy that you use now to try to prove to everyone that you know what you're doing?  If the granularity of the data isn't available, it just creates more work.  I like to put more work into creativity.  That's what I'd like to magically see.  Better, believable, available data."
–Patrenia Werts Onuoha, former Real Estate Strategy and Portfolio Manager for Shell in Nigeria, Episode 7
As a corporate real estate manager in the high-growth sector, Rhebeckha D'Silva, Global Head of Real Estate at Revolut (Episode 24), wishes for headcount data to predict the future.  Like Patrenia said in her episode, Rhebeckha also hoped for more pricing transparency in the market. "I don't think the real estate market is a transparent market.  Because we're not regulated like the financial institutions. I think if you look at the stock market–they're regulated.  Everybody knows where to go to get the stock price.  You know what people paid yesterday.  We've got no clue.  There's no central database globally to measure the price of a real estate asset or what the latest deals were in Zürich, for example.  Or in Shanghai or Azerbaijan or somewhere.  Anywhere.  You're always leaning on the advice of somebody and I don't know if the data is 100 percent correct."  
Liz Burow, Workplace Design and Research Consultant and former Director of Workplace Strategy at WeWork (Episode 2), felt the magic bullet that would solve corporate real estate challenges would be a "quantified workplace."  Liz wished for "an out-of-the-box solution that quantified and qualified workplace performance in a holistic way.  Similar to how fitness apps and wearables help the user understand their behavior and make adjustments where necessary to improve performance."
Vice President, Chief Real Estate Officer & Head of Group Real Estate at Ericsson, Mikkel Lyngbo Nielsen (Episode 23), decided his magical wish would be to find a solution to the battle between finance KPIs and HR performance metrics.  Balancing the dilemma of efficient portfolios and excellent workplace experience.  As well as being able to better quantify the workplace performance indicators that are already harder to quantify.  
Workplace leaders want to collaborate with CRE space providers to magically create… 
Future-ready, agile portfolios
The greatest challenge for the future of work and corporate real estate to Gloria Mamwa, Regional Head of Property, Africa & Middle East at Standard Chartered Bank (Episode 11) was viewed through a cost efficiency lens.  Gloria desired that space providers bring a supply of future-ready, corporate real estate to market. Workplace leaders could avoid negative impacts on their P&L statements.  And avoid signing long-term contracts on space ill-equipped for agility when the market rapidly changes. 
General Manager at Mindspace, Oliver Lehmann (Episode 15), and Rolf Sulen, Corporate Real Estate Advisor at Equinor (Episode 8) had Gloria Mamwa's same wish, but from an employee experience perspective.  They wished that the shifting focus on the employee experience was in the minds of those constructing, designing and developing new-build CRE projects.
Oliver wished to design office space at the construction and development point with agility in mind.  He felt optimal design was key to the future of work.  "Landlords, bigger investment and project companies need to think about design.  And adapt also newly built space in a way that they are able to offer and adapt to flexible solutions from the beginning.  We see this so often that there are buildings that are empty right now.  And it will take millions to make a flexible building out of it."
Rolf wanted to magically solve the problem of misaligned drivers of design and construction to improve end-user experience.  "Making sure the real estate market was in line with the strategic asset perspective.  Because now I think there's too much sub-optimizing in each step of the real estate value chain to create financial gain.  I need to save money.  The landlord needs to make money.  There are too many silos.  And there are too many financial KPIs that makes that collaboration across difficult."
Workplace leaders would magically solve issues with far-reaching impacts such as…
Functional Obsolescence & Climate Change
Director of Workplace Strategy at Johnson & Johnson, Jon Sheh (Episode 4), chose "a very selfish answer" based on the same pain point Oliver & Rolf felt.  "Over the last 50 years there have been all these big, office complexes built.  They're oppressive and awful work environments and the design is obsolete.  I would love to solve for what to do with those assets that really creates something amazing for the future.  Because while functionally they're obsolete, they have plenty of lifespan left.  But they're dinosaurs.  So how do we adapt and evolve those things without, you know, tearing everything down.  And spending all that environmental resources and energy to just scrap things.  And I love the challenge of reuse, re-utilization, not throwing things away, not being wasteful.  There's a huge amount of money if someone could solve that problem."
Nadim Stub, Managing Director at PropTech Denmark (Episode 18), wanted to use his magical wish for something much broader than CRE alone. But still an issue that real estate, in general, has great capacity and responsibility to make far-reaching impacts on: the sustainability agenda.  "[A]ny solutions or technologies that can help drive down CO2 emissions or accelerate the adoption of technologies that improve our built world. Not just around sustainability in general, but around everything in the U.N. 17 goals and improve the way we work and live."  
If all of our guests' magical wishes could come true with the wave of a wand, the future of CRE, the future of work, and the future of the world would be brighter.  Our magical wish at Locatee is to make corporate real estate, facilities management, and workplace leaders' dreams like the ones mentioned above come true.  
If you want to see what other hopes workplace leaders have, take a look at part two of the magical wishes series.  You can find more engaging and insightful conversations from the latest episodes of

The Workplace Leader podcast
and our
blog
.  As a leader in workplace analytics, we enjoy connecting with professionals in the industry and leading the conversation on finding solutions that create workplaces people need, use, and love.