A company's corporate real estate strategy is ever-changing. In this episode, Gloria Mamwa walks Sabine Ehm through the trials of managing a large portfolio across many countries in a post-COVID environment. 
Meet the guest
Gloria Mamwa is the Regional Head of Property at Standard Chartered Bank (SCB). Gloria has been in the real estate industry for over 20 years, with a background in architecture, interior design and project management. She now resides in Dubai, overseeing the African and Middle Eastern regions for SCB. 
SCB's real estate portfolio spans 60 countries and is generally known as an emerging markets bank. It is headquartered in London with nearly 13 million square feet of real estate globally. Gloria and her team work to balance strategic workplace design with cultural differences across many countries. Being able to drive consistent real estate strategies in different markets while sticking to budget is at the core of her work. Listen to the following few clips to understand what Gloria prioritizes when it comes to making decisions for a corporate real estate strategy. 
"One of the things that we don't ignore, is that we're in 60 countries, and there are local nuances that we do have to adapt to, regardless of whether we're looking at an office strategy or a retail strategy in terms of what we drive." – Gloria Mamwa
In this clip, Gloria suggests there is a common workplace configuration within the workplace strategy that they're building at SCB. However, they cannot ignore the fact that different countries, cultures and cities all have different ways of working. There cannot be a one-size-fits-all solution, so what's the best way to adapt? 
On top of this obstacle, there is now the pandemic to reflect on. Employees are used to working from home, and therefore CRE strategies must include this as a competitor to the office. Gloria is focusing on creating an environment that can allow this new flexibility. Moreover, SCB has started a trial to allow their employees to work in whichever way suits them best. This can be from home, in the office, or a hybrid of the two. The data following this experiment will help form solutions in future.
"When it comes to the design of the office, in terms of what it is that it will look like, it is going to be dependent on how much you want to compete with the home setting " – Gloria Mamwa
This is a hot topic within CRE. If companies want their employees to return to the office, they have to offer something that competes with the comfort of one's home. Gloria suggests that it's important to understand what people will want to do in the office. As most CRE managers are predicting, Gloria believes the office of the future will be a collaborative space. Companies must figure out how to properly support these types of activities. Team and individual needs must be met from both a design and operational perspective.
She clarifies that the conversation is starting to change: "Whether you're in financial services, whether you're in manufacturing, it's the same conversation. I think covid has been quite a leveler in terms of trying to understand how do we support the human being in the workspace? That becomes the priority." 
"There is an optimal time range for a commute because it allows you to have a clear cut between working life and private life, and debrief and calm down." – Sabine Ehm
Having a proper work-life balance can be difficult to obtain when working from home. Before the pandemic, most perceived the commute as a tedious task, as opposed to a formal structure in place to section your time. Gloria purposely moved far from the office. This gave her a 25-30 minute commute to debrief at the end of each workday. Now, Gloria consciously chooses to switch up her location while working from home. 
"Sometimes I'll take my laptop and move to a place outside rather than on my desk; just so I can refresh and change the position. I think the things we had in the office like walking into a meeting room, going to the canteen, allowed us to rebrief through the day, allows us to change certain settings for ourselves that allowed us to think differently," she explains.
"We don't want to leap-frog into the future without making sure that we understand: what are your needs in terms of a space?" – Gloria Mamwa
Standard Chartered Bank is a huge, international company. Gloria and her team oversee a massive area, including all African and middle eastern countries. The nuances of each SCB location are understandably different. With each project, Gloria ensures to engage with every level of management affected. What are they doing every day? How can we serve them better? How can we adapt our strategy to fit here? "What is a particular operations team managing on a day-to-day basis? If I don't talk to them to understand [their] day-to-day, I won't solve their needs."  SCB also performs Leesman Index surveys to further gather knowledge. 
Conclusion
We are still seeing the effects of the pandemic on CRE. For Gloria and her team, it's imperative to take into account the nuances of each region they are developing in. However, they must also understand how employees wish to work in the future, be it from home or in-office. Gathering data on all these factors will help immensely in developing a corporate real estate strategy. 
The office of the future will be a dynamic place, and workplace design will have to reflect that. Companies will need to pay closer attention to the needs of their workforce, and be open to changes. In this episode, your host Sabine Ehm chats with Jose Luis Sanchez Concha Ibarra about various factors that form design decisions in corporate real estate.
Meet the guest
Jose Luis Sanchez Concha Ibarra is the Director of Design Strategy at Gensler. The self-proclaimed problem solver and troublemaker is based in Costa Rica, and is responsible for all of Latin America.
Jose initially studied architecture in Peru, and then moved to Spain to pursue a masters in real estate. He soon realized that design wasn't his passion, and began dipping his toes in various fields within real estate. When he came across workplace strategy, it was "love at first sight". He soon started working for Nokia's India and EMEA regions, where he had the opportunity to learn about how different cultures work and their workplace biases.
After being recruited by Gensler and moving back to Peru, Jose has continued to take strides in the corporate real estate industry. The following clips give insight into how Jose makes informed decisions and his predictions for the future.
"My first and most important [stakeholder to collaborate with] is the client. I typically engage in the earlier conversations just to understand where the pain points are." – Jose Luis Sanchez Concha Ibarra
In any project, including workplace design, a client discovery session is the most important step when getting started. Jose stresses how crucial it is to have a complete understanding of what is driving the client to make changes to their office spaces. Be it renovations, efficiency, picking up trends, or changing locations, there can be many reasons behind movement in CRE.
His second go-to consultation is with his internal design team. Using their deep knowledge of CRE strategy, they are able to "perform magic". Jose says resistance in middle management is their #1 challenge, so providing strong explanations for design decisions is necessary. Engaging with this team allows him to produce just that.
"My favorite part of what I do is when people click with an idea. When they recognize that there is a trade-off: I'm going to lose some privilege in terms of space, but I'm going to gain better technology, more meeting spaces, a better space for my team, better interaction, some flexibility to work remotely… " – Jose Luis Sanchez Concha Ibarra
Changing the way people work is hard, and as said before, push back from middle management is often the biggest hurdle. Jose explains that we all have an internalized idea of what being successful in a company looks like: moving to a bigger desk, closer to the boss, eventually getting an office, etc. Changing this mindset can be extremely difficult.
"It only takes [one] visionary leader to make changes, but there are a lot of layers in an organization, and you need to navigate them." Every employee must be open to change to be able to reap the benefits of implementing a new strategy and modern workplace design. Jose and his team refuse to call it "change management", but instead call it "positive change experience". "We design experiences for them to feel better about work." Jose suggests that from his experience, 95% of the workforce would not want to revert to old configurations and practices afterwards.
"If you really want your workplace to be alive, you need to make sure that people want to come. Beyond the fact that there will be scheduled meetings and team agreements of which days they will meet and all of that, you want to go the extra mile, and think of the design of your space and the services you provide and the technology that is there as a reason to be a magnet for people and make people come. " – Jose Luis Sanchez Concha Ibarra
The pandemic has created a situation most CRE managers have only dreamed of. Having a distributed workforce is a configuration most companies would not have previously attempted. And, now that employees know what it's like to work at home, they may want to stay there. This means that if companies want a populated office, they will need to create a reason for employees to be there.
"This means that all the experiences in the office need to be very curated", and it goes beyond workplace design. Operations and management will need to facilitate in-office interactions and spaces for collaboration. The space will need to be flexible and enduring.
"We need to rethink the purpose of the office. If we are looking at the workplace as containers for people, or think of offices in terms of the capacity, clearly we need to change that. I think the purpose is going to be: get us together to do great things." – Jose Luis Sanchez Concha Ibarra
"The situation now, where we are forced to work remotely, has actually been some kind of 'introverts revenge', because people who suffered in the workplace being social all the time got a break from that. " – Sabine Ehm
In this clip, Sabine refers to a conversation she heard about the individual experiences of working in an office. Introverted employees were previously forced to speak up to be seen, and were constantly interrupted in their workflow. Now, since the pandemic, we can see that the idea of what 'good work' doesn't always look the same.
Yet, Jose believes that human interaction cannot be fully replaced by the virtual world. In-person socializing is a must when building a strong team. The difference is that now the employee will be able to choose the amount of socializing that takes place, and how often they go into the office to spend time with coworkers.
Conclusion
The idea of what an office is has changed significantly over the past few years. When making changes, understanding the client and their requirements will help to create a successful, positive experience. Moreover, employees are now used to working remotely, and may continue to do so. This means that if companies want their workforce to show up in-office, they will have to create a reason for them to do so. Each individual is different, so operations and management will need to facilitate these experiences.
Earlier this year, we set out to understand the changes in corporate real estate management around the world. Verdantix, an independent research firm, surveyed over 100 leaders in various industries. These surveys resulted in two individual studies of the states of CRE in the US and in Europe. CRE and recent circumstances around COVID-19 may have been nearly identical. Nonetheless, we discovered stark differences between the short and long term plans of the two groups. 
Keep reading for a quick summary of how corporate real estate management in the US and Europe differ. You can download the complete studies below:
European CRE managers have been quicker to adapt non-assigned workspaces
Even before COVID-19, there was already a steady trend of companies in both regions stepping away from traditional assigned workplaces. As companies prepare to bring their employees back to the office, many are questioning whether each person really needs their own desk. Nonetheless, European firms have a strong lead in the race to implement non-assigned desk configurations. This includes hot-desking, activity-based workspaces, and collaboration areas. In fact, 90% of European firms are preparing to have non-assigned workplaces within the next 2 years. Conversely, only 38% of US companies are intending to make the progressive change. 
US CREMs continue to prioritize traditional business initiatives
Similarly to workspace assignment, US corporate real estate managers are sticking to a traditional approach when it comes to business initiatives. Business productivity, cost management and space optimization goals are high priorities for over two-thirds of CRE managers. These goals will continue to hold the highest priority in the next five years. On the other hand, European managers are only using traditional business goals to help them navigate the pandemic. In the next 5 years, they plan to shift their efforts significantly. By 2025, the emphasis for European firms will be on employee satisfaction, wellbeing and retention, in addition to the more formal productivity. 
The US far surpasses European efforts to collect workplace and real estate portfolio data
It may appear that European CRE management is ahead of the US on multiple counts. But US companies drastically outnumber European counterparts in one critical area: data collection. 80% of firms in Europe are utilizing metrics on space utilization as part of their strategy, which may seem like a high proportion. Unfortunately, it pales in comparison to the US, where 98% of large companies are tracking space utilization. This trend continues across all other metrics. Europeans score significantly lower on company revenue, collaboration, employee satisfaction and energy efficiency metrics, amongst others. 
Both American and European corporate real estate management lacks budgetary sign-off
Despite having significant differences in CRE strategies for the near future, US and European corporate real estate managers are in the same boat when it comes to money. CREMs across the board have experienced an increase in responsibility over the past year. Yet, their authority to sign-off budgetary decisions has remained limited; 96% of CREMs categorized budgetary limitations as a very significant or significant challenge to achieving business initiatives. 
Corporate real estate management is changing everywhere. This study shows that priorities differ across regions in accordance with cultural differences and where they started on workplace progression. Though Europe may take the lead on modernizing workspace configurations and business goals, the US has a more comprehensive approach to measuring workspace performance. Both regions are starting off their Future of Work journey from different corners. Nonetheless, both acknowledge that an important stepping stone is to have budgetary trust.
To find out how accurate utilization data can improve your CRE portfolio, set up a meeting with our team here.
Over the past decade, there has been a big shift in how people perceive the workplace. In this episode, Sabine Ehm and Roel Stroeken discuss this evolution in mindset and how it's changing the employee experience. 
Meet the guest
Roel Stroeken is the Head of Real Estate for the EMEA (Europe, Middle East, Africa) region of Philips. Philips is broken into many sectors, with 650 locations globally. Roel and his team are in charge of facility management, project management, strategy and innovation, mergers and acquisitions, and disposal of unneeded lands for roughly 50% of the company's portfolio. 
Managing a workforce of 40,000 people takes a deep understanding of human behavior. Luckily, with a degree in Hotel Management, Roel knows a thing or two about hospitality. The following clips provide more insight into Roel's perspective on what keeps employees happy, and what the office of the future will look like. 
"In modern days, you see a trend that real estate is shifting towards reporting to the HR [departments]." – Roel Stroeken
Traditionally, CRE managers reported to finance departments headed by CFO's. Consequently, only money and space optimization mattered. In the past several years, large companies have started to take a broader look at the KPIs used in measuring successful real estate ventures. If a happy employee means higher output, this metric should be included in strategy planning. 
Philips performs globally-recognized wellness studies before, during, and after new workplace developments. In this episode, Roel speaks about the metrics they track that go beyond the dollar amount. 
"The true value of the company are its people, and we need to take care of them. But, due to some strategic decisions, we have organized ourselves as companies slightly different. " – Roel Stroeken
Roel's main focus is always bettering the employee experience for the entire Philips team. Figuring out the best way to provide support and incentives is at the top of his list – this requires technical changes. Surprisingly to some, providing more space doesn't always translate into higher employee satisfaction. In fact, over the next few years, Roel's focus will be on footprint reduction. In other words, consolidation of key locations. 
"If we manage [the] occupancy [of our] buildings better, then it improves our desk-people ratio. People find it much more energizing to come into work because it's not too crowded. " – Roel Stroeken
Throughout the pandemic, employees have learned how to work from home. As a result, they also understand the value that comes with it. This means that if Philips wants them back in the office, there will have to be strong incentives. 
Workers go into the office to connect, challenge each other, and co-create. So, Roel suggests offices of the future will function more like conference centers: coworking spaces, luxurious food options, and various tools. "Hospitality and experience are keywords for the office of the future."
"I do believe that this is going to be a crucial aspect for success of workplaces: to actually include employees much more, and make them aware of their behaviors, because I think a lot of things [happen subconsciously]" – Sabine Ehm
Managing employee experience will help improve optimization, too. If workers understand their behaviors better, they can plan ahead accordingly. Sabine and Roel look at a scenario of booking meeting rooms when overall occupancy is lower. This can create a better experience for not only those attending, but for those in the office when the meeting would have naturally been booked. Giving workers insight into CRE choices can help create a ripple effect of workplace satisfaction. This can lead them to start making optimized choices independently. 
"[Post-COVID] we really have an excellent opportunity, because there's momentum to take people by the hand and lead them to a slight change, how to use the office environment. I think that can lead them to a much better office experience". – Roel Stroeken
Conclusion
To have a lasting, successful company, you need happy employees. Roel's top goal is to create environments that optimize expenditure without under-providing for Philips workers. Leaning on HR KPIs and gathering data beyond dollar amounts will help improve this balance. As well, bringing in people from the front-line will push this movement. Workers will understand CRE choices and can make conscious choices to improve their experiences, too. 
When it comes to crisis management, it's hard to know what step to take first. In this episode, your host Sabine Ehm learns of several pressure-filled situations Patrenia Werts Onuoha has worked through. Together, the dig into the knowledge she has gained along the way. 
Meet the guest
Patrenia Werts Onuoha has over 30 years of work experience across diverse industries. She began her career as an industrial engineer. Patrenia was the first black female engineer at Harley-Davidson, building motorcycles in Pennsylvania. After completing her BSIE and MBA, she moved with her family to Nigeria. There, she pivoted into finance. After working as an executive at a bank, she became a partner of a consulting firm. Finally, she moved into the world of corporate real estate with Shell Nigeria in 2006. 
Patrenia says this broad background has given her many unique skills, including crisis management and scenario planning. Despite that, she benefits the most from understanding how to properly listen to her audience. To gain more insight, listen to the following few clips.
"I was 3-weeks into the job, and a bomb exploded at one of our recreational facilities." – Patrenia Werts Onuoha
Talk about a crisis. A challenge of working in a developing country, especially as a giant oil and gas company, is that not everyone welcomes you with open-arms. The oil Shell was extracting was outside major cities, in less-developed areas. In this particular case, an aggravated community revolted by exploding a bomb in one of Shell's facilities, containing over 300 houses and 500 people. 
Luckily, no one was hurt. Nonetheless, Shell took action. They evacuated all expats and their families within two days. Days before Christmas, Patrenia's team had to figure out how to round up employees spread across the country. They relocated them to the capital of Legos and put them in hotels, and then sent them home in Shell-chartered jets. 
As a result, Patrenia truly grasped who her audience was. Listen for more details on how the crisis management of this situation looked.
 "Pain introduces us to ourselves. Pain introduces you to people's real selves. Because, when there's pressure, it's difficult for people to keep up a facade." – Patrenia Werts Onuoha
During the process of moving people out of Nigeria in two days, Patrenia got to know a lot of her coworkers. From logistics to HR, she worked with a whole slew of people along the supply chain. Consequently, this helped build a strong foundation within the company for her to flourish. Crisis management is difficult and making changes in CRE requires trust; trust that can be readily built up in intense situations. 
"In life, experience isn't the best teacher. It's reflected experience. Examined experience. And that's where you learn" – Patrenia Werts Onuoha
We often say that we learn through experience. In this clip, Patrenia explains that if we don't reflect and examine these experiences, nobody can learn from it. She tells a story of when Shell decided to open a new office space for 2000 employees. 
The building took time to find. In addition, it had to be renovated and refurbished. By the time the building was ready for employees, it was only being used at 50% occupancy because of the 2008 market crash. From here, Patrenia needed to figure out how to best utilize the space. In the end, she decided to sublet unused offices to other companies.  
Faced with internal pushback, data reformatting and coming up with tenant criteria, Patrenia learned that it's important to learn to reframe the task at hand. They flipped the space from a cost center to a profit center. 
"I see CREMs in panic right now because they don't know what's coming, and they don't know what to do now. My take on that would be ok, start where you are, what you know. Look at that. Try to get as much data as possible on the situation that you had before, and that you have now. And then you can try making assumptions and seeing where you need to adjust, and what outcome that could have." – Sabine Ehm 
CRE professionals were put to work when Covid-19 began. They had to get creative fast, often while working with C-level colleagues. After a year of working from home, how do CREMs prepare for the influx of employees back in offices? How do they prepare for when those employees decide they prefer working remotely? 
Pulling from years of experience in extreme situations, Sabine and Patrenia suggest taking it step by step. Take the time to fully comprehend what the environment was like before. Compare it to what it's like now. Examine these experiences, as Patrenia would say. Consistency compounds. 
Conclusion
In short, the future is unknown. It's impossible to prepare for everything. However, when it comes to crisis management, arming yourself with tools to mitigate unpredictable situations will help profoundly. In this episode, Sabine and Patrenia discussed various critical events they've faced, and what helped them get through it. Reflecting and learning from these experiences is key to making informed decisions, quickly. Although, pausing and taking things step by step can also be hugely beneficial. Patrenia's #1 recommended approach is reading the room and understanding your audience.
Listen to this and other episodes of The Workplace Leader here.
Corporate real estate strategy changes depending on company needs. In this episode, your host Sabine Ehm and guest Rolf Sulen discuss how to manage large-scale CRE portfolios, and change the mindset of workspaces to create a valuable office space. 
Meet the guest
Rolf Sulen is the corporate real estate advisor at Equinor. He is head of the workplace team, where he optimizes utilization and creates efficient workspaces for all international offices. Equinor began as an oil and gas company, and is now transitioning into renewables. One can only begin to imagine the CRE challenges that come with establishing new wind farms and worksites.
Equinor's real estate portfolio spans 30 countries with 27,000 employees. Rolf and his team work to position the workplace environment as an asset to aid in company movement. The team is broken up into micro-teams, from project-based to artwork specialists. They have their hands full with how to configure spaces. 
Coming from a line of architects, Rolf says "real estate is in [his] blood". After diverting from the family path to study business, he quickly returned, developing skills in CRE management. The following clips give insight into Rolf's strategy for success. 
"Our company is not any different from any other large company when it comes to utilization of space. We have a turn up, at the office, in a range of 50-60% every day. But every time we go into a new business case, looking at new space, our space norm says that we should have so-and-so many square meters per full time employee." – Rolf Sulen
Equinor is a large company with structures in place on how to best manage employees. Each time Rolf and his team look into creating a new location, they start by multiplying their 'space norm' of 20 square meters per person by the number of full time employees. From here, they have a better sense of how much area they require. 
We all know – it's never that easy. With 50-60% occupancy rates, the team must consider different types of workplace configurations and occupancy metrics to fully optimize the space. Should they split the location? Implement activity-based areas? Consider desk-sharing? Each location's answer will be different. In London, for instance, they host events with large groups of people. That location must be equipped to handle such events, but cannot be empty on a day-to-day basis. 
"If we're going to have an office, it needs to be a strategic asset. It needs to add value. Which means that, I will say that I will go to the office because what I do will have a better outcome. What I do will have higher quality. " – Rolf Sulen
For many in the western world, internet infrastructure is reliable enough that we can comfortably work remotely. That creates an industry of competitors to the traditional company workspaces. If companies want a high occupancy rate, they must ensure they are providing more valuable office space than the competitor, which is often home. Companies must view their office as "not just a building, but as a strategic asset." 
Until now, most companies have seen their offices as just a place to "store" their employees. Corporate real estate has focused on having the space required, but then leaving it to employees to figure out how to best manage it. In this clip, Rolf suggests understanding the nuances of each work area and to add value accordingly. 
"That was one of the struggles that I had with the implementation of activity based working in the beginning as well. They were saying "I don't want it, and now you want me to pay for it? What?" – Sabine Ehm
When building out an activity-based work environment, it's often more expensive than the traditional setup. This is because "you typically provide more fancy things, [and] nicer collaboration areas" that are more expensive than standard desks. In this clip, Sabine and Rolf discuss the pushback that comes with trying new workplace solutions. In the end, you'll never know the overall cost savings until you try. 
As Rolf puts it,"We're always talking about flexibility. We're always talking about space optimization. You know, all these buzzwords that we love in CRE. But when it comes to actually implementing it, and seeing how our colleagues fit in, that's when the trouble starts." 
Conclusion
The workplace is more than a holding pot for employees. Workers deserve a valuable office to support their needs. Rolf and his team manage thousands of workers, recognizing their individual spaces must be seen as strategic assets to company success. There are several ways to calculate the building out of a new location, and acknowledging each variable will prove beneficial in the long-run. Pushback is normal, but don't let it stop you from creating something new.
Listen to this and other episodes of The Workplace Leader here.
There's no question that the pandemic has changed how people work. In this episode, your host Sabine Ehm speaks with Jon Sheh on how working from home looks different for everyone, and how companies can adapt to change to help create an inclusive workplace experience.
Meet the guest
Jon Sheh is the Director of workplace strategy at Johnson & Johnson. When Sabine and Jon met, she was immediately taken aback by his diverse background. Jon holds degrees in both engineering and business, and has worked in several fields, ranging from process engineering to apparel. He uses his broad background and pulls from range of experiences to form decisions in corporate real estate.
Although Johnson & Johnson is often perceived as a consumer product-based company, their largest sector is pharmaceuticals, followed by medical devices. With over 200 companies working at Johnson & Johnson, there is roughly 50 million square feet of workspaces, and nearly 1000 properties. Jon has his hands full with optimizing their portfolio, creating an inclusive workplace and configuring spaces for success. 
These clips give insight into how Jon perceives the future of CRE and how companies can leverage unique employee situations. 
"Talent has started to change their perception of what they want, and what they demand from companies. Not just at J&J – at many companies. And, companies are reacting to try to  maintain the best talent; to maintain the continuity of talent. Different businesses have different needs to do that." – Jon Sheh
With people working from home, there has been a huge influx of knowledge-workers reevaluating their lifestyles and moving to less-populated areas. "The best talent is going to migrate to the places that most accommodate how they want to work and live their life, because the two are inextricably connected". Jon speaks from experience, as he just moved from New Jersey to Colorado himself. 
The pandemic has loosened the definition of what a physical workspace must be. In turn, this has given employees room to make decisions for themselves. Not to mention, many employees have learned what 1-2 extra hours a day not spent sitting in traffic can do for their lives. How companies react to this new mindset will set the stage for where this migrated talent ends up, both physically and at which company. 
"I've been on the phone with coworkers, and they've had their child next to them doing school work, because that was the place that they had for that. Other options for those people are, I think, maybe the biggest opportunity for companies to turn on this flexibility in a way that is both financially efficient, flexible… and provides another mechanism for people to get creative thought." – Jon Sheh
Employees that are further in their career tend to make more money, and therefore can live in larger spaces than their successors. While leadership works from home in their private at-home office, they must not overlook their employee's WFH environments. Moreover, companies can learn how to leverage these employee situations when building out their CRE portfolio. 
Jon suggests companies can leverage 3rd party locations, office sharing, and coworking methods. We can also build more "near-the-bedroom" communities. These provide a flexible structure for those wanting collaboration spaces without the commute. These considerations will all play a role in helping create an inclusive workplace experience for employees in different locations.
"It's really nice to have a network of people in different industries, because different industries need different things. There isn't a universal solution to workplace strategy. It's not even worth thinking about." – Jon Sheh
Jon believes in keeping your eyes and ears open everywhere you go. "Restaurants, shopkeepers, stadiums; the ideas are everywhere for workplace." Every company has its own needs, so there is no one-size-fits-all solution. Being dynamic in decision making can be the key to building an optimized, successful CRE portfolio. 
Jon uses airports as an example of strategic movement outside of the typical office-space. Over the past several years, airports across the globe have shifted restaurants into heavily-trafficked corridors as opposed to hiding them away in corners. We can only imagine how this has transformed companies. 
"Over the last 50 years there have been all of these big office complexes built. They're oppressive and awful work environments, and the design is obsolete. I would love to solve for what to do with those assets that really create something amazing for the future." – Jon Sheh
When asked what problem he'd love to solve, Jon immediately speaks to the big, clunky, dysfunctional workspaces built over the last several decades. With protecting the environment at the heart of his decision-making, he admits these spaces should not be torn down. Rather, we should rehabilitate them into modern offices. While their functionality is obsolete, the structures themselves have a lot of lifespan left, and therefore must evolve. "There's a huge amount of money if someone can solve that problem."
Conclusion
There's a lot to think about as companies pivot towards new work environments. Jon stresses that one must understand and quantify the needs of every team and every employee when making decisions. As we move into a post-pandemic climate, we can assume that many employees will want to continue to work remotely, be-it from coworking spaces, 3rd party offices, or simply from home. The companies that best adapt to these changes and create an inclusive workplace for all employees will be able to hold on to the best talent on the market.
Making a case for change in the workplace can be a tricky process. In this episode, your host Sabine Ehm dives deep into conversation with Liz Burow about how to build a business case to lead office transformation.

Meet the guest
Liz Burow, former Director of Workplace Strategy at WeWork, specializes in building business cases for workplace transformation, conducting research, and facilitating processes on behalf of end users. She also tracks emerging trends to inform on new workplace products, not just designs.
With over 20 years of experience in architecture and design strategy, Liz has worked with fortune 100 companies as well as fast-growing startups, spanning tech, finance, media and creative sectors. She's 'done it all'. 
Liz focuses on the data, but doesn't use it as her only method for decision-making. Her secret superpower is that she is a visual thinker; "if you're thinking it, I'm likely drawing it". People always try to refine ideas through words, but she's an advocate for visual representations, with the belief that it's easier to come together on a drawing than language. 

Listen to the following few clips to get a sense of how Liz's approach creates a well-informed system of decision-making leading to success. 
"Corporate real estate is pretty risk-averse, and wants a lot of data to back up any decision. Which, I completely understand. I'm all about evidence and data to inform decision-making. But there is, I think, a thing that happens where everyone settles on the middle, and the safe idea, or the incremental change, not the revolutionary change." – Liz Burow
Making a decision for change in real estate can come at a high cost. This leads to corporate culture swaying towards making risk-averse decisions, backed by data. Taking a leap of faith towards a radical shift does not come naturally to the CRE community. 
"Yes, we have the data, but there's a little bit of hypothesis in something that we can't prove until we test it or we try it." 
The industry trend is to look at what others are doing, and decide whether or not to follow suit. Bringing external innovative ideas to the table is a great approach. Unfortunately, it's often met with watered-down responses or simply, 'no'. The challenge is to pay attention to in-house pain points, and trust your gut in decision-making. 
"You need to have data, but you need to be able to make sense of data as well, so it doesn't help to create a heap [of it], because actually nobody is going to read through it. You have to find the right points to build that business case. The data itself is not enough." – Sabine Ehm
At the end of the day, data is just that: data. Numbers and charts determining trends. But, what do these trends infer when brought together? Raw data requires interpretation to make sense of it. That's where bringing in a professional consultant can be hugely beneficial. In this clip, Sabine speaks to a previous conversation with Liz on this very topic. 
Liz follows with the idea of story telling. We need data, but we love narratives. Bringing the two together to form an informed hypothesis can push decision makers to be excited to test new things. And, sometimes, it takes just doing it. Once it's actually been done, then people can actually "see it and touch it and feel it". 
"I think a lot in terms of retail environments, you're trying to pull people in, you're trying to incentivize them to come in with the cool stuff you have. You're not making people shop there every day. So we have to think the same way in work place." – Liz Burow
The perception of the office has changed significantly, and companies need to focus on meeting the new needs of their employees. As we move back into the physical office space, ask yourself, what are the cool things we're offering that draws our workforce in? Are they utilizing all the spaces and equipment we've provided? What could be missing? 
Having this mindset, as opposed to the "you have to show up 5 days" whether you like it or not, can be the tipping point in creating a sustainable, positive work-culture. To find this data, Liz suggests using a myriad of tools, ranging from sensors and booking platforms to HR systems such as surveys and social capital networks. 
"It's really good to try to position the culture into a growth mindset before you even introduce a change. The ways I think about doing that are: change should not be a surprise to you, you should be a part of the change that's happening." – Liz Burow 
Liz emphasizes the importance of co-creation with end-users. Get them involved as much as possible, so they feel a part of the decision making and more importantly, the outcome. "When you're doing research, involve as many end-users as possible, communicate to them that they're influential on new ideas and practices and then circle back with them". 
Determining influencers in various departments can also be a great way to provide support to employees. Find champions amongst end-users that can funnel updates and resources to those curious and/or concerned. This can mitigate tension and allow for a dynamic culture. 
Conclusion
Change is good. Radical change is better. Liz is in favor of pushing the boundaries by using stories and creating a robust internal support system. Data is important, and an excellent tool for forming hypotheses. However, taking into account real, internal pain points, is just as important when determining movement. Yet, don't forget, nothing works better than actually testing it. By testing your hypothesis, people will be able to come to real, justified conclusions on the success of the changes implemented to the workplace.
Earlier this year, Locatee commissioned a study to get the perspective of 50 executives on the changing state of corporate real estate in the United States. Locatee's Thought Leadership and Research Manager, Sabine Ehm joined Industry Analyst, Dayann Charles, to take a deeper look at the results of the eye-opening study. Here are some of the webinar's highlights!
The changing role of the CRE manager


The role of CRE has become far more prominent over the last year. Companies scrambled to predict how the role of the office would change in the midst of COVID-19. Meanwhile, employees in CRE roles had a thorough understanding of office usage prior to the pandemic. With their broad overview of company assets, employee roles and space usage  within the office over time, corporate real estate managers have rightfully been included in the conversations surrounding the future of the office. 
Unfortunately, even with the current state of corporate real estate, CRE managers rarely have the final say on big decisions. More than a year after the shift to work from home began, they still have to jump through many hoops to make their visions a reality. Not only do they have to get budgetary sign-off from people above them, they are likely to be dealing with colleagues that don't have such a comprehensive picture on how the definition of "workplace" is evolving. 
Big goals, limited action
With a higher level of influence and new KPIs to focus on, you might expect huge changes in the workplace. Surprisingly, most CRE executives actually expect to see very little change in office set-ups over the coming years. 
Many respondents support an activity-based work environment. Generally, they don't find the standard fixed-desk model to be conducive to employee satisfaction and believe it's important to redesign their office portfolio. However, according to the responses, there will only be a 4% shift to a more flexible office environment. 
There's a big disconnect between CRE ambitions and the actual actions by managers. Moving forward, it will be critical to find ways to turn these dreams into realities.
Band-aids instead of long-term solutions
Sabine and Dayann agree that some actions that companies take are more of a band-aid than a solution. Some examples, like infrared cameras, are more clearly a short-term answer to the problem at hand. Once things go back to normal,  these won't be useful as they only serve the purpose of measuring temperatures. Additionally, they've already been subject to scrutiny due to privacy laws.  Other examples are less obvious. 
Desk booking is a common topic in the world of CRE these days. Sabine sees this as a tool that could actually worsen existing problems in the office. In many cases, requests for desk-booking are a result of inquiries from other departments that only have a surface-level understanding of the inner workings of office space utilization. 
If the goal is to ease employees back into the office and help them feel comfortable, companies may prefer to look at more straight-forward options like Space Booking. These work together with other tools to bring people back to work safely, while collecting the accurate information needed to make lasting changes.
Advocate for change
The results of the survey clearly show that more can be done by CRE managers to adapt their workplaces to the changes we're seeing. Of course, this is something that's easier said than done. 
As Sabine points out, the ultimate goal is to build a case that is convincing. 
The first step in making change happen is to have real evidence. By collecting data, you have indisputable facts as to why the changes you're advocating for should be made. Be sure to include secondary-benefits that the company could see as a result of the changes you want to implement. Financial savings, building consolidations, or more productive employees could all be factors that influence a company's decision. 
You may also find it useful to keep track of ongoing decisions. That way you have a guideline for which steps to take to instigate action.
Lastly, don't be scared to involve more people. Support from other departments not only makes your evidence more convincing, it adds pressure on those making the final decision.
Our mission at Locatee—enabling companies to create places where people love to work—led us to carefully rethink and redesign the look, feel, and functionality of Locatee's analytics solution. The new Workplace Operations plan has a singular focus: to empower corporate real estate and facilities managers to make better decisions about office spaces at an operational level. Workplace Operations data helps you:
Master your understanding of your buildings' utilization 

Prioritize and address space needs and employee requests

Contribute to your organization's corporate strategy and growth plans

Create more effective office spaces and attractive locations to work
Read on to discover all the ways our Workplace Operations update improves portfolio placemaking, or book a demo with a member of the Locateam today.
Granular workplace occupancy data grouped by
Floors
A major improvement in the new Workplace Operations update is the visualization of data by building floor. It's not only cleaner, but much more intuitive. To start analyzing workplace data by floor, simply select a building from the dropdown menu and click on Floors in the sidebar. You'll see a summary of your office utilization organized by floor level.

Similar to Locatee's portfolio-level dashboards, you can segment the data in this view using a variety of filters, allowing you to:
Understand office density levels by monitoring the

absolute peak

or

average peak

occupancy of any floor

Sort data by utilization metrics

for easy identification of optimization opportunities

Focus on the

usage of specific space types

with the

Space type

filter
Tip: For quick and easy stakeholder reporting and presentations, export data directly from the Floors view to Excel.
Detailed views provide a closer look at every floor in your building
Want to investigate utilization on one particular floor? Details will take you to that floor's dedicated view, which includes its own utilization summary, interactive heat map, and timeline.
On the top of every detailed floor view is the

Utilization overview

widget, where you'll see a summary of vital data points concerning the floor such as:


Average utilization

Peak utilization

number of free workspaces available during peak times (

Free at peak

)

comparison with average and peak utilizations of the previous period

A

Floor map

shows the frequently occupied and frequently neglected spaces on the floor, making it easier to pinpoint problem areas, whether it's overcrowding or underuse.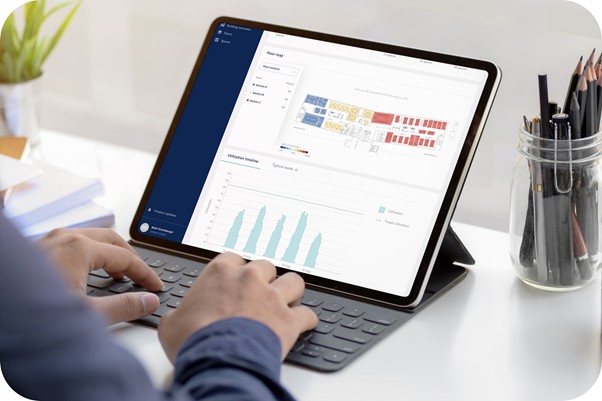 Also in the

Floor map

widget is a selector that enables you to zoom in on the utilization of a certain space type (such as desks) or a particular section of a floor (such as the west wing).

A

Timeline

is now available for every floor, facilitating the identification of usage patterns and trends on a floor-level basis.
Tip: The new Workplace Operations introduces the option to switch effortlessly between Average Peak and Absolute Peak calculations, making it easier to include or omit data outliers when analyzing office usage and performance.
Measure exactly what you need with
Spaces
In addition to the Floors view, we're introducing Spaces. The Spaces view provides a detailed look into a particular segment of your workforce or your physical office space. These segments can be:
Business units:

R&D, IT, marketing, procurement

Floor sections:

meeting areas, Section B, quiet zones, east wing

Workplace types:

desks, meeting rooms, phone booths, standing desks
Spaces give you the flexibility to filter and analyze data using your own custom segmentations, meaning you can measure exactly what you want to measure—nothing more, nothing less.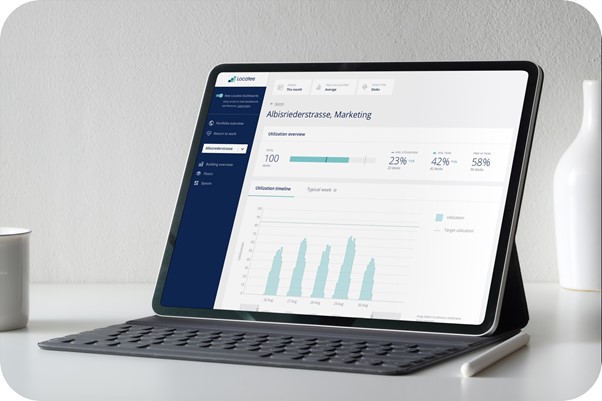 Dive into the Details for a deeper analysis
Just like Floors, each Space in your building comes with its own detailed view. Here you'll see a utilization summary, timeline, and floor map of that space.
Tip: You can use Spaces to facilitate workplace decisions such as determining where to place a new department or team. This video shows you how to do just that.
It's all about 3D: Data, Design, and Decisions
At Locatee, we're not just in the business of providing you with office occupancy data. We know that there is a lot of information out there already. Our aim is to help you harness all that information, so you can:
Measure what you really want

by creating custom segmentations

Arrive at

decisions with more confidence

using historical and live data

Set the correct expectations

and easily update key stakeholders with interactive data and exportable reports

Create better workplaces

for your workforce with the help of the most detailed and granular data
Want to learn more about how to use Locatee Workplace Operations to create better offices? Schedule a demo today!