Last week, the Financial Times organised The Global Boardroom, three days of live online conversations with senior decision-makers around the world who are leading the discussions surrounding policy and business.
The topics at hand focused on the numerous ramifications that COVID-19 has dealt to the domains of business, finance, and policymaking. As economies everywhere are buckling down in survival mode, the world's top minds are scrambling to ensure that markets and businesses remain resilient. Among the questions posed, many wondered how quickly societies could recover from such a disruptive event, and the price to be paid for a swift bounceback. 
Face to face with flexibility 
From one day to the next, corporations were forced to shift their paradigms from business as usual to unusual business. The global lockdown presented us with many obstacles, but one thing participants agreed on was that it will be much more difficult to ramp up business again than it had been to shut everything down. The general response to COVID-19 has been precisely that: reactive. However, bringing businesses back requires much more preemptive planning and strategic thinking, in no small part due to the unpredictability of future waves of coronavirus infections.
What can workers expect? Flexibility, a lot of it, and in every sense of the word. As we're already beginning to see, companies may permit and even encourage staff to work remotely for the remainder of the year. Having recently found itself at the vanguard of the work-from-home movement, Twitter has confirmed that it won't even reopen most of its offices and facilities until September.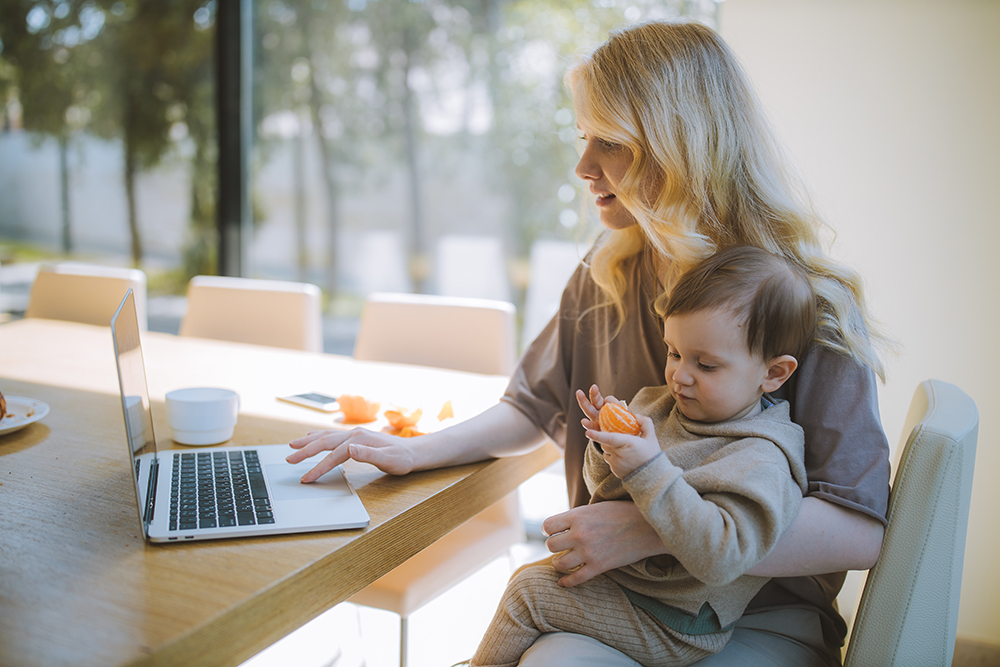 Are you ready to work from home for the rest of 2020?
Hierarchies and processes will also be much more flexible: we may expect more job rotation models, where employees take on different tasks and roles depending on the demands of their business. Temporal flexibility is also certain, as companies are already considering varying the normal schedules of work to reduce office utilisation peaks and rush hour traffic.
As a result of the efforts taken to minimise the chances of a second wave of infection, most facilities will not be running at pre-COVID-19 capacity for some time. For companies, this means sunk costs, lost profits, and inefficient operations. Businesses not willing to compromise safety must strive to seek cost-cutting opportunities somewhere. 
One of the places which leaders and executives are now turning their attention towards is their real estate assets. As many of them have been sitting empty for several months now, it has become easier to separate business-critical sites from areas which could be shut down—temporarily or permanently. This may be an early indicator of a general trend towards trimming down on assets and streamlining space. On the other hand, some, like former Google CEO Eric Schmidt, predicted just the opposite: an increased demand for office space due to the desire to keep social distancing practices.
"The future ain't what it used to be"
One of the many hot topics not only debated heavily by leaders but the general workforce is whether or not it is safe to go to work. In a time when guidelines often clash head-to-head with practicality and necessity, there is no answer that seems to lead to consensus.
A one-size-fits-all approach sounds too good to be true, and it is. Back-to-work strategies will need to be tailored to regional differences, regulations, and infrastructure. The localisation of these strategies may force companies to revisit once well-oiled business models and develop singular location and work concepts which reflect each locale's state of inequalities, vulnerabilities, employee profiles, modes of transportation, and finances.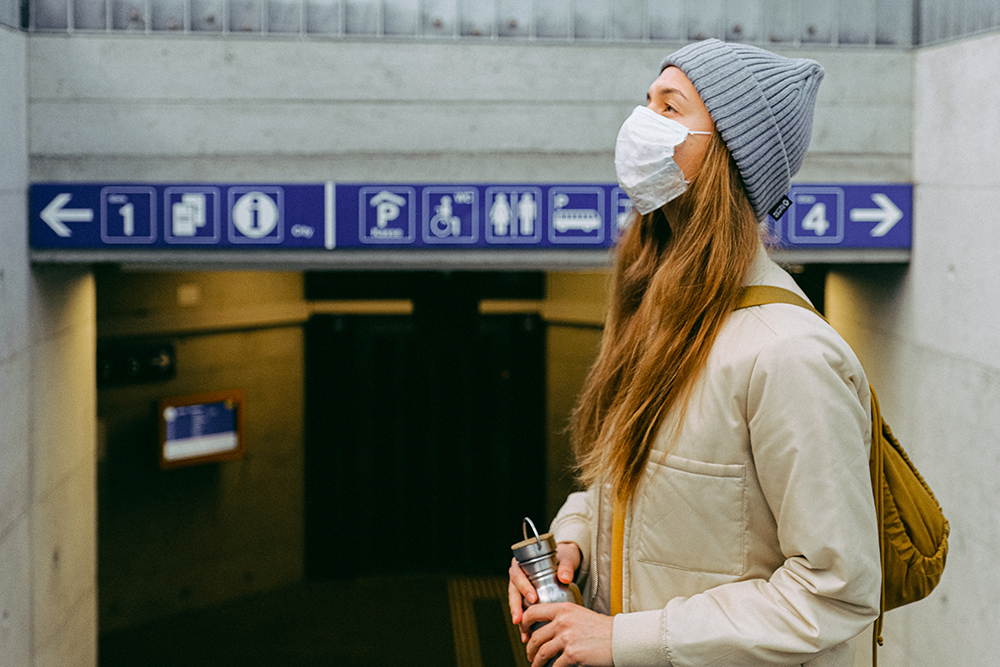 Back-to-work strategies need to take a region's available modes of transportation into account.
The duty of corporate real estate managers would be to provide the necessary guidance to support decision-making with as much information on property usage during these times as possible. Combine workplace utilisation measurements with business performance results over time, and one can begin painting a better picture of what can (or cannot) be achieved remotely. 
The Great Transformer
Making the rounds recently is the bon mot that COVID-19 has led the digital transformation at enterprises more than any C-level executive. In many ways, it's a simple truth: the pandemic has managed to push buttons and pull levers that not even executives at the highest echelons of corporations had access to. Working concepts which were debated or on the drawing board for years were practically packaged overnight into MVPs and launched. Knowledge workers have made a collective stride over to the side of remote working—a movement which took decades to initiate and days to complete.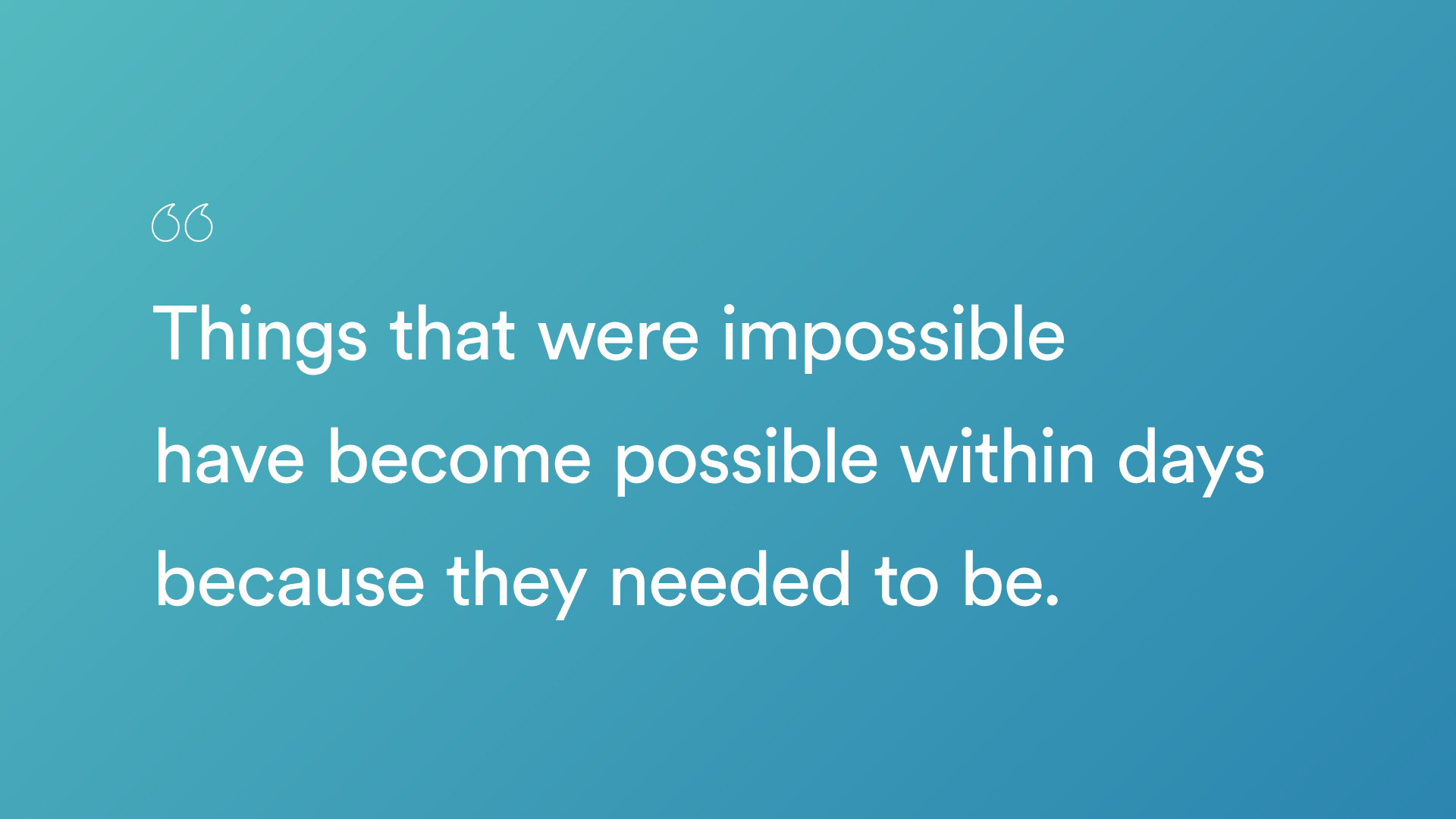 Many agree that the people who find themselves working effectively from home will have good reason to retain their privilege, as many myths about the necessity of an office space for collaboration has been busted. For some knowledge workers, the private space to focus, the lack of constant distractions, and a more personalised physical environment is proving to be much more pleasant than being in the office. Others are also discovering that as teams are no longer geographically bound to one place, communication with other teams has opened up and it has become easier to foster cross-functional work practices due to forced digitisation. Will the need for business travel become lower? 
Only time will tell for certain, but we may be looking at future offices which are less dense, but more experiential. The world of work post-COVID-19 bears many new expectations, and the concept of the office as a space where people gather to work will see reevaluation. This means some work for workplace planners: starting at square one when it comes to analysing mobility patterns, ergonomic preferences, new working habits won't be easy. But having workplace analytics in place is a great first step in laying the foundation for the crucial business and real estate decisions of tomorrow.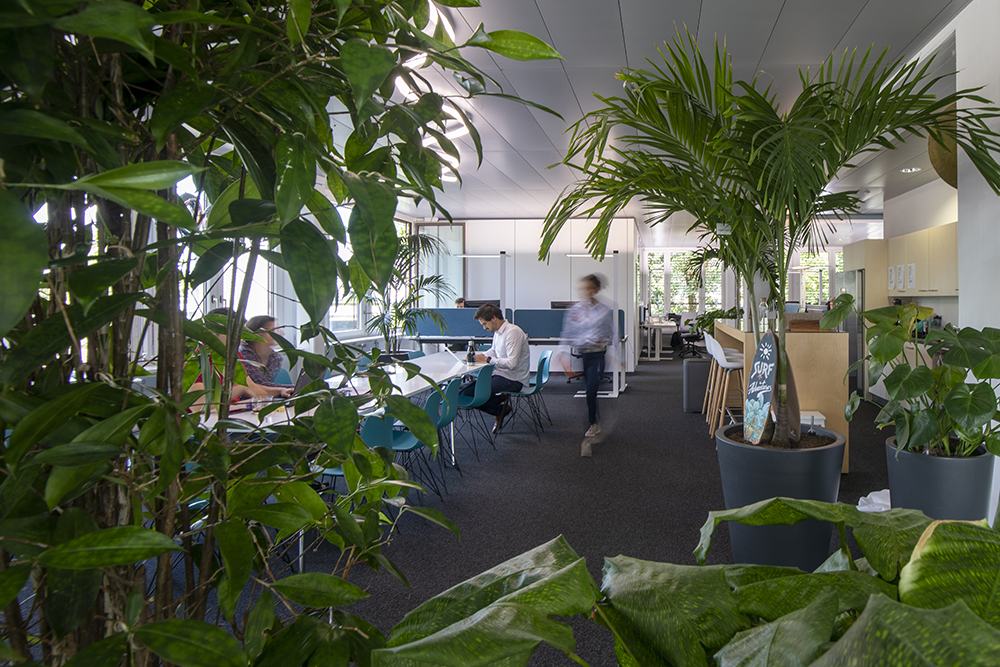 To learn more about how Locatee's workplace analytics can help you better monitor and assess your organisation's real estate portfolio and workplace occupancy, see our product overview or get in touch with us.
Read about Sabine's blog and her experiences with Locatee's flexible work week benefit for employees: Work Wherever You Want
When I joined Locatee last year and learned about the company's "Work Wherever You Want"-Week I got extremely excited! Where would I go? Options seemed endless, exotic ideas were flowing…I was pondering over San Francisco, Hawaii, Lisbon, Rome, Bali and ended up going to good old London. In November…
But it turned out to be the best choice. As I've been to London before I had done all the sightseeing and could go about getting a taste of "real" life in London.
Accommodation
So, I actually picked two AirBnB's for my stay in different neighborhoods and also switched between the four locations of the Co-Working space that I selected. That way I got to explore different parts of the town.
Co-Working Space
My first conclusion – London public transport during morning rush hour is not my jam. But I found my routine, got some walking in in the morning in beautiful sunshine (very unusual this time of the year I was told), got the tube early and settled in a coffee shop for my first morning call – Zurich is one hour ahead so our morning huddles happened at 8am and the "Uncommon" Co-Working only opened then. Afterwards I moved there and made sure to get a stroll through the respective neighborhood at lunch break.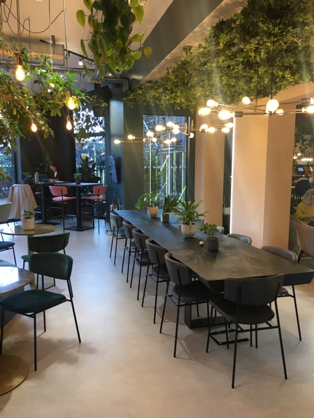 This time around in London didn't feel like I was a tourist visiting the city. But I was part of it, living in a typical flat, commuting to work and getting a taste of the English way of life – spending Sunday with friends going for a walk and for Sunday roast, having a beer after work at the pub and going out to the country side joining in local Bonfire celebrations. Also, London is a paradise for vegan food available on every corner, which made me really happy.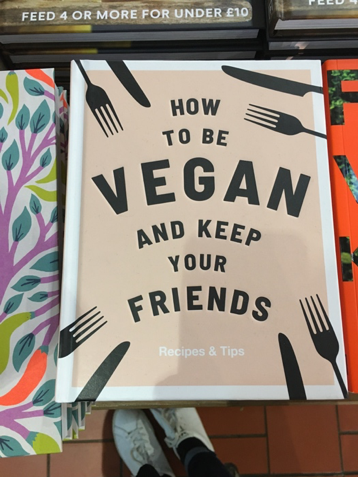 The only downside really was that although I joined meetings and calls remotely, I missed being around my colleagues. So, I feel very grateful for having the freedom to combine my private interests (I actually went to the UK to participate in a 3-day sewing workshop) with work life, but I'm also very glad to be back home in the Locatee office.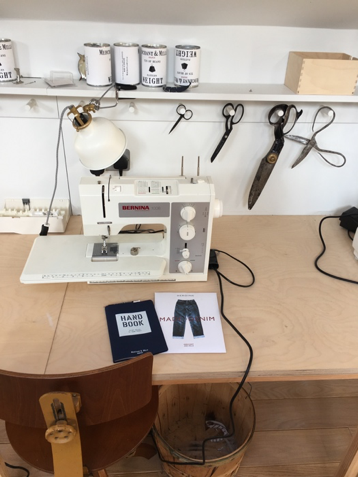 The challenge of implementing new workplace strategies
When implementing new workplace strategies, which might include activity-based working, for instance, multinational corporations usually run the concept as a pilot at their headquarters and after a successful test phase, start a global rollout based on initial findings. Approaches like this rarely consider the influence of local culture and diverse behaviours around the world, as prior to modern space occupation data it was simply not possible to consider local differences without tremendous efforts. So, companies would replicate their workplace blueprints with no or little adaptations and by doing so, set up for failure. Common traps include, for example, the elimination of single offices, or the increase of desk density to one common ratio. As a consequence, these workspaces are highly likely not to be accepted, or they will simply not provide an optimal working environment for local employees. Therefore, companies still miss out on a powerful tool to increase team productivity, talent attraction, and employee wellbeing.
The understanding for local preferences
To enhance global integration within the organisation and build a workspace that works around the globe, both mirroring corporate culture and embedding local culture, the understanding of local behaviours is key.
The workplace culture study from Steelcase has shown that two of the key aspects to consider are tolerance to occupancy density and acceptance to work away from the office. In times when globalisation, employee flexibility, and work-life-balance are trending buzzwords of western workplace strategy, one tends to forget that this might not be the norm in other cultures, and tolerance towards occupancy density can vary greatly. In workplaces that are organised more hierarchically, physical presence at the office is generally viewed as a necessity, which implies that acceptance for working away from the office is lower. Consequently, utilisation of the workspace will be higher throughout the week, leading to smaller optimal sharing ratio of workspaces. Additionally, different workplace modules may be required to cater for diverse work patterns and organisational structures.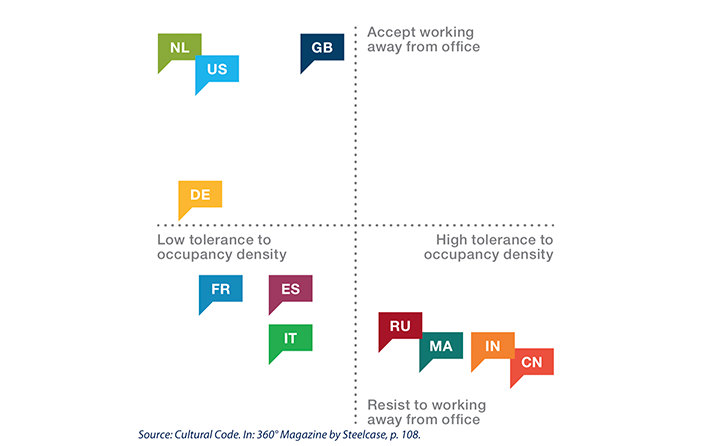 Steps to take for a future-proof global office
So, a truly future-proof global office calls for a great diversity of settings – all carefully established through a robust process of understanding work practices and behaviours.
Utilisation data can help to understand work patterns in order to identify differences and similarities between distant locations and to discern at a glance where it is necessary to adapt the workspace strategy and to focus attention. A thorough investigation including interviews and workshops with local staff and management builds the foundation for the further process.
Building on existing infrastructure and data sources, Locatee's Smart Building Platform is highly scalable and can be implemented easily on locations around the globe to study utilisation on a multinational scale. Therefore, corporate real estate can build a rollout plan following a simple step-by-step process.
Let us help you to understand your work patterns and build up your future-proof global office!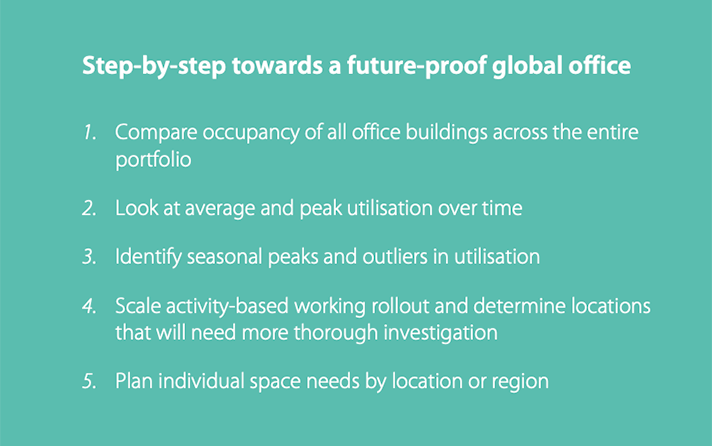 Full utilisation – a nice problem to have?
Although reducing vacancy in a company's real estate portfolio is one of the most crucial tasks of Corporate Real Estate Management, having a high utilisation in office buildings or even no vacancies in a building is no desired state either. It is quite common that headquarters or corporate locations in cities like Paris, Amsterdam or London are very popular among departments. Therefore, all usable spaces are assigned, which creates considerable challenges for Facility Management each time a team is growing and adding headcount.
Especially in a traditional setup with fixed desks, flexibility in workspace management is restricted. Since there are no spare areas and to avoid business disturbance, corporations often turn towards expensive solutions to create buffer areas. These include investing in renovation of older buildings and converting spaces into new offices. Or they rent expensive spaces in neighbouring buildings, or even place employees in temporary office containers.
Identify different aspects of utilisation
The key for handling high utilisation in office buildings is the efficient usage of space. The critical thing to realise here is that full assignment of spaces is not equal to full utilisation. Workspaces might be completely assigned to different teams. But they hardly ever use all their workplaces at the same time during the day or the week. Team members may be in meetings, off site, or seeking alternative work environments, thus leaving desks empty. As a consequence, observing actual utilisation versus assignment of spaces can help to detect hidden vacancies.
There are different aspects of utilisation you can take into consideration in order to increase availability of workplaces and quality of workspace at the same time:
Utilisation peaks do not occur simultaneously among teams. The accounting team members may all be in the office on Monday due to weekly planning, while the sales representatives are all out with customers, only getting together on Fridays to wrap up.
Desks are not utilised constantly during working hours. Staff spend a lot of time in meeting rooms, might meet colleagues in a community area to work together or are with another department for the day.
Teams use different types of workplaces depending on the nature of their work, e.g. project or collaboration areas, they may have desk-focussed or phone-related tasks.
There's no way around the right KPIs
In conclusion, the analysis of utilisation data offers the opportunity to uncover optimisation potential in individual team areas by providing personalised workplaces accounting for different workstyles and sharing capabilities.
In order to get these valuable insights and recognise optimisation potential, there is no getting around the right KPIs.
We at Locatee are happy to provide the support needed to implement alternative space management strategies and cater for the varying Corporate Real Estate and Facility Management tasks.
Webinar: Defining and Monitoring Space Utilisation Metrics
The Metrics Cheat Sheet for the Modern Workspace
A short guide to the 7 most relevant utilisation KPIs in corporate real estate management
The following KPIs are covered in this Cheat Sheet:
Current Utilization
Average Utilization
Peak Utilization
Required Workplaces
Opportunity
Sharing Ratio
Optimal Sharing Ratio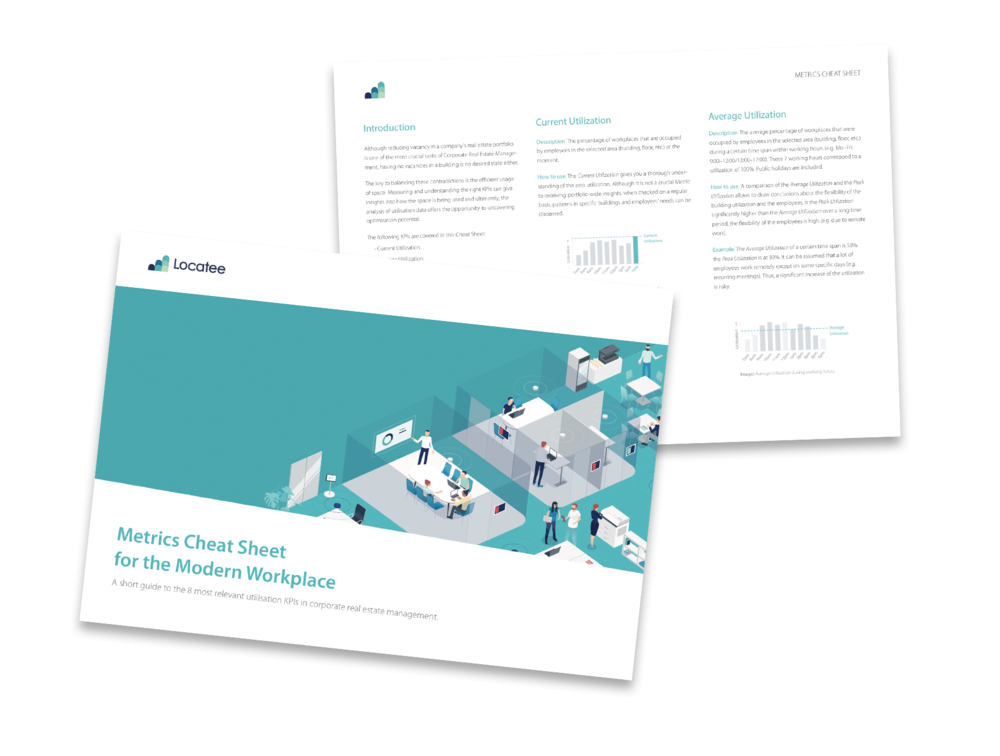 Building a strategy framework with performance metrics
Long-term strategic planning is still rare in Corporate Real Estate, as data-driven frameworks have been missing as a basis to make informed decisions and develop a sustainable strategy. With the rise of big data however, a broader range of options for efficient and accurate data collection have become more widely available in recent years. These options provide corporate real estate professionals with a new set of tools and know-how that can be employed to inform goal setting.
Unfortunately, actual long-term strategies for corporate real estate are still quite rare. In most organisations, real estate departments continue to rely on annual operating plans addressing only the most pressing space issues, all the while feeling a lack of depth and breadth of data, and appropriate frameworks to propose a holistic property strategy.
The process of bringing such a strategy to life therefore begins with consistent data reporting in order to understand the current state. The following step is to identify the desired return on investment, justifying the corporation's need to change course. These performance metrics make sure that the company is heading towards its fundamental goals in the long term.
Thus, organisations need to thoughtfully determine which business results matter most, so they can select and report on key performance indicators (KPI) that measure their success in managing their real estate portfolio.
At the forefront of interest is of course cost as many organisations aim to streamline and reduce their portfolio size, doing more with less and manage costs better. Accordingly, real estate cost are tracked by almost 90% of companies as reported by CoreNet's KPI survey in 2014 "Understanding business performance indicators", alongside space efficiency metrics that 88% look at.
But to guide directives to strategic planning requires more informative reporting than just size and cost of the portfolio. Ideally, the corporation views real estate as a productive resource and uses business investment to impact productivity and add value to the business. Therefore, workspace utilisation, employee satisfaction and productivity are important metrics to determine how particular buildings perform and contribute to the core company, beyond financial impact.
When building a compelling case to consult the C-suite and to influence smart real estate decisions, access to reliable data and facts is indispensable.
With the rise of big data, a broader range of options for efficient and accurate data collection has become more widely available in recent years. These options offer corporate real estate professionals a new set of tools and know-how that can be employed to inform decision-making and goal setting.
Continuous utilisation measurements for instance provide Corporate Real Estate Management not only with information on how many seats are used during the day on a recurring basis, but also give insight into whether the workplaces provided fit the employees' needs and therefore contribute to business value.
Does your organisation also lack the depth and breadth of data to define and measure KPIs? Would you like to learn more about how you can use Locatee's Workplace Analytics solution to provide your organisation with accurate performance metrics?
At the forefront of interest is of course cost, in an attempt to do more with less and manage costs better, many organisations aim to streamline and reduce their portfolio size. – Sabine Ehm
Download the Metrics Cheat Sheet for the Modern Workspace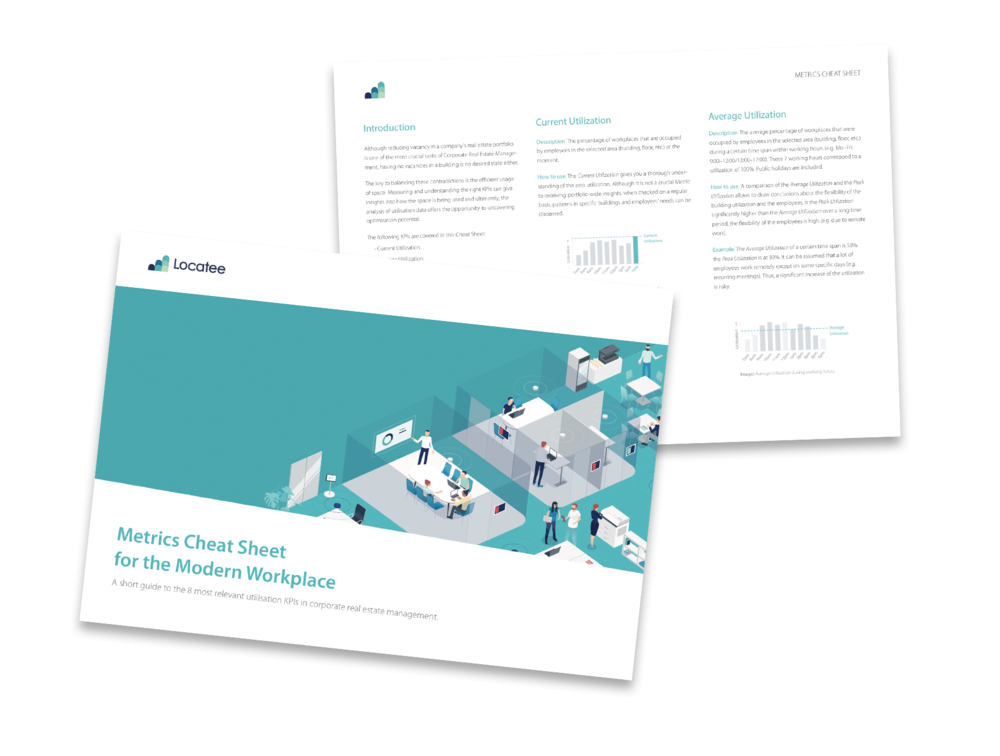 A short guide to the 7 most relevant utilisation KPIs in corporate real estate management.
The following KPIs are covered in this Cheat Sheet:
Current Utilization
Average Utilization
Peak Utilization
Required Workplaces
Opportunity
Sharing Ratio
Optimal Sharing Ratio