As the COVID-19 situation presents us with new developments and challenges day-by-day, office buildings around the world are steadily becoming emptier over the past weeks. While the entire Locateam is now working fully remotely, we have received great feedback from our customers on how they rely on Locatee to make critical and potentially life-saving decisions. These messages have been heartening reminders of our mission and purpose here at Locatee, and I would like to share with you two such examples: 
Pandemic task forces are using space utilisation data to plan and ensure the shift towards home office

Facility management teams are informing canteens of how many people to expect for lunch and advising their employees when to go eat so as to avoid crowding
Despite the difficult current situation, I believe that the role of office buildings, and by extension, Corporate Real Estate Management functions, are more important than ever during this time and once we emerge from the global crisis and enter a new normalcy. I see two main reasons for this:
We gain a deeper understanding of flexible work
For many knowledge workers, the office building was the only place to get work done before all of this. Currently, we are witnessing the world's largest remote working experiment. Companies are investing heavily in enabling their employees to work from home and keeping operations as smooth as possible. Once we are through this, every desk worker will be more experienced and adept when it comes to flexible or remote working. This will have tremendous impacts on the world of work. 
Office buildings take on a new significance post-crisis
Despite pushing the frontiers and boundaries of what we can achieve working from home, we will no doubt also understand its limitations. We will learn what we can and cannot achieve with our lack of physical presence. Yes, we can hold virtual coffee meetings, but this will not displace face-to-face discussions. In the absence of a physical office, we will realise and recognise its value and importance in engendering a collaborative and productive workforce. 
Our good friends and the co-authors of our white paper (Navigating the Complex Smart Building Landscape) Memoori have written a great piece delving deeper into the topic. If you want to learn more on this, I recommend checking out their article here.
How do you see it? What will the impact of the current situation be on the office or the corporate real estate landscape in the mid- to long-run? I look forward to hearing your thoughts; in the meantime, please stay safe and healthy.
—Thomas
Today, many organisations are interested in making fact-based decisions to change their workspaces and a large number of them are already investing in utilisation studies. To identify consolidation potential, optimise workspace concepts and align workspace demands with the business needs, decisions need to be based on data that is accurate, complete, consistent, and continuous.
Why Manual Occupancy Studies Are Outdated
When choosing a measurement method (read our previous blog post to discover the different types), companies often rely on manual occupancy studies. Manual studies are conducted by individuals walking through office spaces at predefined times, to observe the attendance of employees. Beforehand, a set of characteristics to be measured are defined.
Manual occupancy studies pose the following limitations:
The accuracy and reliability are fully dependent on the observations of the conductor(s) of the study
The studies are conducted over a short period of time, therefore cannot provide any information on seasonality and fluctuations
Interpretation of the data is up to the observer, hence it is not objective and prone to errors
If requirements change, the data fails to reflect the changes
Translation of collected data into valuable insights is time-consuming and static
Results are not delivered in real-time
Global scalability over a portfolio of dozens or even hundreds of buildings requires an immense number of observers and therefore a lot of investments
Organisations which conduct manual occupancy studies, base their operational and strategic decisions on a limited set of information. Basing further activities on this data may have a negative short- and long-term outcome for investments because the data is not real-time and does not represent the dynamic of the workplace and employees.
Why Digitise Your Space Utilisation Studies?
Dismissing manual occupancy studies and digitalising them, have the primary benefits of providing continuous, reliable, objective and real-time insights:
The insights are scalable because data can be measured and benchmarked over the entire real estate portfolio
You can continuously identify savings potential and trends in space utilisation without neglecting long-term employee satisfaction
Corporate Real Estate Managers are able to discuss business needs with the objective data to back up the decisions
The real-time and continuous insights allow newly introduced work concepts to be verified without the need for additional investments
The continuous analyses of data over a long period of time facilitate predictions by means of identifying patterns, trends, and seasonality
How to Digitise Your Space Utilisation Studies
In general, organisations already have access to many data sources such as LAN ports, WiFi access points or sensors. The best solution is to leverage these already existing sources and therefore only have a marginally increased initial effort compared to manual occupancy studies. Furthermore, the return on investment is increased greatly due to the quality, versatility and global scalability of the data. Software-approaches enable you to continuously adapt your measurements depending on which use cases you have. A crucial factor is that the solution is GDPR-compliant and can be adapted to your company's as well as employees' dynamic needs.
Key takeaways
So why do companies in a digital world still conduct manual studies? Manual occupancy studies are budgetable, easy to implement, and seem to be the simplest answer to a complicated question.
We at Locatee are convinced that organisations should not waste investments on time-consuming, inaccurate manual occupancy studies that yield low to now returns. By digitising space utilisation studies, organisations make use of their existing data sources while investing in a scalable and future-proof solution that reflects the modern office spaces organisations offer their employees. Deciding on a solution that actually provides meaningful data translates directly into providing the best work environment for your employees, while at the same time meeting your business's needs.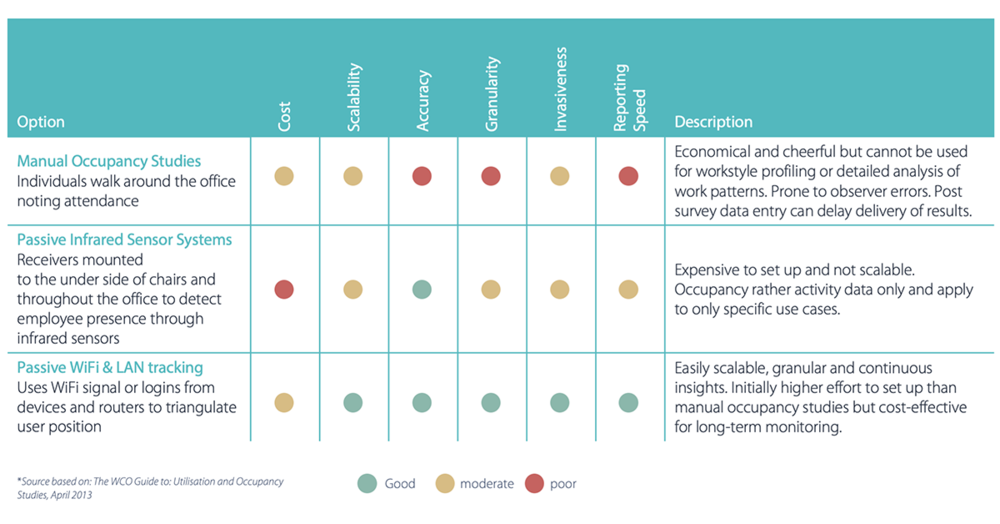 In the past few years, smart building technology such as IoT has been evolving at lightning pace. Explained simply, smart buildings use a combination of technologies to automate building management. Sensors feed the management systems with information about changes in occupancy and temperature. The systems allow facility managers to automate and manage the different variables of a building's operation and the collected data is stored and analysed over time so that adjustments can be made. While bringing many benefits, turning buildings into smart buildings requires investments. So, what is the business case for making investments in smart buildings?
Read the second part which focuses on the strategic and operational space management of making investments in smart buildings.
Value Proposition of Smart Buildings
In traditional belief, the greatest incentive to invest in smart buildings are asset value and energy savings. Building automation and integrated control systems can generate from 10 to 40 percent savings in energy costs alone. However, if only energy cost savings are considered, a much bigger value proposition is overlooked.
Employees spend at least 40 hours at the office each week, totalling 2080 hours every year and human capital accounts for about 90% of a company's operating costs. The real estate firm JLL suggests applying the 3-30-300 Rule™ – $3 per sq ft per year for utilities, $30 for rent, and $300 for payroll. Using the 3-30-300 model JLL claims that the greatest financial savings from optimising a workplace do not lie in energy but in productivity. Primarily, smart buildings benefit the people who occupy them, which in turn produces significant positive impacts on the company's bottom line. In numbers, this means 43% of the total value comes from enhanced employee productivity, 41% from increased employee retention, 7% from improved employee wellness, 7% from utility savings, and 2% from maintenance savings (The financial case for high performance buildings).
The productivity gains can be achieved by making workplaces physically comfortable, enabling fewer distractions and the ability to concentrate fully on tasks. Furthermore, it has been proven that there are direct links between human-focused, intelligent building systems and a company's ability to recruit the brightest talent. Not to forget, active participation and signed consent of the employees are vital to a system's success. However, if all things are considered, the promise of energy efficiency, better access control, greater comfort and environmental responsibility all come down to a high return on investment (ROI) for smart buildings.
What Locatee Offers
Locatee is the leading workplace analytics solution that transforms complex data into space utilisation insight. Developed with a strong focus and a deep understanding of the corporate real estate challenges facing the modern world of work, Locatee empowers you to make decisions about your business buildings with confidence. Locatee works by leveraging office occupancy data from multiple sources, processing them using unique patent-pending technology, and beautifully visualising them all in one place. With workplace intelligence right at your fingertips, you can easily identify optimisation potential, realise savings, and enhance your company's workplace experience across your entire real estate portfolio. Read our case studies from Biogen and Post, to discover the different use cases. Read our case studies from Biogen and Post here, to discover the different use cases.
Key Takeaways
The development of technology has increased the importance of smart buildings and investing in them offers great opportunities. First and foremost, a dynamic, smart workspace is responsive to the needs of the people who work there, creates a better work environment and in turn, increases people's productivity. Investing in smart buildings does require high assets, however, it also offers the opportunity for great returns.
Contact us to discuss your business cases.
As demographic, economic, and cultural shifts are taking hold worldwide, the workforce finds itself in a global transition. The workplace increasingly focuses on collaboration and interactions, and entire fields of work and work styles are changing. Leading organisations know that well-designed workspaces improve performance, speed innovation and build healthier work cultures. These changes have motivated innovative leaders all over the world to work towards a smarter future. According to forbes.com, smart city development spending is estimated to reach $41 trillion worldwide between 2016 and 2036. The development specifically shows itself in the implementation of smart buildings, which have the ability to collect and analyse traffic data and patterns to optimise and realise workspace potential. But how can smart buildings and the technologies be used best to make offices more people-oriented?
The 3 steps to create people-oriented offices
There are three steps to follow in order to turn your workplace into a smart office. Usually, real estate cost is high and employee productivity is low, which is why it is important to follow the steps listed below when it comes to analysing data if you want to change this.
1 – Identify strategic potential
In a first step it is important to understand how people behave across an entire real estate portfolio. Only then can you identify where to reduce costs, and how to increase the occupant's productivity. Regional or global consolidation and growth potential can be identified, and the insights gained can show which areas offer the greatest saving potential. Unused or underperforming areas are thus optimised and adapted to specific needs of employees, while the savings can be reinvested into a more modern workspace concept.
2 – Realise operational potential
In the first step, the concept has been adapted and costs were decreased, while employee satisfaction was increased. Now, in a second step, the identified needs are realised. To adapt to the changes brought about by organisations and employees, the workspace too needs to be continually improved and adjusted in order to maintain cost savings. The goal is to manage workspaces and operate buildings based on data analysis, to optimise operational potential and realise savings potential. Team and meeting room analytics give valuable insights into how employees collaborate and relate to one another. Specific work patterns form the basis to planning a work environment fitted to the employees' needs. For example, the planning of suitable equipment, allocation of desks and processes facilitate cost savings and focused investments in an optimised environment.
3 – Personalise workspace experience
In the end, the overall goal should be to improve the experience of your building's occupants and foster a great company culture, which in turn increases productivity. This can be achieved by personalising the workspace experience. Alternative workplaces tend to lead to less time and energy devoted to typical office routines and more time devoted to customers. Furthermore, the solution allows to continuously reflect the occupants' feedback on their office experience, and to improve it, so that employees can both locate colleagues and resources easily.
The development of smart office buildings involves the implementation of many different technologies. Strategic decisions to change the workplace will need to be drawn on data analytics for timely and broad-based findings that inform the solutions. Technological innovation such as Internet of Things (IoT) building platforms are changing the way facilities are operated and maintained. The information being able to be collected with the IoT, improves services and increases efficiencies by better understanding how employees, devices and other assets relate to one another.
In conclusion, workspaces and smart buildings have been developing in tandem and the rising importance of work culture has made it even more important to make offices more people-oriented. Following the three steps (identify, realise, personalise) by means of collecting and analysing data with IoT technologies, offers great potential to reduce costs of space and increase people productivity, while making offices more people-oriented.
We at Locatee are happy to provide support needed to implement these three steps and make your offices more people-oriented.
Find more insightful reads on our Locatee Blog
In recent years, workspace environments all over the world have changed drastically. Companies have adapted their buildings to create workspace experiences that communicate and reinforce the company's value proposition while also accommodating to the changing needs of employees and encouraging more human interaction. Consequently, technologies have been integrated into buildings progressively, turning them into smart office buildings. This ultimately not only creates a workspace where employees are able to work productively, but also where they want to work. In order to continuously optimise the workspace environment and being able to act proactively, it is important to track any changes. This is where workspace utilisation measurements come into place. In this article we talk about 5 measurement methods of workspace utilisation.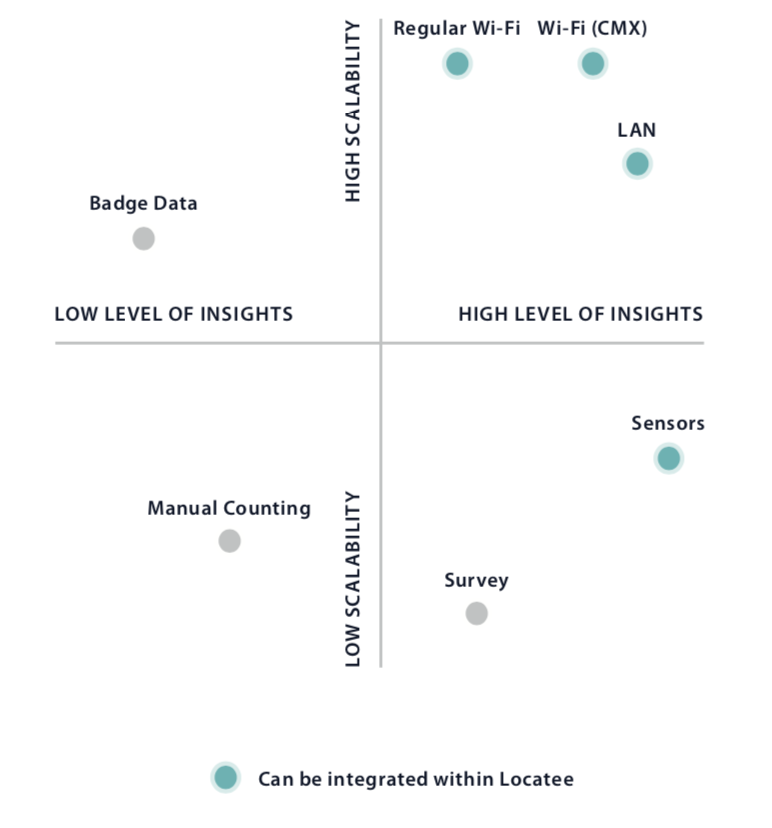 5 ways to optimise the workspace
What technologies are currently on the market to create the ideal workspace? The following five methods are frequently used to turn office buildings into smart buildings:
Manual Occupancy Counting
Small companies often make use of manual counts and workspace surveys. With an increasingly mobile workforce, the lack of continuous data comes with many disadvantages. As well as being costly because of labour-intensity, it is highly complex when being rolled out on a large scale. However, small companies may meet their needs with this method.
Access Badge Analysis
Some organisations use their already implemented access badge or turnstile system as a reference to how many employees are present in the building. The significant limitations of such data lie in disregarding visitors entering the building or people entering at the same time, as well as failing to collect data on movements inside, and on exiting the building. Furthermore, non-standardised data formats may limit the analysis of the collected data. This method does not allow for in-depth analysis.
Sensors
Sensors are mounted on various locations in the building and can measure features such as noise levels, temperature, air quality and the presence of employees. Although the sensors overcome some of the deficiencies of other methods, the deployment and maintenance of the sensors can be cost-intensive and demanding, affecting its scalability. Furthermore, sensors can fail to provide insights into workspace utilisation for shared offices at organisational units.
IT-Login Analysis
IT-Logins entail various inefficiencies since there is a trend leaning towards 'bring-your-own-device', which the IT-Login does not recognise. Furthermore, because logins vary in different buildings and locations, the method is not scalable.
Software solutions
Software analytics solutions evaluate and analyse data sources in real time by leveraging existing IT infrastructures (Wi-Fi and/or LAN). It provides you with detailed information on the utilisation of buildings without having to implement additional costly and high-maintenance hardware. However, because software analytics rely on the density of Wi-Fi access-points and the LAN infrastructure, the space utilisation might not be highly granular at desk level. Yet, software solutions have the big advantage of being highly scalable across a global portfolio while also being future-proof and offering the possibility of providing regular updates. With the help of the analysis, corporate real estate and facility managers can make objective, data-based decisions and maintain consistent success monitoring across their global portfolio of office buildings.
What Locatee offers
Locatee Analytics is a big data analytics platform enabling smart and occupant-oriented office buildings. Due to Locatee Analytics being a software, it can be adjusted to specific needs and use cases of customers. From right sizing office spaces, operational and strategical facilities management to finding colleagues, Locatee Analytics acts as a valuable tool. In order to guarantee accuracy, a thorough network assessment is provided prior to a rollout. All in all, Locatee Analytics provides scalable, granular and continuous insights at an affordable cost, turning office buildings into smart office buildings.
Find more insightful reads on our Locatee Blog