At the end of 2021, Corinne Ruckstuhl, Product Manager at Locatee, got the chance to visit our colleagues in the New York office as part of the Locatee Ambassador Program. Every quarter, the company's leadership team selects one employee for their outstanding achievements and contribution to the company culture and values. The selected ambassador gets the chance to spread the Locatee culture amongst all our offices. In other words, they receive a budget to travel to the office in New York or Zurich.
This is a little recap from Corinne's experience as the first-ever Locatee Ambassador!
Working in New York 
For my adventure in New York, I decided to stay for 3 weeks; enough time to really discover the city from a local's perspective, but not too long to be away from life at home (and mostly skiing in my case 😉 ). I had already visited once before, so I knew my way around. Thanks to some suggestions from my New Yorker colleagues, I stayed in Lower East Side, Manhattan, and found a nice little room in an Airbnb right at the border of Chinatown. It's a great starting point to discover a lot of the different neighborhoods and attractions by foot. It has easy access to Brooklyn thanks to the nearby bridges. And it also has relatively fair prices compared to other neighborhoods. Since our office is in Williamsburg, this location was very convenient to get to the office quickly, too.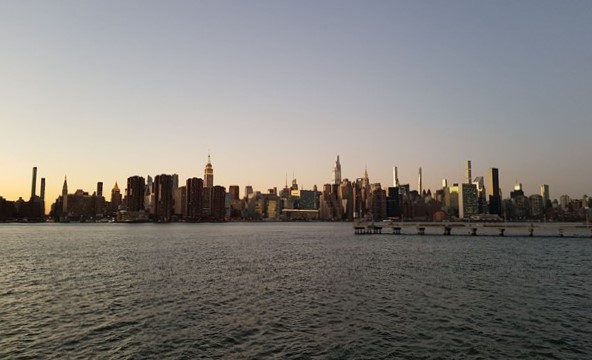 My typical working day would start early in the morning with a walk or bike ride over the Williamsburg Bridge to our office while watching the sun rise over the city. Once at the office—a private room at a WeWork—my mornings were filled with meetings with my Swiss colleagues due to the time difference. With the office in Williamsburg, there were plenty of lunch options to pick from. Plus, my colleagues obviously knew the best spots. Before ending my days, I often went on a discovery walk through the neighborhoods or watched the sunset in Brooklyn.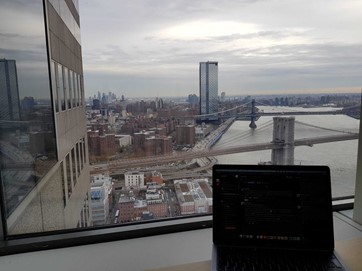 As members of the WeWork community, I could also change my office location from time to time. I used this opportunity to check out different areas. Whether this meant working from the 88th floor on Wall Street; one of the towers in Times Square; or at a vibrant office in the creative neighborhood of Chelsea. I had it all! 
Of course, my trip wasn't all about working, but also about bonding with my colleagues. Besides spending time at the office, we also spent time together in the evenings. We visited bars after work, went for dinner, did a cooking class, and watched an NBA game at Barclays Center. 
Living the big city life
One of the things I loved while living in New York was the ability to wander around for hours and hours and get lost in the different neighborhoods. SoHo, Greenwich, Chelsea, or the Meatpacking area – all walkable within 40 minutes from where I lived, with great architecture and so many coffee shops, restaurants, pop-up stores, and more. I absolutely loved walking from the financial district in downtown Manhattan along the Hudson River up to the Chelsea market. Then I'd finish it off by getting fresh doughnuts from The Doughnuttery, or walking along the Highline while seeing the city slowly turn to night mode. 
As I was in New York just before the holidays, I got to experience the famous Christmas spirit. Blinking lights everywhere, decorated trees on every corner, and parks filled with Christmas markets. Of course, I also didn't miss The Christmas Spectacular by The Rockettes –  it's just like in the movies!!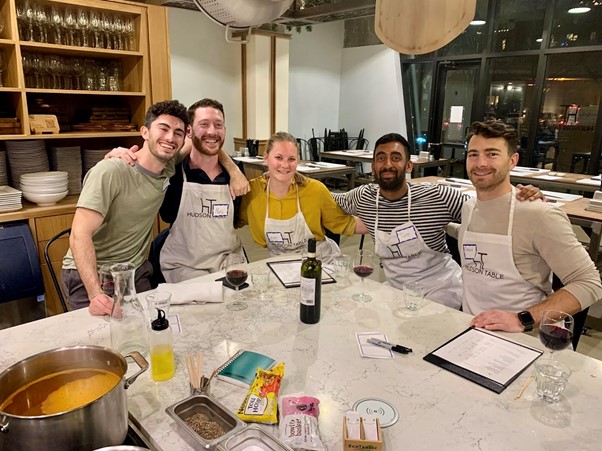 Covid in New York 
And last but not least, of course, there was Covid. At the time the Leadership Team announced that I'd received the Locatee Ambassadorship, the borders to New York were still closed. Luckily and finally, the US opened its borders in November and I could start planning. Then during my stay in December, restrictions in New York were pretty much gone. Besides needing proof of vaccination and wearings masks, there weren't any significant regulations. However, towards Christmas, Omicron cases started to rise quickly. Testing centers were at their limits, and I was looking forward to leaving the Covid madness behind and traveling back to Switzerland. Well, not so fast… 
I caught the virus on my last day of the trip. It forced me to isolate for 10 days and postpone my flight to after Christmas. But thanks to my amazing colleagues (who were all in quarantine themselves, too!), my New York quarantine Christmas wasn't that bad after all. And I definitely won't forget about it! 😉 
Long story short: It was an amazing experience working & living in New York and a great honor to be the first Locatee Ambassador!
In addtion to Locatee Ambassador, we also have a Work Where You Want Program! Read about employee experiences in different parts of the world: